Coronavirus: NHS waiting list 'could hit 10 million this year'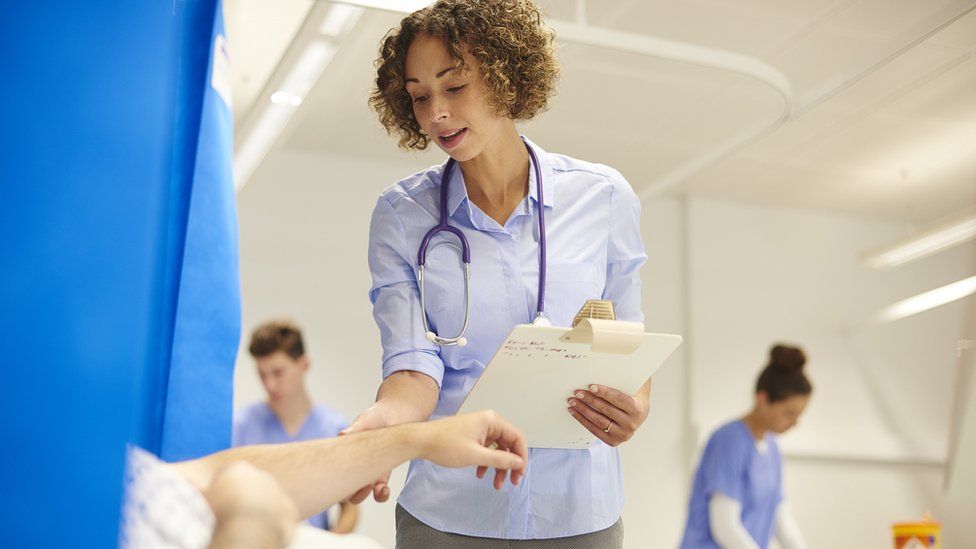 Health bosses fear the Covid-19 crisis could see the number of people waiting for NHS treatment double to 10 million by the end of the year.
The NHS Confederation said challenges include a backlog of cases, maintaining social distancing, and staffing.
The body, which represents health and care leaders, said emergency funding and longer-term spending were needed.
The Department of Health has said it will continue to provide the resources, funding and support the NHS needs.
Guidance had been issued on how the NHS "should start to restore services in a safe way", a spokesman added.
Projections by the NHS Confederation show that the NHS waiting list is expected to rise from about 4.2 million currently to about 10 million by Christmas.
This assumes the health service makes a steady return to full capacity within the next 12 months.
In a new report, the NHS Confederation said healthcare services were operating at a reduced capacity of about 60% because of infection control measures.
The body - which covers organisations commissioning and providing health services in England, Wales and Northern Ireland - said it faces an "uphill battle" as it tries to restart cancer, stroke and heart care services, while continuing to manage thousands of sick and recovering Covid-19 patients.
Predicting the immediate future of the NHS and the likely path of patient demand is like holding a finger in the wind.
Nobody knows whether there will be a second spike of Covid-19 cases and, if there is, when that might happen and how serious it could be.
It is hard to forecast how quickly those patients who have stayed away from hospitals because of fears of the virus will return to seek urgent treatment.
Hospitals, GP surgeries and other NHS sites will need time to adapt to social distancing rules and assess how they manage their workload.
The NHS Confederation is simply saying that an independent forecast that the waiting list for routine surgery in England might hit 10 million by the end of this year looks reasonable. Others have floated similar predictions.
The bigger point being made by the confederation is that the government in Westminster needs to think very hard about how the health service is managed in the months ahead and how patients' expectations should be prepared.
The devolved administrations in Scotland, Wales and Northern Ireland will have to face up to the same challenges.
Health leaders urged the government to prepare the public not to expect the same level of service for many months.
Over the past fortnight, cardiology services have restarted in England but the British Heart Foundation on Friday warned of a backlog as an estimated 28,000 heart procedures had been delayed since the outbreak of coronavirus.
Cancer services are also starting to reopen.
Cancer Research estimates about 2.4 million people in the UK are waiting for screening, treatment or tests with a potential 23,000 cancers having gone undiagnosed during lockdown.
The already-long waiting lists were "certain to rise significantly", the body said, and coronavirus patients would continue to require care in recovery including respiratory and psychological treatment.
It added that care was being delivered by "exhausted and traumatised staff", and health leaders had to stay prepared for a second wave.
In its study and accompanying letter to the prime minister, the NHS Confederation warned that it would not be possible to simply "switch on" NHS services immediately.
It also called for further assurances on the effectiveness of the Test and Trace programme and further guarantees over personal protective equipment (PPE).
And the report said a review of the impact of the pandemic on NHS and social care staff was needed.
The Royal College of Nursing has warned it will be a "struggle" for "burnt-out" nursing staff on short-staffed wards, care homes or in clinics to restart services.
"The legacy of this pandemic is yet to dawn - the professionals are still focused on the here and now," a spokesman said.
"As services begin to return, the government must continue to invest in the workforce so that an exhausted profession... is properly supported."
Labour's shadow health secretary Jonathan Ashworth called for ministers to "take heed of these warnings".
"It is inevitable that the Covid-19 pandemic will impact our health service in the months ahead but it is vital that ministers begin to address this backlog of delayed treatment and rising clinical need," he said.
The NHS Confederation has asked for an extension of the government's deal with the private sector, to provide beds, equipment and staff to the NHS, until next March.
Its chief executive Niall Dickson told BBC Radio 4's Today programme: "Frankly, we need all the capacity we can get to try and build up services going forward."
"We're not entirely clear what the levels of demand coming out of this are. We of course know patients that were waiting beforehand, but of course we've now got a huge backlog of patients that we haven't seen and we don't know what their needs will be," he said.
He added that infection control measures would be "really important" as long as the virus is in the community.
Business minister Nadhim Zahawi told BBC Breakfast the prime minister was "absolutely committed" to "making sure this forecast that has been put forward doesn't actually happen".
Speaking about whether the deal with the private sector would be renewed, he said the NHS could resume delivering broader services "without the private hospitals".
Asked when the government will publish data relating to England's track and trace system, he said statistical experts wanted figures to be "robust" before publication.
"The worst of all worlds is to publish figures that are then having to be changed or are wrong," he said.
"This country has a proud track record of making sure that we are transparent in everything we do. We will learn the lessons from this, I guarantee you, but we'll do it after we get through this challenge. That's the right thing to do."
An NHS England spokesperson previously told the BBC that the NHS was "safely bringing back other services" and was also "significantly increasing rehab care for everyone suffering after-effects of the virus".
Has your NHS treatment been affected by the coronavirus pandemic? Please share your experiences by emailing haveyoursay@bbc.co.uk.
Please include a contact number if you are willing to speak to a BBC journalist.