Hancock calls for urgent review into coronavirus death data in England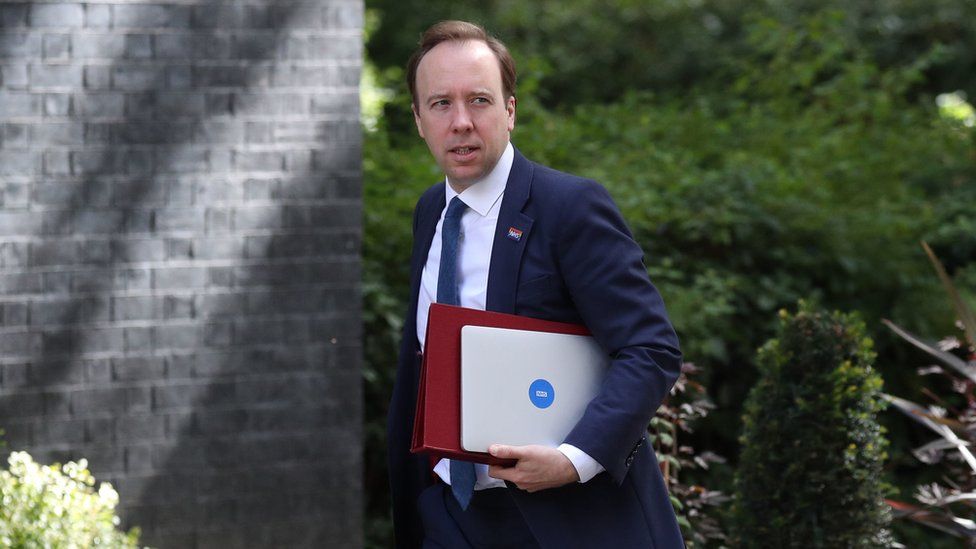 Health Secretary Matt Hancock has called for an urgent review into how coronavirus deaths have been recorded in England.
It follows confirmation from Public Health England that reported deaths may have included people who tested positive months before they died.
Other UK nations only include those who die within 28 days of a positive test.
Officials say the publication of daily death figures will be paused while the issue was "resolved".
A note on the government's website read: "Currently the daily deaths measure counts all people who have tested positive for coronavirus and since died, with no cut-off between time of testing and date of death.
"There have been claims that the lack of cut-off may distort the current daily deaths number."
There have been 40,528 deaths linked to the virus in England.
Prof Carl Heneghan from University of Oxford, who spotted the issue with the data, told the BBC there was "huge variation" in the numbers of daily deaths reported in England by PHE.
While NHS England currently reports 30-35 deaths per day, Public Health England (PHE) data often shows double that or more, he said.
The reason is that anyone who has tested positive for coronavirus but then died at a later date of another cause would still be included in PHE's Covid-19 death figures.
"By this PHE definition, no one with Covid in England is allowed to ever recover from their illness," Prof Heneghan says.
"We need correct and accurate statistics so we can really understand the trend - otherwise it's very difficult to know what's going on," he added.
Figures release from PHE today show that just under 10% of coronavirus deaths in England happened more than 28 days after a positive test.
In almost half of those cases, Covid-19 was recorded as the main cause of death.
What does this mean for England's virus death toll?
This could explain why the daily death toll in England has remained higher than in other UK nations.
Scotland, Northern Ireland and Wales only include deaths in their daily count if someone died within 28 days of a positive test.
But it doesn't mean that most of England's coronavirus deaths are counting errors.
Statisticians say it's better to look at death registrations that pick up coronavirus cases that were never confirmed by a lab test.
And when you look at those figures, or deaths from all causes, England still has one of the highest deaths tolls in Europe and leading developed economies in the pandemic, to date.
Dr Susan Hopkins, from Public Health England, said there was no agreed method of counting deaths from Covid-19.
"In England, we count all those that have died who had a positive Covid-19 test at any point, to ensure our data is as complete as possible.
"We must remember that this is a new and emerging infection and there is increasing evidence of long-term health problems for some of those affected."
"Now is the right time to review how deaths are calculated," Dr Hopkins said.
Prof David Spiegelhalter, professor of the public understanding of risk at the University of Cambridge, has called for the same systems for collecting data on deaths to be used across the UK.
There are also concerns over the impact on a potential second wave.
"As we go into the winter, it will get incredibly confusing and concerning if you have an increase in deaths while you are still counting and combining deaths from within the first phase," Prof Heneghan said.
"This means we might be unable to detect early trends in rising deaths if we put them down to historical deaths due to the inadequacies of the current system."