Coronavirus: Public Health England 'to be replaced'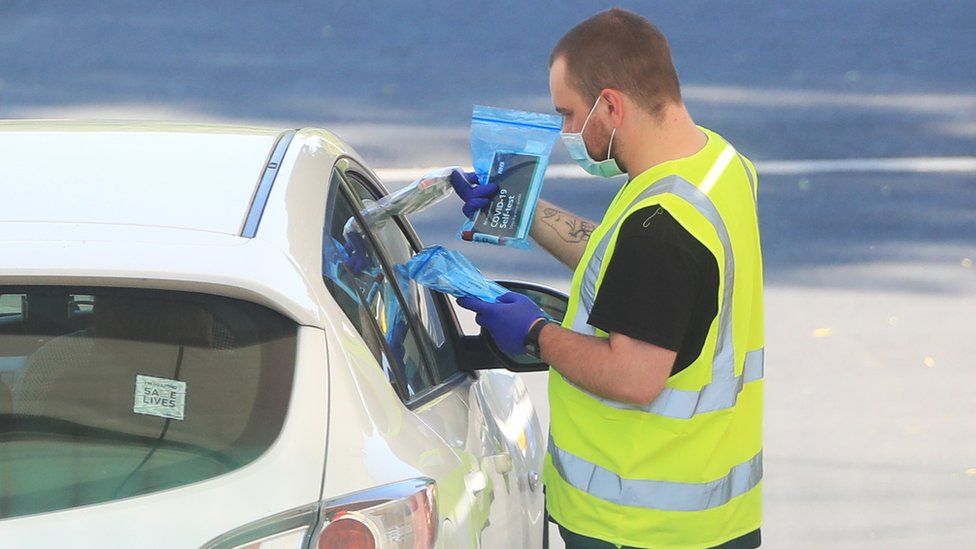 Public Health England is to be replaced by a new agency that will specifically deal with protecting the country from pandemics, according to a report.
The Sunday Telegraph claims Health Secretary Matt Hancock will this week announce a new body modelled on Germany's Robert Koch Institute.
Ministers have reportedly been unhappy with the way PHE has responded to the coronavirus crisis.
The government was contacted by the BBC but declined to comment on the report.
A Department of Health and Social Care spokesperson said: "Public Health England have played an integral role in our national response to this unprecedented global pandemic.
"We have always been clear that we must learn the right lessons from this crisis to ensure that we are in the strongest possible position, both as we continue to deal with Covid-19 and to respond to any future public health threat."
A leaked memo seen by the BBC, written by the head of Public Health England Duncan Selbie to staff said the aim of the new national institute for health protection was to boost expertise with "much needed new investment".
The paper said the new body could be called the National Institute for Health Protection and would become "effective" in September, but the change would not be fully completed until the spring.
The Robert Koch Institute, which the new body will reportedly be based on, is an independent agency that has taken control of Germany's response to the pandemic.
Prime Minister Boris Johnson has also said the country's response to Covid-19 could have been done "differently" and the government needed to learn lessons.
Public Health England has been seen by some at Westminster as a convenient scapegoat for flawed decision making in the early weeks of the coronavirus crisis.
Blame for a failure to have put in place a mass testing capability as the pandemic virus began to spread has been laid partly at PHE's door.
But decisions at the time and in the months before the crisis were made across Government, with input from the advisory body SAGE.
PHE's critics will argue that a shake-up is now needed. But supporters will feel that blaming PHE is diverting attention from others in Whitehall and Westminster.
There is a logic to moving PHE's coronavirus functions, including testing and surveillance, into a new health protection agency which also takes in the test and trace network and management. But shaking up the defences with the virus threat still present is risky.
Ministers will need to demonstrate they are doing so for the right reasons and not just playing to a political gallery.
John Ashton, a former regional director of public health in north-west England, said PHE had had "a bad pandemic" but criticised the government's reported plans to scrap the organisation.
He told the BBC News Channel: "You don't deal with the problem of an over-centralised, dysfunctional organisation by creating another over-centralised organisation which is what is being proposed.
"You don't change horses mid-stream - this pandemic has still got a long way to run," he said, adding that PHE should be strengthened rather than ditched.
PHE was created in 2013 - as part of an overhaul of the NHS in England under former health secretary Jeremy Hunt - with responsibilities including preparing and responding to health-related emergencies such as pandemics.
It currently employs around 5,500 full-time staff, made up mostly of scientists, researchers and public health professionals.
Its website says it was established to bring together public health specialists from more than 70 organisations into a single public health service.