Coronavirus: Testing boss 'very sorry' for shortages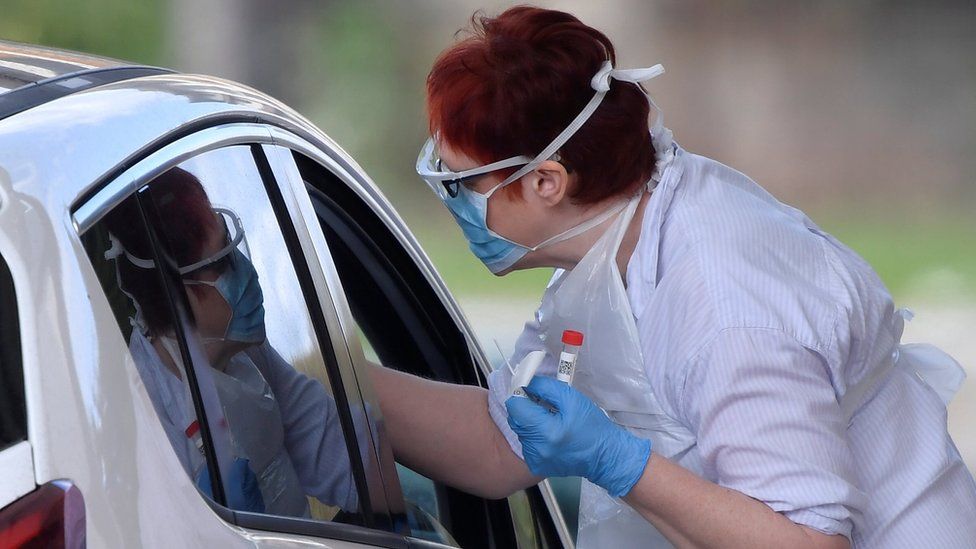 Bosses in charge of the coronavirus testing system have apologised after it emerged UK labs were struggling to keep up with demand.
Some people are being asked to travel hundreds of miles to get tested.
UK labs were described as "maxed out" after a rise in demand - 170,000 tests a day are being processed, up from 100,000 in mid June.
Baroness Dido Harding, head of NHS Test and Trace in England, said she was "very sorry" for the situation.
But she also insisted the "vast majority" of people could still get appointments nearby.
The booking website is now prioritising high-risk areas, including towns and cities with high infection rates and care homes, for testing.
It means there are restricted numbers of home testing kits and fewer booking slots at local testing centres for people in low-risk areas, the government said.
Officials said they were working hard to rectify the problem and a new lab facility would be opened in the coming weeks. By Friday no-one should be asked to travel more than 75 miles to get a test.
But Prof Paul Hunter, a public health expert at the University of East Anglia, said these issues could act as a "big disincentive to being tested" and result in local increases being missed.
'I was offered a test on other side of country'
David Llewellyn tried to book a test on Sunday and was directed to a test centre near Blackburn - 250 miles and the other side of England from his home in Stowmarket, Suffolk.
"I thought I'd entered my home location incorrectly so went through the booking process again, only to get the same location for testing. Needless to say I have subsequently ordered a home testing kit, which despite three automated email reminders to take the test has yet to arrive. I'd do the test if I had it. I think it's ridiculous."
Lucy Evans lives in Poole on the south coast. She was offered a test 220 miles away in Oldham and Blackburn. She tried again and was offered the Isle of Wight.
"I tried 14 times to get a test nearer and in the end had to get a home test as I ran out of time to get this done within five days. By the time I was tested my symptoms had disappeared."
Lucy tested negative for Covid on Tuesday.
Lisa lives in Plymouth and tried to get a test for her 14-year-old son. She was offered a test 688 miles away in Inverness.
"People aren't going to travel all that way for a test are they? You'd just have to make stops along the way and could be spreading it around if you had the virus."
She eventually got a test locally and her son was negative.
What has caused this problem?
The government says the network of labs used to process tests has capacity to process 250,000 tests a day at the moment.
Currently around 175,000 tests a day are being processed, which the government has said is more per head of population than many countries.
But the government said it has faced problems because demand is not smooth - at weekends it drops and on weekdays there can be surges.
Over the past month it has meant a backlog has developed, meaning the time taken to turnaround tests has been increasing.
To curb demand, the availability of slots at testing centres have been reduced.
The government said it has done this to ensure high risk areas, including care homes and towns with high rates of infections, can be prioritised for testing.
The most recent data shows test results are now being provided more quickly, with the average turnaround time 24 hours or less for mobile testing units and local testing centres.
It also said booking slots open up throughout the day so if people keep trying they should be able to get a more convenient location for a test, or order a home test.
A new lab is also being opened near Loughborough at the end of the month that will be able to process 50,000 tests a day.
Health Secretary Matt Hancock admitted there were some "operational challenges", but said the "vast majority" of people could get a test close to home.
How will new tests speed things up?
Mr Hancock also set out plans to pilot more rapid, easy-to-use tests.
A £500m programme is under way to trial a range of different tests, including ones that use saliva (instead of nose and throat swabs) and tests that can be processed quickly, and sometimes on the spot - at the moment swab tests are sent off to labs to be processed.
Repeat testing of members of the public will be tried out in Salford in Greater Manchester.
Meanwhile, students and school pupils in Southampton will also be tested weekly in another study.
The technologies open up the prospect of mass population testing which, if successful, could reduce the need for social distancing.
Mr Hancock said: "Short of a vaccine, this is the best chance we have of reducing social distancing whilst controlling the virus, especially with winter coming and all the challenges that brings."
But he refused to be drawn on a timescale for when this might become available, saying it was essential to see if they worked first.
After BBC revelations that some people have been required to drive long distances for virus tests, there has been renewed debate about whether there is sufficient testing capacity.
There has apparently been an increase of more than 60% in demand for tests since June - and it appears that laboratories have struggled to keep up in some parts of the country. There's been an apology to those who were told to go 100 miles or more for a test.
Officials acknowledge that resources are stretched and have to be targeted at areas with local outbreaks. But they point out that a new "mega lab" is set to come on stream in the east Midlands soon.
They also argue that trials of new rapid testing techniques will be expanded, which could prove to be game-changers.
For now though, the system is stretched, even though the official numbers suggest capacity is running ahead of demand.
Questions will continue to be asked about whether the system can cope with challenges ahead, with schools returning and winter approaching.