Coronavirus: Year-long waits for NHS care at highest since 2008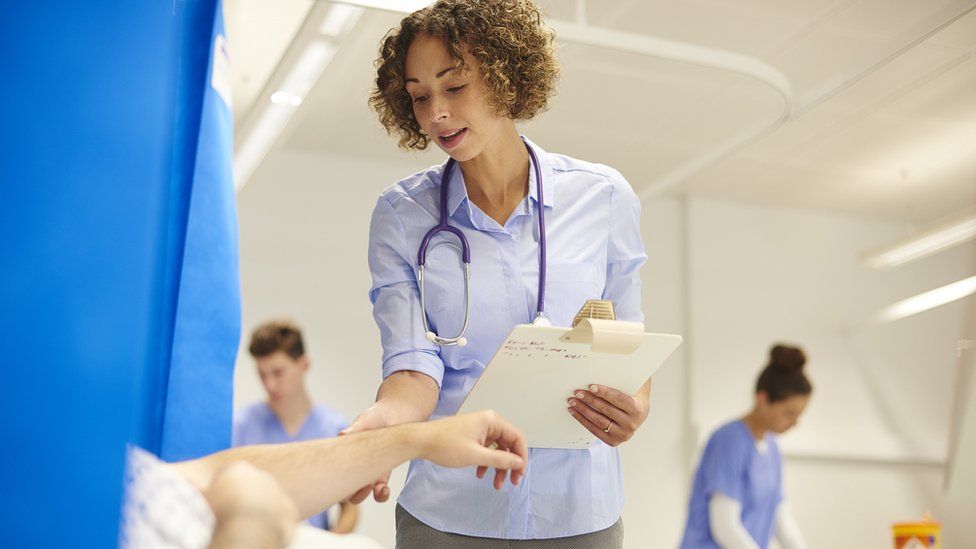 The numbers waiting over a year for hospital treatment have hit a 12-year high in England as hospitals struggle to get services back to normal.
Nearly 2m patients have been waiting more than the target time of 18 weeks for routine care with 111,000 left for over a year, NHS England figures show.
The numbers starting cancer treatment and getting urgent checks are also below the levels seen a year ago.
But NHS England said "progress" was being made.
It pointed out more patients were starting to be seen - although there are now warnings service may have to be cut back on again as admissions for Covid continue to rise.
About 500 patients a day are being admitted to hospital with the disease - double the number two weeks ago.
Health Secretary Matt Hancock said the UK was in a "perilous" position and the ability of the NHS to see non-Covid patients was under threat.
Health minister Nadine Dorries predicted within 10 days hospitals would be a "critical" point.
Has your medical treatment been delayed? Tell us about your experiences.
'I've been waiting 28 weeks'
Sophie Meredith, 35, from Telford, broke her left elbow in January and is still waiting to have an operation to fix it.
"It wasn't a simple break - I had to wait eight to 10 weeks to have the operation, as something in my arm needed to heal," she said.
But the coronavirus lockdown happened the day before it was due to go ahead on 24 March - and she's now been waiting 28 weeks.
Sophie, a contract manager for a facilities company, has yet to learn when it will take place.
The injury was on her dominant arm, so Sophie has had difficulty "doing a lot of things like brushing my teeth and writing".
She also suffers a "constant ache" and pain when she rotates her wrist.
Sophie says she is "fearful" of people knocking into her when she goes out.
"I don't look like anything is wrong because I'm in a sling [not a cast]."
It has also impacted her ability to work - "I'm unable to drive [and] my job involves a lot of driving," she says.
"I'm now dealing with emails and admin on a part-time basis."
Meanwhile, the latest data from NHS Test and Trace show the turnaround times for test results has worsened.
Results for only a quarter of tests in community testing venues were returned in 24 hours, compared with 38% the week before.
The service also continued to fail to achieve its target of reaching 80% of people who test positive to ask them for their close contacts - and also fell short of then contacting 80% of the close contacts infected individuals disclosed.
How much pressure is Covid putting on hospitals?
The 500 Covid admissions a day is double the number seen a fortnight ago.
But it is still well below the peak in the spring when 3,000 people were being admitted to hospital each day.
A large proportion of the admissions have been in the North of England.
Although overall only about 3% of hospital beds in England are currently taken up by Covid patients.
Prof Michael Griffin, president of the Royal College of Surgeons of Edinburgh, said the rising number of admissions was prompting even more core services to be curtailed.
He said he was hearing of hospitals cutting back on operations and diagnostic checks as they "prepare for an influx of Covid patients".
He also warned there would be large numbers of "invisible" cancer patients who had not yet been diagnosed because they had not sought help.
Sara Bainbridge, of Macmillan Cancer Support, said the disruption caused by the pandemic was having a "traumatic impact" on cancer patients.
She warned: "Cancer must not become the 'forgotten C' during this pandemic."