Coronavirus: Rapid bedside test shows promise in hospitals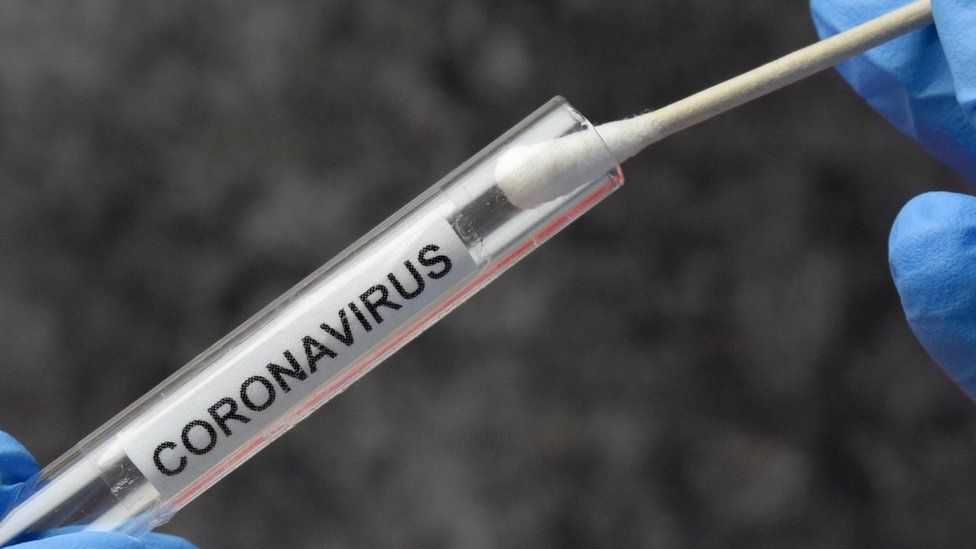 A rapid "bedside" test for coronavirus could help cut the spread of the infection in hospitals, scientists say.
In their study, the rapid test took under two hours to show results, while standard tests - which have to be sent to laboratories - took much longer.
Researchers say this meant patients taking the rapid test could be isolated more quickly when positive, potentially reducing the spread of the virus.
They are calling urgently for more rapid tests on the NHS.
In March and April 2020, scientists at Southampton General Hospital tested 500 people with symptoms of coronavirus with a rapid Covid-19 test, done close to the bedside, and analysed by a machine on the same ward.
They compared these results with around 500 patients given only the standard nose-and-throat swab tests which had to be sent to a separate laboratory for analysis.
Patients who had the bedside test were isolated or put on dedicated coronavirus wards on average a day earlier than patients waiting for standard swab results.
In the early days of the pandemic, scientists found it took an average of 21 hours to complete and get the result from standard tests, resulting in delays in patients getting to the right part of the hospital.
They say standard testing times have improved in many hospitals in recent months.
But they argue rapid, so-called "point-of-care" tests still have considerable benefits because transporting samples to laboratories, waiting for enough samples to analyse, and the results then being sent on to clinical teams before being checked, can all take time.
Dr Tristan William Clark, who conducted the study, told the BBC: "With the rapid tests, the same team admitting the patient can often do the test and check the results, making sure the patient goes to the most appropriate ward. This can mean things are much quicker."
He acknowledges the tests can be expensive but says the costs are "highly likely to be offset by the benefits of moving patients to the right wards quickly".
Prof Lawrence Young, at Warwick Medical School, described the work as "an exciting development".
He said: "The value of this approach in rapidly identifying infected patients means that such individuals can be quickly isolated away from non-infected patients leading to improved infection control. It also means that infected patients can be more rapidly and efficiently enrolled in clinical trials."
Related Internet Links
The BBC is not responsible for the content of external sites.