Covid: Lockdown had 'major impact' on mental health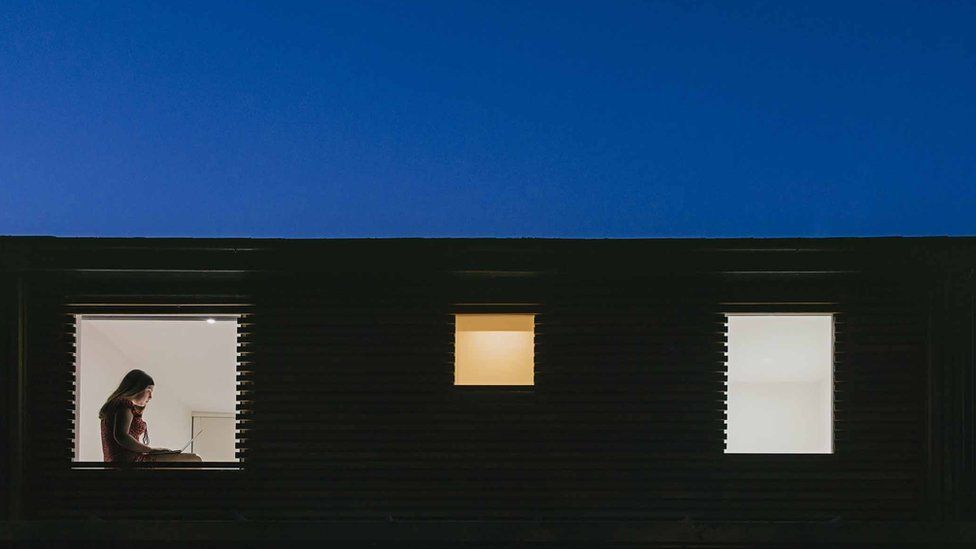 Lockdown had a major impact on the UK's mental health, including increased rates of suicidal thoughts, according to new research.
The study, led by the University of Glasgow, examined the effects of Covid-19 during the height of the pandemic.
Certain groups are said to be particularly at risk, including young people and women.
The Department of Health in England said it was increasing investment in mental health services.
This publication is the most detailed examination of how the UK's adult population coped during the first weeks of lockdown, when people were given strict orders to stay home.
Researchers say public health measures, like lockdowns, are necessary to protect the general population, but warn they may have a "profound and long-lasting" effect on mental health and will extend beyond those who have been affected by the virus.
The study, published in the British Journal of Psychiatry, looked at three blocks of time between March 31 and May 11.
Just over 3,000 adults in the UK were surveyed and a range of mental health factors were considered, including depression, loneliness, suicide attempts and self-harm.
The study found suicidal thoughts increased from 8% to 10% and they were highest among young adults (18-29 years), rising from 12.5% to 14%.
The researchers say that, even though those are relatively small rises, they are significant because of the short period of time they happened over.
"The majority of people did not report any suicidal thoughts, but this creeping rise over a very short period of time is a concern," says Prof Rory O'Connor, chair in health psychology at the University of Glasgow's Institute of Health and Wellbeing.
"Levels of anxiety decreased during the same period of time, but that relates to the past," he added. "Suicidal thoughts are about looking to the future.
"It suggests that the huge social and economic uncertainty associated with Covid-19 may be causing some people to feel hopeless. However, there is currently no evidence that the suicide rate is increasing."
One in four respondents experienced at least moderate levels of depressive symptoms.
Young people, women, individuals from more socially-disadvantaged backgrounds and those with pre-existing mental health problems reported the worst mental health outcomes in the initial phase of the national lockdown.
'I began to struggle without routine'
Thomas Nevill from Epsom in Surrey was diagnosed with PTSD as a teenager following the death of his dad.
When strict new rules were announced to tackle the spread of coronavirus on 23 March, the 29-year-old's daily routine of being a student fell by the wayside.
"Initially I felt calmer, as I no longer needed to push myself out of my comfort zone," he says.
"The crowded meeting rooms and lecture halls that regularly gave me panic attacks and anxiety were no longer a part of daily life.
"But the novelty wore off fairly quickly and I began to struggle without the routine. My mood dropped and my anxiety became an issue again.
"It's taken me a while to be comfortable meeting friends again after the fear of spreading the virus and I've noticed that I am more reluctant to meet people now that more recent restrictions have come in.
"I am worried that another lockdown will cause my anxiety to get worse and my mood to drop again."
The participants in this study have been followed throughout the pandemic, with further results due to be published in the coming months.
"Investigating the trajectory of mental health and wellbeing is crucial to giving us a better understanding of the challenges people face," says Professor O'Connor.
"We can formulate targeted measures and interventions for those most in need, as well as being prepared for the future."
As millions across the UK return to strict measures once again, charities acknowledge this winter will be particularly challenging.
"There's no doubt the pandemic will have a lasting impact on mental health. We are really worried issues like job losses will impact further," says Jacqui Morrissey from Samaritans, which funded the research.
"It's essential we all look after our own mental health. However, like the first wave, we also need to continue to check in with people if we think they're struggling."
Health is a devolved issue in the UK. All four health departments say measures have been put in place to manage the huge impact the coronavirus pandemic is having on people's mental health.
In England, NHS mental health services have been adapted to provide additional support, including digital appointments, and more than £10m of funding has been provided to mental health charities.
Wales has appointed a dedicated Minister for Mental Health, while Scotland and Northern Ireland have both launched mental health action plans.
Support and information on mental health is available on the BBC Action Line page.