Covid-19: Nearly 100,000 catching virus every day - study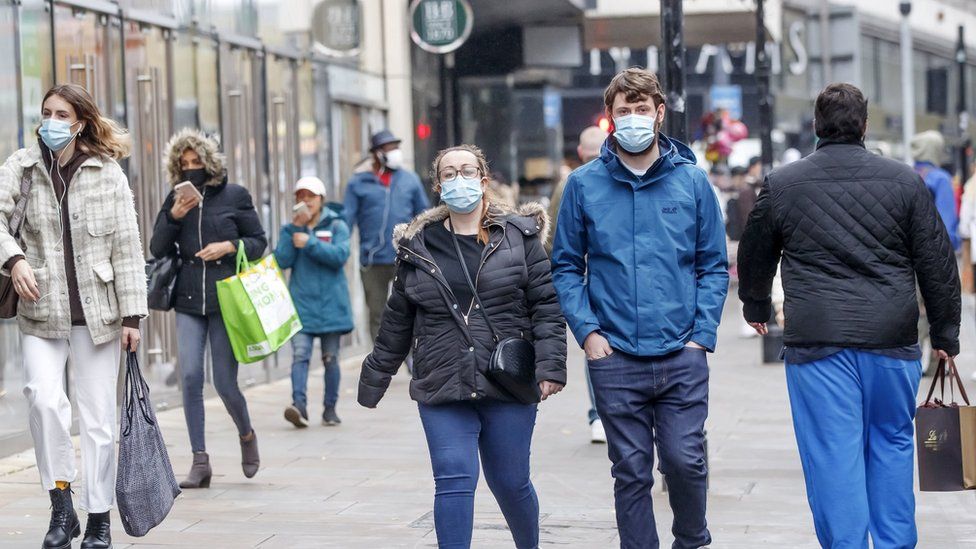 Nearly 100,000 people are catching coronavirus every day in England, a major analysis suggests.
The study, by Imperial College London, says the pace of the epidemic is accelerating and estimates the number of people infected is now doubling every nine days.
The authors say we are at a "critical stage" and "something has to change".
Communities Secretary Robert Jenrick told BBC Breakfast the government wanted to "try to avoid having a national blanket approach" to coronavirus restrictions in England, where a regional three-tier alert system is in place.
"We don't have a plan, today, to do a full national lockdown," he said, adding such a move "would be destructive to people's lives and livelihoods and broader health and wellbeing".
A national "firebreak" lockdown is ongoing in Wales, while Northern Ireland has tightened restrictions, including closing schools, and Scotland has confirmed details of its new tiered alert system.
Labour's shadow health secretary Jonathan Ashworth called for Prime Minister Boris Johnson to hold a news conference to outline "steps he will now take to get control of the virus and save lives".
Experts are warning that we are fast approaching the peak in infections seen in the spring.
The React-1 study is highly influential because it is the most up-to-date assessment of Covid-19 in the country, with the last swabs taken only on Sunday and nearly 86,000 volunteers taking part.
A further 24,701 new coronavirus cases were reported on Thursday - but the Imperial College study randomly tests asymptomatic people to estimate the number of overall new infections.
It shows cases are rising in every age group and in every region of England.
While cases are currently highest in northern England, infections are surging more rapidly in southern parts.
The study compared the latest swabs collected between 16 and 25 October with the last round of swabs, between 18 September and 5 October.
It found that, on average, every infected person in London was passing on the virus to nearly three other people - although there is some uncertainty in the figure, it is the highest estimated rate in England.
The number of people infected has more than doubled since the last round, with one in every 78 people now testing positive
The hardest hit area is Yorkshire and the Humber, where one in every 37 people has the virus, followed by the North West region
Three times as many people aged 55-64 are infected, compared with the previous month's study, and twice as many over 65s
The pace of the epidemic has accelerated with the R number - the number of people each infected person passes the virus on to on average - increasing from 1.15 to 1.56
Overall, the number of people infected is doubling every nine days
The South East, South West, east of England and London all have an R above 2.0
Cases are spiking in young people in the South West in a repeat of the pattern seen in northern England just over a month ago
There are 96,000 people catching the virus every day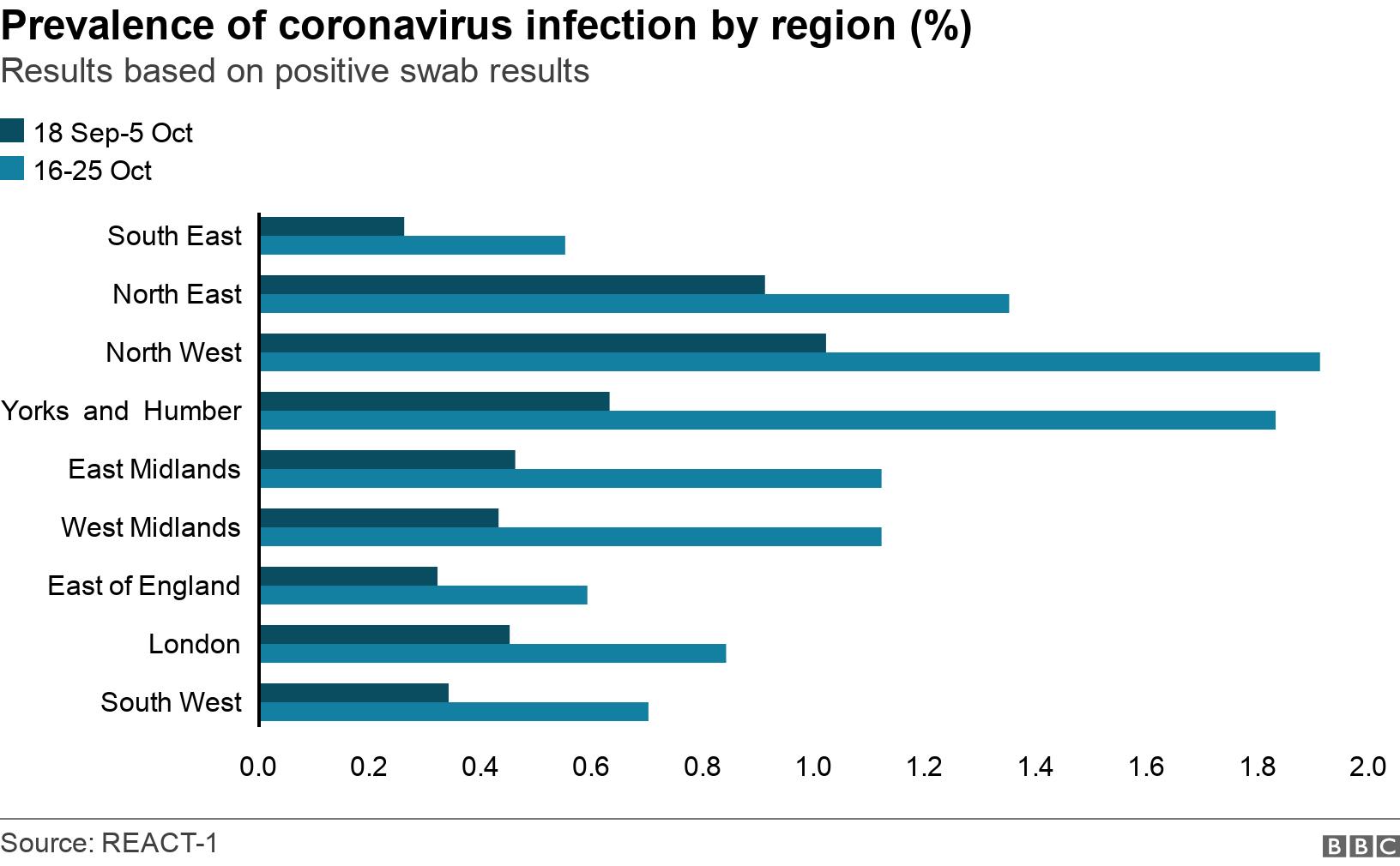 But there were glimmers of hope in the report. Cases in the north east of England are still growing, but much more slowly than before.
The region was also starting to see a fall in the number of 18-24 year olds catching the virus, along with Yorkshire and the Humber, although it is rising in older age groups in those areas.
Prof Steven Riley, one of the authors, told BBC Radio 4's Today programme the government may need to "think about changing the approach" in England.
"I think lockdown as a phrase is inhibiting us a little bit," he said. "I think what our study shows is there would be genuine benefits to some kind of national policy in that we could prevent the pattern in the South turning into the current pattern in the North and bring about a reversal in the North as quickly as possible."
He added that "sooner is better" when it comes to making a decision on national restrictions.
Dr Mike Tildesley, professor of infectious disease modelling at the University of Warwick and adviser to the government, told Today there needed to be "urgent... rapid action" to avoid a further rise in infections next month.
He described the current regional approach as "firefighting" and said some form of national measure in England would help prevent areas moving up into higher restrictions.
"If we don't take urgent action, we're most likely to see that as we're approaching the festive period we're probably going to be in at least tier two pretty much everywhere in the country," he said.
Analysis: Stark picture of a challenging winter
This study paints a stark picture of where we are and where we could be heading.
If there was no change in the reported nine-day doubling time, there would be more than a million infections a day by the end of November.
That is a considerable "if", but it demonstrates the threat posed by the virus if it is allowed to grow exponentially.
Somehow, we have to navigate a challenging winter, balancing the virus and the cost of restrictions.
France and Germany have turned to forms of lockdown, albeit not as severe as those endured earlier in the year. The government here is sticking to its regional strategy.
But the hardest fact to digest today may be that it is still only October.
Spring, when hopefully the weather and vaccine will make the virus easier to control, is still a long way away.
But World Health Organization envoy Prof David Nabarro said regional restrictions in northern England had slowed the spread of Covid-19.
He said England had "apparently been able to slow the spread in some parts of the North of the country through very effective local action".
Meanwhile, business leaders have urged the government to avoid another full national lockdown to save jobs and protect the economy.
Hotelier Sir Rocco Forte told the BBC the country was "looking at a very bleak future and high levels of redundancy and employment" and that any future national lockdown would be "an overreaction and completely unnecessary".
The 75-year-old, who owns Brown's Hotel in London, said he contracted coronavirus earlier this year and "got through it" after an unpleasant three weeks.
"I would go through that again rather than see the country close down," he said.
The government is still hoping its local, targeted restrictions will work in England, allowing more of the economy to stay open in areas where the virus is less prevalent, according to BBC political correspondent Nick Eardley.
But it has also been at pains to say it is ruling nothing out if the virus is out of control - including nationwide measures, he added.
Mr Jenrick confirmed talks were under way with leaders in Leeds and West Yorkshire about a potential move to the tier three - very high - alert level.
And Ian Ward, the leader of Birmingham City Council, said a move to tier three for his region was "inevitable" if not "imminent".
Lancashire, Greater Manchester, the Liverpool City Region, Warrington and South Yorkshire are all in the highest tier of regional restrictions, with Nottinghamshire to join them on Friday.
The government's coronavirus dashboard reported 310 further deaths across the UK on Wednesday.