Covid-19: Liverpool to pilot city-wide coronavirus testing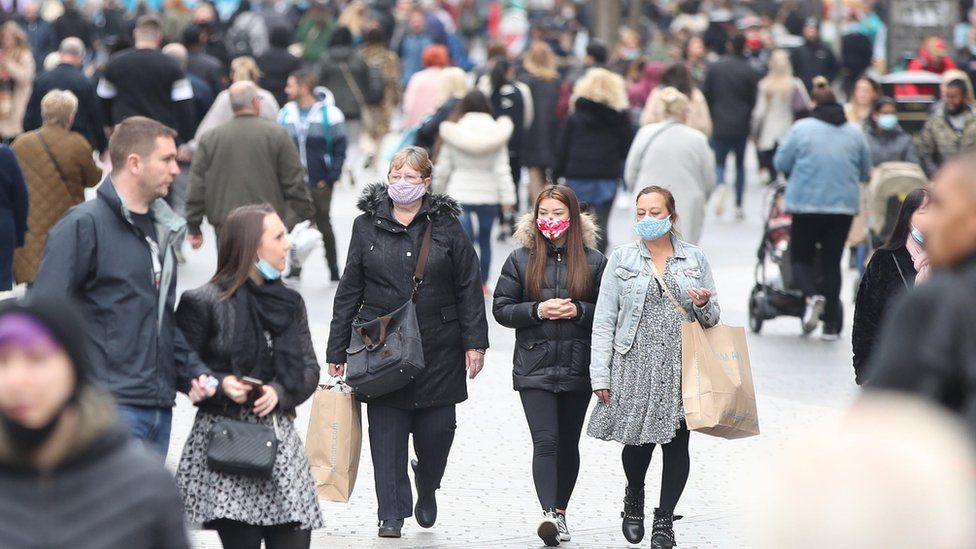 People in Liverpool will be offered regular Covid-19 tests under the first trial of whole city testing in England.
Everyone living or working in the city will be offered tests, whether or not they have symptoms, with follow-up tests every two weeks or so.
Some will get new tests giving results within an hour which, if successful, could be rolled out to "millions" by Christmas, the government says.
Liverpool has one of the highest rates of coronavirus deaths in England.
The latest figures show the city recorded 352 cases per 100,000 in the week up to 30 October. The average area in England had 153.
On Monday, the UK recorded 18,950 new confirmed cases of coronavirus and 136 deaths within 28 days of a positive test.
The Liverpool pilot aims to limit the spread of the virus by identifying as many infected people as possible, and taking action to break chains of transmission.
A significant number of people who are infected with coronavirus show no symptoms, but the exact proportion has yet to be determined. One paper has put the figure at 28%.
The pilot will start this week and will include a mix of existing swab tests and new lateral flow tests, which can provide a result within an hour without the need to use a lab.
New test sites will be set up across the city, including in care homes, schools, universities and workplaces. People will be able to book online, turn up in person, or wait for an invitation from the local authority.
Around 2,000 military personnel will help plan the logistics and deliver tests.
"I hesitate to use the word game-changer because it gets overused, but it is a significant step forward in the testing arena," said Sir John Bell, of Oxford University, who has been advising the government on tests.
He said the rapid tests "genuinely have a turnaround time of about 15 to 20 minutes".
The quick tests give about one in 1,000 false positives - meaning someone is told they have got the virus when they do not - but they give "quite a good indication of people who are infectious", he said.
Sir John told BBC Radio 4's Today that "there are risks" that people who get a negative result from the rapid tests will think they are in the clear - and that is an "inappropriate conclusion".
"We believe that we can identify the majority of people who are likely to spread the virus and all the people who are likely to be super-spreaders or substantial spreaders - but we will not be able to identify everybody with the virus."
You can spread coronavirus before you even feel sick. That's why testing everyone - symptoms or not - can be such a powerful tool for getting on top of the virus.
China has shown it is possible to test entire cities of millions of people. However, there are questions with both the tests used and the strategy as a whole.
Rapid or "lateral flow" tests need high levels of the virus in the body in order to work. It is not yet clear how good they are at catching people in the early stages of the infection when the virus is still taking hold.
False positives - when you don't have the virus, but the test says you do - are also a bigger problem when you test large numbers of people. One analysis suggested a twice-a-week test for six months using a test with a 1% false positive rate would lead to more than 40% of people being wrongly told they had the virus, although it is expected that the rate will be much lower with the tests used in Liverpool.
But even a perfect test cannot change the course of Covid on its own. There is already an issue with too few people fully isolating even when they have Covid symptoms and have tested positive.
Will people isolate when they have no symptoms at all or will they even come forward for testing if it might mean missing work and pay? The UK's first attempt at city-wide testing will help find the answers.
Announcing the pilot, Prime Minister Boris Johnson said: "These tests will help identify the many thousands of people in the city who don't have symptoms but can still infect others without knowing.
"Dependent on their success in Liverpool, we will aim to distribute millions of these new rapid tests between now and Christmas and empower local communities to use them to drive down transmission in their areas.
"It is early days, but this kind of mass testing has the potential to be a powerful new weapon in our fight against Covid-19."
The new rapid tests still involve a swab in the back of the throat and up the nose, but is analysed there and then, "using an approach similar to a pregnancy kit," said Liverpool's director of public health, Matt Ashton.
Liverpool Mayor Joe Anderson told BBC Radio 4's Today programme that it was "really positive for the city".
"It hopefully means that when we come out of national lockdown on the 2nd December that Liverpool will be able to come out of tier three [the strictest restrictions] and go into a lower tier, enabling us to have eased measures heading towards Christmas," he said.
A rising number of cases in recent weeks across the country prompted the prime minister to announce a national lockdown in England. MPs are set to vote on the plan on Wednesday.
He also said ministers were planning a "steady but massive expansion in the deployment of quick, turnaround tests".
The Office for National Statistics data showed 1,126 of the deaths registered in the UK in that week involved Covid-19, up by 48% on the previous week's figures.