Covid vaccine: Pfizer says '94% effective in over-65s'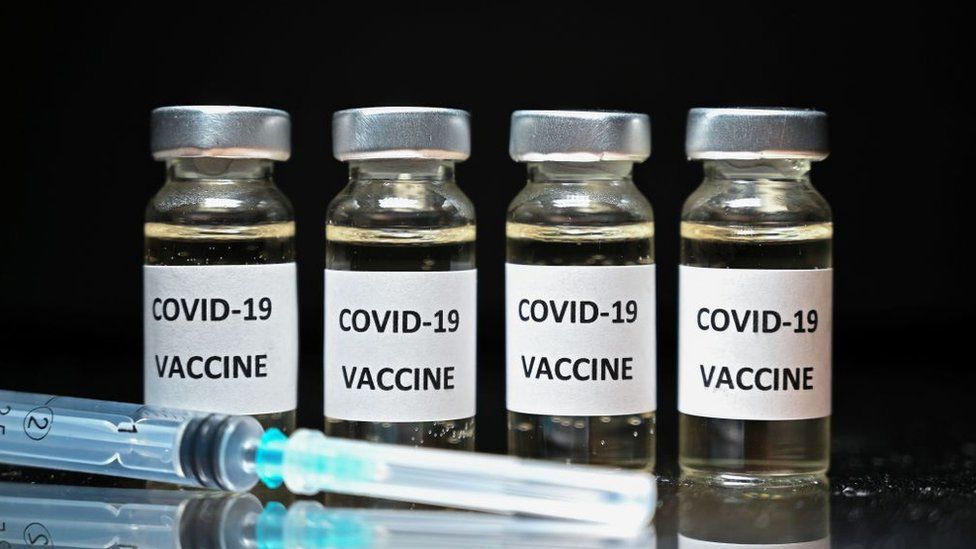 The coronavirus vaccine developed by Pfizer and BioNTech appears to protect 94% of adults over 65 years old.
More data released from their continuing phase three trial suggests it works equally well in people of all ages and ethnicities.
The companies say they will now apply for authorisation for emergency use of the jab in the US.
The trial involved 41,000 people worldwide. Half were given the vaccine, and half a placebo.
Wednesday's data from Pfizer and BioNTech, which builds on last week's data, suggests the vaccine is 95% effective based on 170 cases of Covid-19 developing in volunteers.
Just eight were in the group given the vaccine, suggesting it offers good protection. The rest of the cases were in the placebo group given a dummy jab.
In older adults, who are most at risk from the virus and have weaker immune systems, the vaccine worked as well as it did in younger people.
Scientists said the data was further encouraging news, with Prof Trudie Lang from the University of Oxford describing it as "a remarkable and very reassuring situation".
"To go from identifying a new virus to having several vaccines at the point of applying for regulatory approval is an incredible milestone for science," she said.
Although the full trial data has yet to be published, the companies say there have been no serious safety concerns.
But they did notice fatigue in 3.8% of volunteers given the vaccine and headaches in 2%, both after the second dose, although older people seemed to experience minimal side effects.
There is also evidence that the vaccine protects against severe Covid - but this is based on only 10 cases.
It's still unclear how long protection from the vaccine lasts and if it stops people transmitting the virus.
In the trial, 42% of all participants are from diverse ethnic backgrounds and 41% are aged between 56 and 85 years old.
Analysis by Naomi Grimley, health correspondent
More vaccine good news is what we've all been waiting for. This time it's really encouraging to know the Pfizer vaccine seems to work on older people as effectively as in younger ones.
But this vaccine is still a long way off widespread use. First, regulators need to be absolutely sure in their own minds that it's safe - not least because Moderna and Pfizer both use an experimental technology that's never been approved before.
That process could still take a few weeks. Then there's the massive issue of availability. Pfizer is promising 50 million doses by the end of the year. But remember: it's a two-shot vaccine.
Perhaps one of the biggest problems is that wealthy countries have already swooped in to buy up the first batches that will be ready. That's good news for a country such as the UK, but not such good news for developing countries which haven't got the money to place bids.
That's why so much hinges on other vaccines such as the Oxford AstraZeneca one, as they may be more scalable, and there are more advanced plans to get it to low- and middle-income countries through a UN-backed project called Covax.
The trial, which is testing people at 150 sites in the US, Germany, Turkey, South Africa, Brazil and Argentina, will collect data on the safety and efficacy of the vaccine for another two years.
The companies behind it expect to produce up to 50 million doses of the vaccine this year and up to 1.3 billion doses by the end of 2021.
The UK has pre-ordered 40 million doses and should get 10 million by the end of the year.
It has also ordered 100 million doses of the Oxford-AstraZeneca vaccine, which is planning to release data from its phase three trial soon.
There are hundreds of vaccines in development around the world, and about a dozen in the final stages of testing, known as phase three.
The first two to show any results - made by Pfizer-BioNTech and Moderna - both use an experimental approach, called mRNA, which involves injecting part of the virus's genetic code into the body to train the immune system.
Antibodies and T-cells are then made by the body to fight the coronavirus.
The Sputnik vaccine, developed in Russia, has also released early data from phase three based on a smaller number of volunteers and Covid cases.
There are some logistical challenges with mRNA vaccines, namely the need to store them at cold temperatures.
The Pfizer vaccine must be stored at about minus 80C, although it can be kept in a fridge for five days.
Moderna's vaccine needs to be stored at minus 20C for up to six months and kept in a standard fridge for up to a month.
Prof Stephen Evans, professor of pharmacoepidemiology at the London School of Hygiene & Tropical Medicine, said the full data would have to be submitted to bodies like the US Food and Drug Administration and the European Medicines Agency for approval.
"We can expect both agencies to conduct a very careful evaluation and we can rely on their conclusions," he said.
This process could take several weeks.
Correction 26 March 2021: This article was amended to make clear that fatigue was noted in a slightly higher percentage of volunteers than headaches after the second dose.