Are Covid patients getting younger?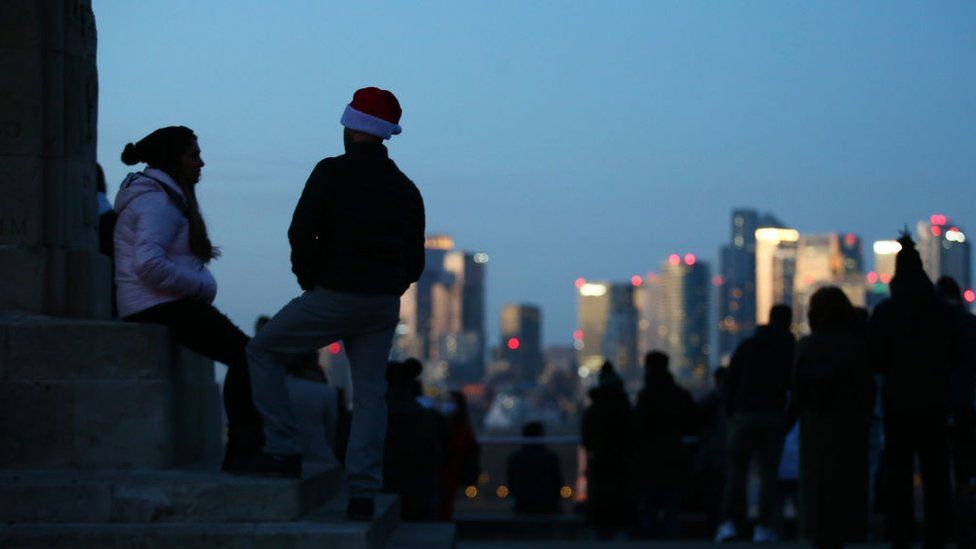 Since the end of the second lockdown in England, the numbers of people being admitted to hospital with Covid have been rising quickly on a daily basis.
Some healthcare staff say they are seeing younger patients, so what does the data show?
Are different age groups being affected now?
There are more people of all ages in hospital with Covid now than in the first wave last spring - that includes the young and old.
Infections have been highest in teenagers, students and people in their 20s and 30s in recent months. A small percentage of people from these age groups inevitably end up in hospital needing treatment.
But the overall pattern of those at risk of becoming seriously ill or dying has not changed significantly.
The older someone is, the greater their risk from Covid-19 - particularly over the age of 65.
For people under 40 who are infected, their risk of death is 0.1%. This rises to more than 5% for people over 80, according to Imperial College London research on the first wave.
This is equivalent to the risk of death from Covid doubling approximately every eight years of ageing.
Better treatments, greater knowledge of how the disease progresses and the rollout of vaccines should all improve these figures in the second wave.
Since the start of the second wave in late September, the highest hospital admission rate for confirmed Covid-19 has been in the over-85s, followed by 75 to 84-year-olds.
Children and young adults have consistently seen the lowest rates.
Compared with the first wave in the spring, more children and adults in all age groups have been admitted to hospital with the virus, creating pressure on the NHS during an already busy winter.
"Children's wards are usually busy in winter," Prof Russell Viner, president of the Royal College of Paediatrics and Child Health, said recently.
"As cases in the community rise, there will be a small increase in the number of children we see with Covid-19, but the overwhelming majority of children and young people have no symptoms or very mild illness only."
Although people in middle age are less affected than the over-65s, they are by no means risk-free.
In the last few weeks, for example, adults aged 18-64 have accounted for 40% of daily Covid admissions to hospitals, data from Public Health England shows. This compares to 40% for 65-84 year olds and 20% for the over-85s.
And there has been a steep rise in the numbers of people in their mid-40s to mid-60s becoming seriously ill with Covid and being admitted to intensive care units.
There has also been a slight increase among younger adults too, although fewer than one in 100,000 was critically ill with Covid in December.
In contrast, children under 17 make up a very small percentage of those admitted to hospital with Covid - around 1% - and it is extremely unlikely they will need intensive care treatment.
The ages of people who have died with Covid-19 since June show the huge impact on older age groups and the rarity of a Covid death in the under-30s.
But there have been some during the pandemic. Twenty-seven deaths have occurred among under-19s who tested positive for Covid-19, according to NHS England, and 317 among 20 to 39-year-olds.
More than 80% had an underlying health condition, such as heart disease or type 2 diabetes, which may have increased their risk.
Dr Nick Scriven, a former president of the Society for Acute Medicine, says he has seen a patient in their 20s requiring oxygen treatment but most were in their mid-40s, 50s and above - and the most seriously ill were over 50.
"They are not very different ages to the first wave," he says, although people are surviving for longer and fewer are being put on ventilators.
In intensive care, the average age of Covid patients in the second wave is 60.2 compared with 58.8 in the first wave.
According to analysis of 10,000 patients in intensive care in the last four months of 2020, men are around twice as likely as women to end up critically ill with Covid, from the age of 40 upwards.
While most seriously-ill men in intensive care were in their 60s, around 15% were in their 50s and 8% in their 40s.
The new variant, which is thought to be more transmissible than previous forms of the virus, is behind the recent sharp rise in cases.
It appears to affect people of all ages - but there is no evidence it makes people more seriously ill with Covid-19, including children and young people.