Covid-19: Packed hospitals raised death risk by 20%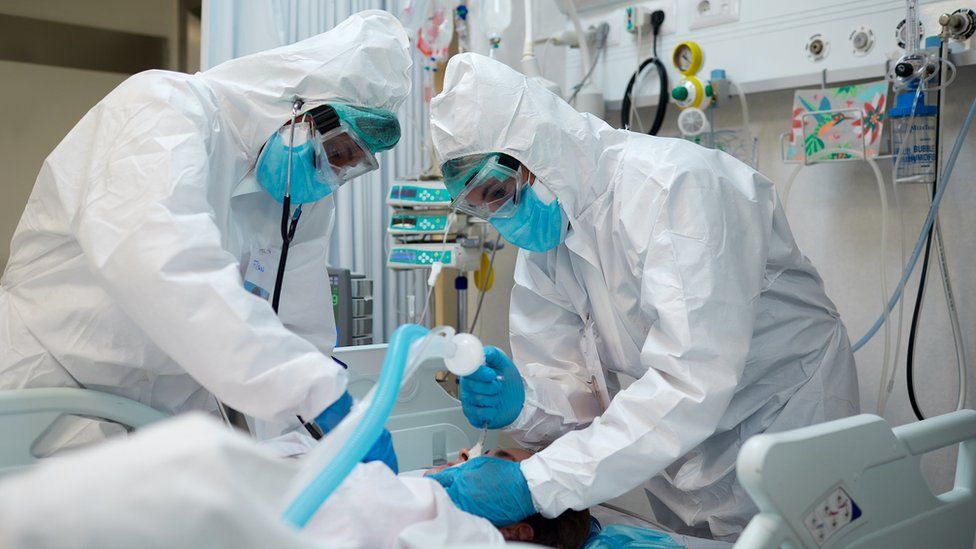 The increased risk was equivalent to gaining a decade in age.
By the end of 2020, one in three hospital trusts in England was running at higher than 85% capacity.
Eleven trusts were completely full on 30 December, and the total number of people in intensive care with Covid has continued to rise since then.
The link between full ICUs and higher death rates was already known, but this study is the first to measure its effect during the pandemic.
Tighter lockdown restrictions are needed to prevent hospitals from being overwhelmed, says study author Dr Bilal Mateen.
Researchers looked at more than 4,000 patients who were admitted to intensive care units in 114 hospital trusts in England between April and June last year.
They found the risk of dying was almost a fifth higher in ICUs where more than 85% of beds were occupied, than in those running at between 45% and 85% capacity.
That meant a 60-year-old being treated in one of these units had the same risk of dying as a 70-year-old on a quieter ward.
The Royal College of Emergency Medicine sets 85% as the maximum safe level of bed occupancy.
However, the team found there was no tipping point after which deaths rose - instead, survival rates fell consistently as bed-occupancy increased.
This suggests "a lot of harm is occurring before you get to 85%".
Patients admitted to ICUs that were less than 45% full were 25% less likely to die than average.
Usually if a very sick patient's heart stops, everyone on the ward will rush to help them, Dr Mateen explained.
But when there are too many patients, staff's time is inevitably split, so "it makes sense that the quality of patient care would be sacrificed", he said.
'Can't create nurses overnight'
While extra beds and equipment can, and have, been provided through the Nightingale hospitals and the private sector, finding enough qualified staff has been an issue.
"You can't just create an ICU nurse who knows how to operate a mechanical ventilator overnight," Dr Mateen told the BBC.
These are highly-skilled roles that take years of training and sometimes decades of experience, he added.
Instead, a "robust vaccination programme" and tighter lockdown restrictions are needed to bring down cases and hospitalisations, he believes.
Co-author Prof Christina Pagel at UCL added: "This paper highlights for the first time that putting such strain on ICUs during pandemic peaks does, sadly, mean that that chances of someone dying in intensive care are higher.
"Our work underlines the urgency of both vaccinating vulnerable groups as soon as possible and reducing Covid transmission in the community to relieve pressure on intensive care."
It's difficult to say for sure that fuller ICUs are actually causing more deaths - it's possible that as they get fuller, only the sickest patients are admitted.
But Dr Mateen says there was no evidence of rationing - of sick patients being turned away.
Even pre-Covid, data suggests larger ICUs had lower death rates - with a 25% increase in bed numbers linked to a corresponding 25% fall in mortality.
And the findings are supported by a wealth of evidence from before the pandemic and from around the world.