Covid-19: North-east England leads race to vaccinate over-80s
By Philippa Roxby
Health reporter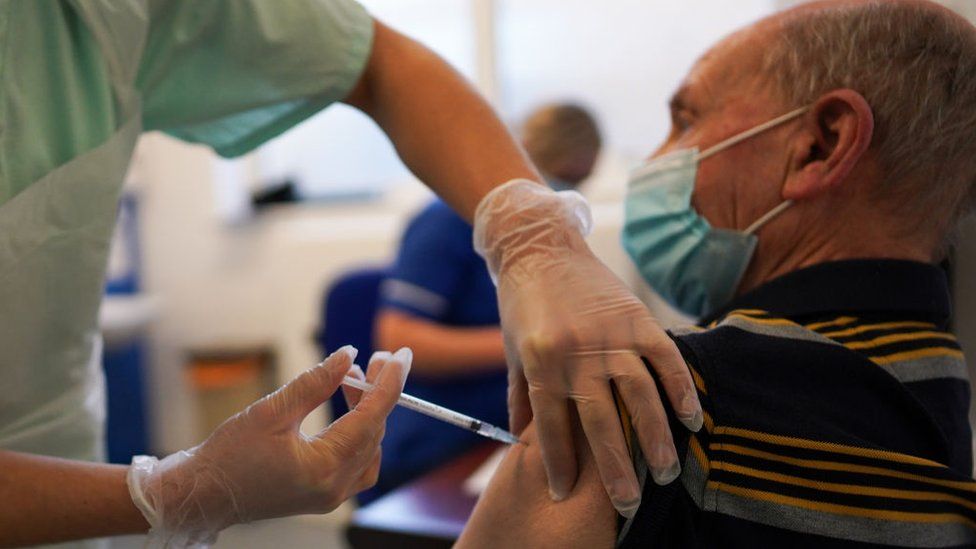 Nearly 46% of over-80s in England's North East and Yorkshire region have been given their first dose of a Covid vaccine - more than any other area, official figures show.
This compares with about 30% of over-80s in both London and the East of England who have received a first jab.
London Mayor Sadiq Khan claims the capital is not getting its fair share of vaccine doses.
In total, more than 2.2 million people in England have had one vaccine dose.
About 400,000 second doses have also been administered, despite guidance from the UK's chief medical officers and vaccine advisers, the JCVI, that giving a first dose to as many people as possible was a public health priority.
The NHS England figures cover Covid-19 vaccinations given to people at hospital hubs and GP practices between 8 December 2020 and 10 January 2021.
Among the over-80s alone, most first doses - 204,140 - were administered in north-east England and Yorkshire, while the lowest number (92,398) were given to this age group in London.
Overall, more than one-third of people aged 80 and over in England have received at least one dose.
The figures show that in the Midlands more vaccine doses had been administered to all people in the top priority groups - 387,647 - than in any other area of England. In London, a total of 199,986 first doses were given and in the East the figure was 186,291.
These include care home residents, frontline heath and care staff, the over-80s and people who are clinically extremely vulnerable, who are most at risk of becoming seriously ill and dying from the Covid-19.
The percentage of the whole population to have received a first dose so far ranged from 4.3% in the north-east and Yorkshire to 2.2% in London.
Mr Khan said he was "hugely concerned" that Londoners had received only one-tenth of the vaccines that had been given across the country.
"The situation in London is critical with rates of the virus extremely high, which is why it's so important that vulnerable Londoners are given access to the vaccine as soon as possible," he said.
He said he would hold talks with vaccines minister Nadhim Zahawi to ensure more vaccines were delivered to reflect the level of need in the city.
London has a younger average population than other parts of England and the smallest number of people aged over 80 compared with other regions.
Dr Mary Ramsay, head of immunisation at Public Health England, said vaccinating over a third of all over-80s was "a great achievement".
But she said people must continue to follow the guidance that is in place to protect themselves and their loved ones.
"These data will help us to evaluate the protection from the vaccine and to effectively target the roll-out of the programme to help control the virus and save lives," she added.