Coronavirus: Majority of discretionary self-isolation support applications rejected, Labour say
By Katie Razzall
UK editor, BBC Newsnight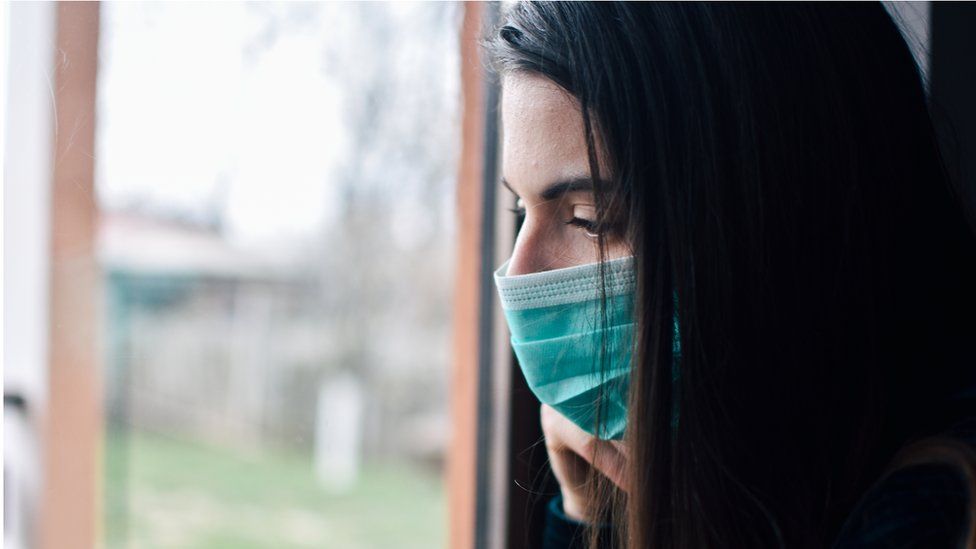 Three quarters of applications for a £500 discretionary grant, which aims to help those on low incomes self-isolate, have been rejected, figures suggest.
Employed or self-employed people in England who do not qualify for the Test and Trace Support Payment because they do not receive benefits can apply.
Data obtained by Labour and shared with BBC Newsnight suggests just 12,069 of 49,877 applications were successful.
The government said it was assessing how the scheme is supporting people.
The Department of Health and Social Care says it is a targeted scheme designed to help people on low incomes.
There is a list of specific criteria applicants must meet for the grant, but those who do not qualify for this payment and who are on a low income or may face financial hardship as a result of self-isolating, can apply for a discretionary payment.
Local authorities in England oversee the entire support scheme, with the qualifying criteria set by the government. They blame overly strict criteria and inadequate government guidance for people being rejected who feel they should qualify for a grant.
The Local Government Association, which represents councils in England as well as the London boroughs, said some councils were having to turn down applications for the discretionary support because "people are ineligible or have failed to provide the evidence needed".
People who are contacted by NHS Test and Trace and told to self-isolate, face fines of up to £10,000 if they fail to comply. Those who don't self-isolate risk spreading the virus to others.
Dr Nishant Joshi, a GP trainee working at a practice in Luton, says he meets, on a daily basis, people who are faced with what he calls a "Sophie's choice".
He says: "People come to me with essentially a Sophie's choice situation - I know I have to isolate but also I don't have enough money to put food on my table.
"If I say to somebody who comes to me with a health problem, you need to take a couple of weeks off work, I've had patients who have come to me and they're in tears."
'I was hungry and petrified'
Rachel, a shop worker from East London with a disabled son, tested positive in early January and was left in a desperate situation after having to self-isolate.
She says: "I didn't have a hot meal for 10 days. I had two bowls of cornflakes and a hot dog. I was hungry. I was petrified".
She adds: "It's been probably the worst two weeks of my life. On a personal level I knew I had no choice but to isolate to keep my son safe.
"Had I not been in that position I can't guarantee that I would have done the whole self isolation thing because you get desperate."
Her local councillor eventually dropped off a hot meal. Rachel was fortunate and received a £500 grant at the end of her isolation.
Josie Tothill from Manchester didn't qualify for the scheme, even though her job, as a personal assistant to a woman who needs mental health support, means she is on a low income.
She had to self-isolate in October after her sister tested positive. But she did not receive a call from Test and Trace despite being a contact. Only people with a Test and Trace number are eligible.
Josie says: "It was difficult, but I got by. But for a lot of people, especially if you work in care, you are already on poverty wages, so to miss two weeks of work - that could be the difference between feeding your kids or not, or paying rent or not.
"So you can see, for some people, it's impossible to do that isolation, so it's much harder to control the virus."
The Labour Party, which obtained the figures from local authorities under the Freedom of Information Act, says the government must make sure everyone can afford to self isolate.
Shadow communities secretary Steve Reed said it was vital that people who self-isolated were not "punished for doing the right thing".
He told the BBC: "The problem is the government established a fixed pot of money and, in some cases, councils have eked it out so much that many people applying for the funding haven't received it.
"In other cases councils have used up all the money because they have more people applying than were expected.
"So, we end up with a postcode lottery, if you live in one area you might get the funding, if you live in another area you might not."
Analysis of the figures by the BBC shows that of the applications to the discretionary scheme:
Labour-run Blackburn rejected 80%, as did Coventry
Manchester and Exeter rejected 83% and 69% respectively
Lib-Dem run St Albans turned down 96% of applications, while Conservative-run Stoke-on-Trent rejected 75%
Northumberland rejected 84%, while Derbyshire Dales rejected 99% (Only one candidate of the 100 that applied in that area had their application granted)
While most of councils that responded rejected the majority of applications to the discretionary scheme, a smaller number bucked the trend.
Lambeth granted 77% of applications, Haringey and Wakefield 75%, and Solihull 64%.
While it's impossible to rule out that applications may be coming from people who are taking a chance, it's also clear that some councils are apparently more flexible about the criteria used on the discretionary scheme.
The government is putting £70 million into funding the scheme. It said: "Local authorities are responsible for decisions when it comes to making additional discretionary payments to people who fall outside the scope of the main scheme and are facing financial hardship as a result of having to self-isolate.
"We continue to work closely with the 314 local authorities in England to assess how the scheme is supporting people experiencing financial difficulties."
The Local Government Association said the government "needs to ensure its £500 self-isolation payment support scheme is available to those in need of financial support".
It says it is "good" that councils will receive extra government funding "to support people on low incomes who do not meet the strict criteria for this main scheme, but who may face financial hardship because of the requirement to self-isolate".