Covid: UK virus deaths exceed 100,000 since pandemic began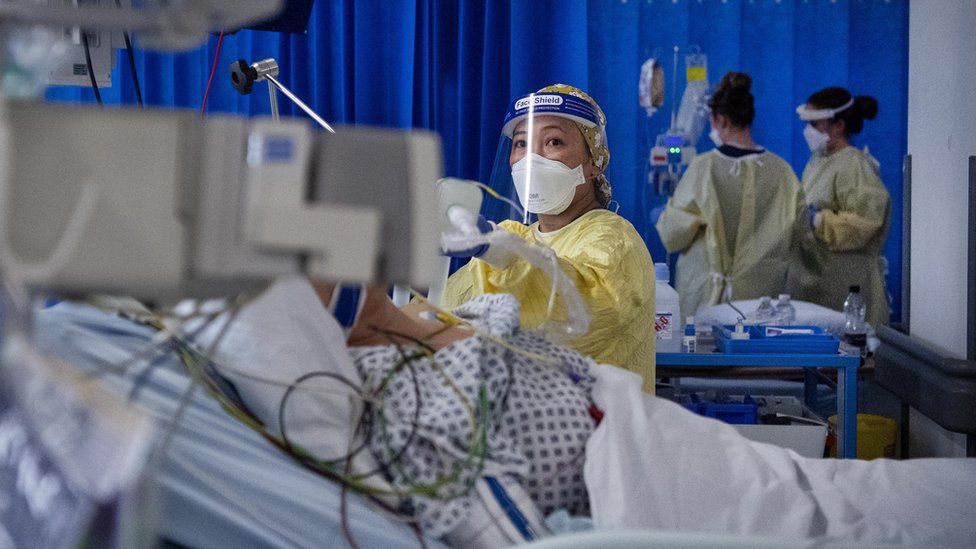 The number of people to have died with coronavirus in the UK has exceeded 100,000.
There have been nearly 104,000 deaths since the pandemic began, data from the UK's national statisticians shows.
The figures, which go up to 15 January, are based on death certificates. The government's daily figures, which rely on positive tests, are slightly lower.
It follows a surge of cases last month, leaving the UK with one of the highest coronavirus death rates globally.
The Office for National Statistics and its counterparts in Scotland and Northern Ireland registered 7,776 deaths with coronavirus on the death certificate in the most recent week.
That total is the third highest of the epidemic.
Last April, there were two weeks with more than 9,000 coronavirus deaths registered across the UK - but there have been no other weeks with more than 7,000 deaths registered.
About nine in 10 death certificates citing coronavirus registered Covid as the cause of death.
Most of the deaths have been in older age groups - nearly three-quarters of those who have died with the virus were over 75. One in three deaths were care home residents.
Chris Hopson, of NHS Providers, which represents health service managers, described the milestone as a "tragedy".
"Behind each death will be a story of sorrow and grief," he said.
"We pay tribute, once again, to NHS and care staff who have done everything they can throughout the long months of this pandemic to avoid each one of these deaths and reduce patient harm.
"We won't know the true impact of Covid-19 for a long time to come because of its long-term effects.
"But, as well as the high death rate, it's particularly concerning that this virus has widened health inequalities and affected black, Asian and minority-ethnic communities disproportionately."
Sarah Scobie, of the Nuffield Trust think tank, said it was a "harrowing figure".
She added: "While the vaccine rollout for the most vulnerable is continuing at impressive speed, it will be a while until the benefits feed through to the figures."
Analysis: Robert Cuffe, Becky Dale and Nassos Stylianou
We were one of the worst hit countries, if not the worst, in the spring - certainly in Europe and the G7.
Two big drivers of that were the timing of the first lockdown and the terrible numbers of deaths in care homes.
As a result, the UK could always rank among the hardest hit nations overall.
But comparing experiences in second waves is harder.
Some countries have very clearly done better than the UK.
Australia, for example, has seen very few coronavirus deaths overall, and deaths quite close to usual levels throughout 2020.
But the US, which had a milder first wave than the UK, has seen steady numbers of coronavirus deaths throughout summer and autumn.
Its death toll has been catching up with that of the UK in the most recent data, covering up until Christmas.
And some countries that missed the first wave entirely - such as Poland (shown above) or Germany - have seen significant spikes in deaths in recent months.
With deaths rising since then in many countries and vaccination programmes only getting up and running, there is still a long way to go before we will know who has had the toughest second wave.