Alcohol deaths hit record high during Covid pandemic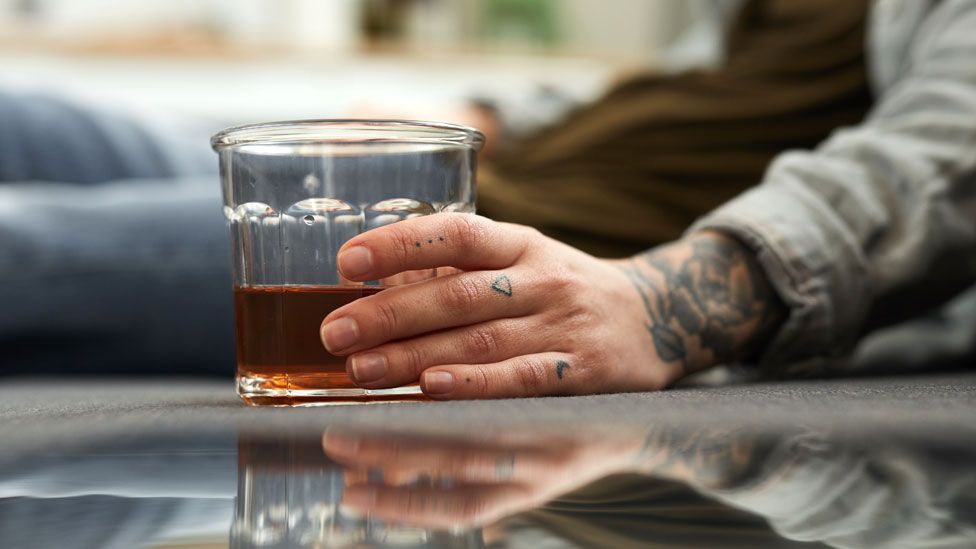 Deaths caused by alcohol hit a new high during the first nine months of 2020, provisional figures for England and Wales show.
Between January and September, 5,460 deaths were registered with this cause - up 16% on the same months in 2019.
It is the biggest toll recorded since records began in 2001.
The high rates spanned the period during and after the first Covid lockdown, the Office for National Statistics figures show.
It reached a peak of 12.8 deaths per 100,000 people in the first three months of 2020 and remained at this level through to September - higher than in any other time on record.
As in past years, rates of male alcohol-specific deaths were twice those seen for women.
Experts say the coronavirus pandemic will have had little effect on how the data was gathered and recorded.
But it is not clear how much it may have contributed to the deaths.
ONS spokesman Ben Humberstone said: "Today's data shows that in the first three quarters of 2020, alcohol-specific deaths in England and Wales reached the highest level since the beginning of our data series, with April to September, during and after the first lockdown, seeing higher rates compared to the same period in previous years."
"The reasons for this are complex and it will take time before the impact the pandemic has had on alcohol-specific deaths is fully understood."
'My drinking grew gradually'
John Slater, 63, sought help for his drinking a few years ago, saying dependency "crept up on me gradually" after taking an ill health pension and becoming a carer for relatives.
"I needed some way to be able to cope, to escape, and alcohol was it," he says. "I wasn't all over the place, it started as a means to cope. I always used to spend time cooking a nice meal and would have a glass of wine, but one glass became two glasses which became three and then a bottle, two bottles, hidden bottles. Then you realise, oh hell, I have got a real problem here.
"Whenever I thought I had to cut my drinking down, I couldn't manage it and panicked and I went to the supermarket."
John, from Devon, says he was scared of being labelled an alcoholic. "There's still an enormous amount of stigma around it," he says. "It makes it really difficult for people to come forward."
He eventually found help via the programme Drink Wise Age Well which is run by charity We Are With You, which he says offered a "holistic" approach and addressed his childhood trauma. He no longer drinks.
"It's not all about people having to go to rehab," says John. "It's also about how our drinking increases when we are maybe isolated, or lonely, or become unemployed, or don't feel wanted or the burden of life increases."
Looking at today's figures about alcohol-related deaths, John says that without help, there was a chance he could have "carried on sinking and drinking, and gradually unravelled".
The UK's Addiction Treatment Group said it knew first hand how many people have struggled with alcohol since the pandemic began.
"We must remember that what we're talking about here aren't just figures; they're people," said Nuno Albuquerque, head of treatment at the group.
"They're mums, dads, brothers, sisters, friends, colleagues and neighbours who have lost their lives to alcohol; a substance so widely accepted and almost encouraged in this country, but one so controlling, addictive and, ultimately, life-threatening."
If you are concerned about addiction, BBC Action Line has help and support.
Please include a contact number if you are willing to speak to a BBC journalist. You can also get in touch in the following ways:
If you are reading this page and can't see the form you will need to visit the mobile version of the BBC website to submit your question or comment or you can email us at HaveYourSay@bbc.co.uk. Please include your name, age and location with any submission.