Covid: Ethnicity vaccine gaps in over-70s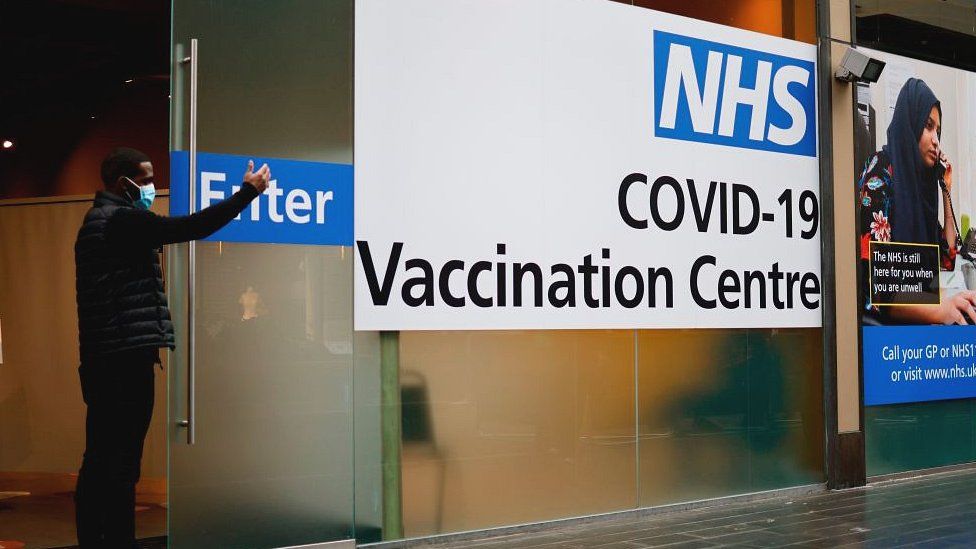 Black and mixed heritage people in their 70s are being vaccinated against Covid-19 at much lower rates than white people, GP records suggest.
And fewer Bangladeshi and Pakistani people had been jabbed by 11 February.
This follows data from earlier in the vaccination programme showing similar gaps among the over-80s.
A discrepancy was not seen in the over-70s at that point, but this is most likely because very few were being vaccinated at that stage.
The findings come from a study called OpenSafely, run by the University of Oxford and the London School of Hygiene and Tropical Medicine.
The team has access to completely anonymised medical records covering 40% of GP practices in England.
The GP records reveal differences in vaccination coverage between people with different ethnic backgrounds, levels of deprivation and health conditions.
Among those aged 70 to 79 - who began receiving the jab from mid-January - white people were most likely to have been vaccinated, with 86% jabbed by 11 February.
By comparison, only 55% of black 70- to 79-year-olds, 68% of people with mixed heritage and 73% of people from South Asian backgrounds had received the jab by that point.
These records covered people not living in care homes.
Within those broad categories there were further differences, for example 49% of people describing their ethnicity as African had been vaccinated compared with 59% from Caribbean backgrounds.
And among South Asian people in this age group, 60% of those who described themselves as Pakistani or British Pakistani had been jabbed compared with 64% of Bangladeshi people their 70s and 80% of Indian or British Indian people.
However, much of that gap closes once you look at people living in care homes.
There, 87% of white people, 70% of black people and 79% of South Asian people had been vaccinated by about the first week of February.
Ethnicity 'biggest factor'
Ethnicity was the most significant factor in people's likelihood of having received the vaccine.
Prof Stephen Evans, one of the scientists leading the project, said it was not possible to say what was behind these differences - to get at that, you'd have to know who had been offered vaccines as well as who had received them.
This coverage data "mixes up" vaccine hesitancy with people who hadn't received an invitation and those with issues accessing a vaccine centre once invited, he explained.
"We can't distinguish between these things," Prof Evans said.
He pointed out the vaccination programme was moving very quickly and the picture might change.
While the study has an unusually large sample, its coverage of London GP practices is considerably lower at 17%.
But the study leads said this was unlikely to affect the overall picture, which was weighted to adjust for different population sizes.
There were also differences in vaccination coverage between people from the most and least deprived areas, but that gap was smaller - ranging between 79% and 89% coverage.
In general, people with health conditions were as or more likely than their peers to have been vaccinated.
This included people taking medication for common mental health conditions like anxiety and depression.
But people aged 70-79 with psychosis, schizophrenia or bipolar disorder were less likely (74%) to have received the vaccine compared with those without one of these diagnoses (85%).