One million high-grade NHS masks withdrawn over safety concerns
By Phil Kemp & David Campanale
BBC News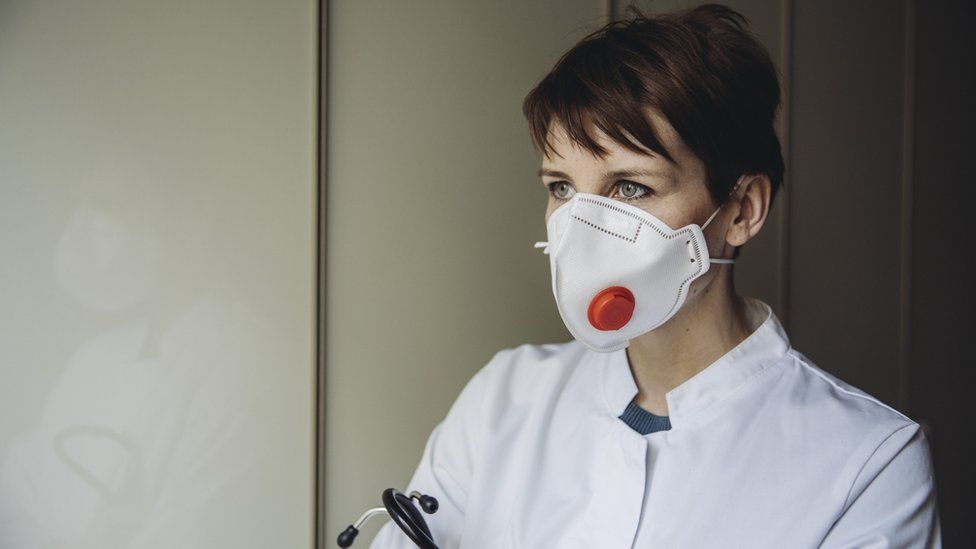 A million high-grade masks used in the NHS may not meet the right safety standards and have been withdrawn.
The Department of Health told the BBC there are 1.12 million of these masks either in use or in hospital stores and has told staff to stop using them.
Distribution of some gloves has also been suspended because they may not meet technical requirements.
The Department of Health said safety of frontline staff was an absolute priority.
Its warning concerns a specific brand of FFP3 mask, which are more sophisticated than surgical masks and are worn in intensive care or when certain procedures are carried out that can generate aerosols.
These are tiny virus particles that can build up in stuffy rooms and have been linked to outbreaks of Covid-19.
The British Medical Association appealed last month for staff on general wards to be given this type of mask to guard against coronavirus infection.
The Department of Health and Social Care's (DHSC) alert last week warned that a certain type of FFP3 - branded "Fang Tian" and marked as FT-045 - may not meet the required technical specifications.
It advised health and care providers to check to see if their stock included the product and to stop using them until further investigation.
The alert said the masks were provided by Polyco Healthline, but the manufacturer Suzhou Fangtian Industries told the BBC it had never supplied the firm.
The BBC has approached Polyco Healthline for comment but has not heard back.
The DHSC told BBC News the affected 1.12 million masks was a very small proportion of its overall stocks.
These masks make up approximately 4% of its overall stock, the department said, and about 1.7% of the masks used every day.
A spokesman said there was a "resilient supply" of FFP3 masks to ensure staff had access to the PPE they needed.
The DHSC also issued an alert about "nitri-hand" non-sterile nitrile examination gloves - 27 million of these have been supplied by Full Support Group since June last year.
The packaging for the gloves is understood to say they had not been tested for resistance to virus.
But the supplier, Full Support Group, told BBC News they had in fact passed the test and the packaging should have been amended.
"We are confident that the gloves in question, having been checked and confirmed that they meet the requirements, will be released from quarantine as soon as the administrative process has been completed," a spokesman from the supplier said.
He added that Full Support had successfully supplied the NHS since 2002.
The DHSC said the batch of gloves represented a very small proportion of overall supply.
'Urgent clarification' call
But Rob Harwood, BMA consultants committee chairman, said it was "unacceptable if staff's safety is still being jeopardised by inadequate PPE" a year into the pandemic.
"Healthcare staff working on the frontline do so facing the grave risk of contracting Covid, and deserve the best protection from this deadly virus," he said.
"Many will be incredibly concerned to learn that some masks designed to offer enhanced protection, as well as gloves, may not meet standards, potentially placing them at greater risk."
He said it was "good" to see immediate action but "urgent clarification" was needed to explain "how they entered the supply chain".
The Department of Health and Social Care said: "Our priority is providing frontline staff with quality PPE that meets robust quality requirements, and we have delivered nearly eight billion items so far.
"We carry out extensive due diligence on all PPE items before release, and where an issue is identified we act quickly to isolate the relevant product and conduct the appropriate investigations."
BBC News has been investigating the purchase of PPE for NHS staff since the beginning of the pandemic.
Last week the High Court ruled that Health Secretary Matt Hancock had acted unlawfully when his department did not reveal details of contracts it had agreed during the pandemic within 30 days of them being signed.
Update: The DHSC originally told the BBC 12 million face masks had been affected. It has since said this figure is incorrect, and the number is 1.12 million.