Covid: Health security body gives UK 'protective shield'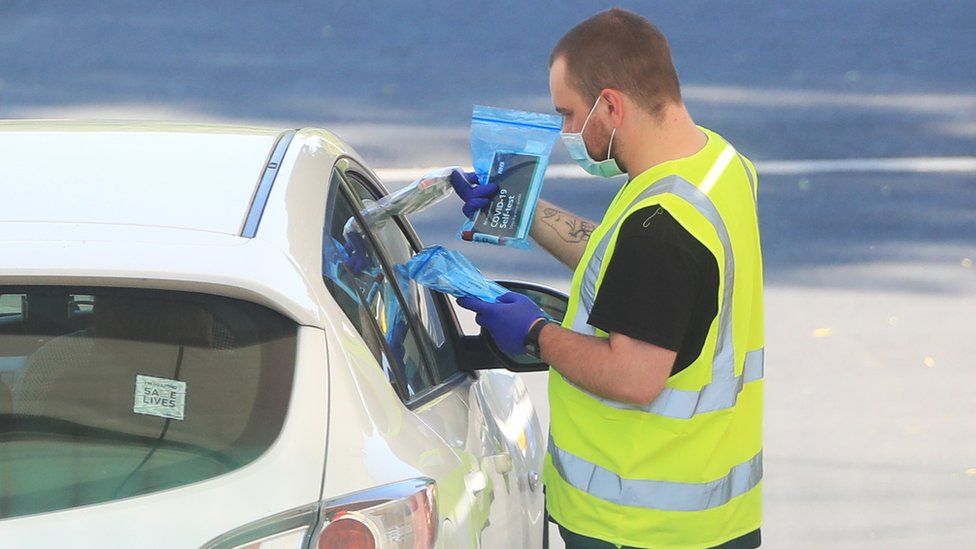 A new health security body will provide a "protective shield" over the UK, says England health secretary Matt Hancock.
The UK Health Security Agency will launch on 1 April, and brings together Public Health England (PHE), NHS Test and Trace and the Joint Biosecurity Centre (JBC).
It will be led by Dr Jenny Harries, England's deputy chief medical officer.
Mr Hancock said it would help ensure the UK was better equipped to deal with the next pandemic.
Speaking at the Local Government Association and Association of Directors of Public Health annual conference, he said there needed to be a body whose "total focus" was on the prevention and response to pandemics, infectious diseases and external threats, such as bioterrorism.
The UK has been criticised for being under-prepared for a pandemic. When Covid first hit there was limited testing and tracing capabilities, while responsibilities were split across a variety of organisations.
'We must learn lessons for future'
Mr Hancock praised the work done during the pandemic by PHE, and the "brilliant" analytics provided by the JBC.
He said the UK has built on its "world-leading" genomic sequencing capabilities and had and built a test-and-trace system virtually from scratch.
But he said now was the right time to bring these all together to provide a "protective shield".
"We saw at the start of last year when a pathogen mutates, it can spread dangerously fast," he said. "Even after years without a new major public health threat we must be ready, not just to do the science but then to respond at unbelievable pace.
"We must learn the lessons for the future. But why wait until after the pandemic?"
He said in "good times and in bad times" it was important to have an institution whose "sole job" it to protect the nation in this way.
He added: "I want everybody at all levels to wake up every day with zeal to plan for the next pandemic - that sort of focus is vital."
The health promotion work of PHE, which includes work on obesity, smoking and physical activity, will be taken on by central government.
The expectation is that the new UK Health Security Agency will be fully operational by the autumn, to allow the transition of responsibilities from the existing agencies.