Households of adults with weak immune systems to be vaccinated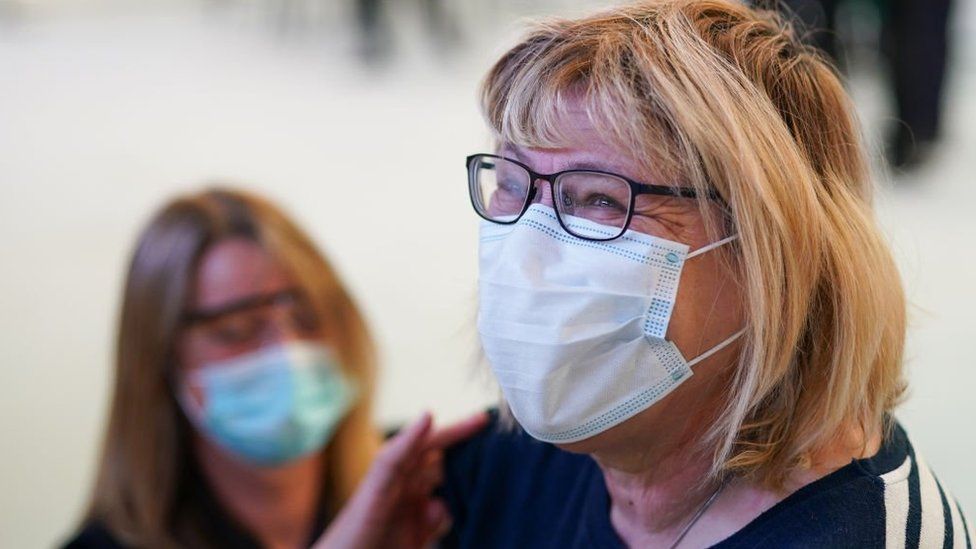 People living in the same household as adults with weakened immune systems should be offered a Covid vaccine, says the UK's vaccine committee.
This will help to stop the spread of the virus to vulnerable people in the same house, after recent evidence suggested they may not respond as well as others to a vaccine.
Household contacts of those with blood cancer or HIV are included.
Children under 16 are not part of the new advice.
The Joint Committee on Vaccination and Immunisation (JCVI) advised the government to prioritise people for a Covid vaccine who are over 16, and living with adults who have weakened immune systems.
Health secretary Matt Hancock has now asked NHS England to implement the advice, which has been shared with the four other nations of the UK.
Adults with weakened immune systems, or who are immuno-suppressed, are less able to fight off infections naturally. They include people receiving chemotherapy or radical radiotherapy for cancer and those with serious immune disorders.
Recent studies suggest they do not receive as much protection from Covid vaccines as other people.
Prof Wei Shen Lim, chair of Covid-19 immunisation at the Joint Committee on Vaccination and Immunisation, said the new advice "will help reduce the risk of infection in those who may not be able to fully benefit from being vaccinated themselves".
Dr Mary Ramsay, head of immunisation at Public Health England, said: "Our surveillance systems and research studies are showing that the Covid-19 vaccines can reduce asymptomatic infection and limit transmission of the virus.
"By vaccinating those who live with adults who are immuno-suppressed, we can further help protect vulnerable people."
Household contacts to be prioritised only include those aged over 16 who share living accommodation with adults who have weakened immune systems.
Most people in this group are already likely to have been told they are clinically extremely vulnerable.
patients having chemotherapy leading to immuno-suppression,
patients undergoing radical radiotherapy
people who have received solid organ transplants
bone marrow or stem cell transplant recipients
people with HIV infection at all stages
those with multiple myeloma or genetic disorders affecting the immune system
anyone with rheumatoid arthritis and psoriasis who may require long-term immuno-suppressive treatments