Covid: UK vaccine rollout 'breaking link' between infections and death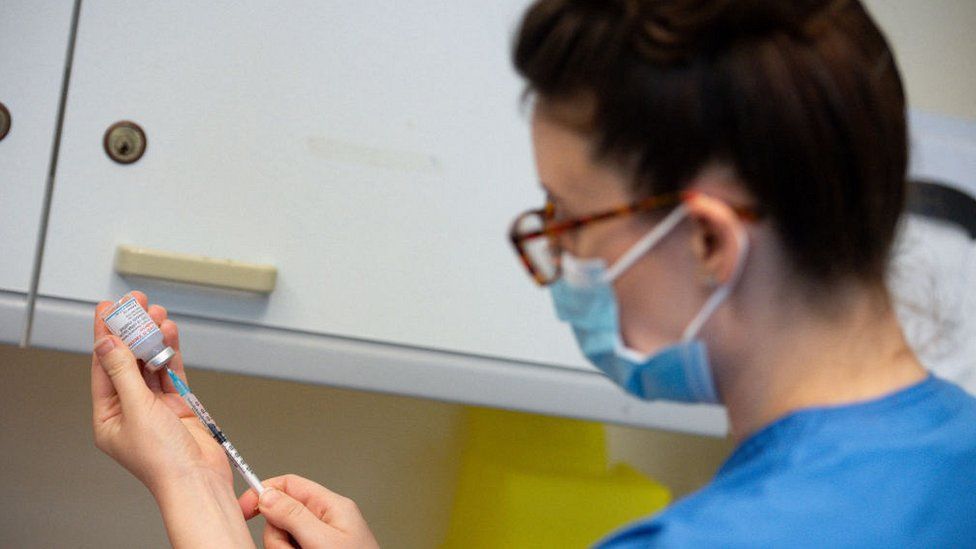 Increasingly strong evidence shows that the UK's vaccination programme is breaking the link between Covid-19 cases and deaths, scientists tracking the epidemic have said.
A study found infections had fallen by roughly two-thirds since February, before beginning to level off.
This is probably because people are beginning to mix more - but deaths have not followed the same pattern.
This was not the case before January, when the vaccine rollout began.
The research, commissioned by the government and run by Imperial College London, is based on swabs taken from 140,000 people selected to represent England's population.
Of that group, who were tested for the virus between 11 and 30 March, 227 had a positive result, giving a rate of 0.2%, or one in 500 people.
But in people over the age of 65, the infection rate was half that with one in 1,000 people testing positive for Covid.
During the period of 4 to 23 February, when the React study was last carried out, an estimated one in 200 people in England had the virus.
This represented a two-thirds fall since January and, at that time, it was almost entirely down to lockdown.
Now, scientists can identify decreases which are being driven by vaccination.
Infections most common in children
After a significant fall between February and March, during the roughly three-week period to the end of March, cases were "just about flat", said Prof Stephen Riley at Imperial College London, one of the study's authors.
They estimated the virus's reproduction number during this period up to the end of March to be one, meaning the epidemic is level but not receding.
"Since the first substantial relaxation of lockdown in England with the opening of schools on 8 March 2021, the rate of decline of new cases has slowed considerably," the report said.
Infections were most common in primary and early secondary school-aged children (five to 12-year-olds) and lowest in the over-65s, which the Imperial team said was "consistent with an effect from the vaccination rollout".
The flattening off "probably does reflect increased social mixing", Prof Riley said, and some of that will be to do with schools opening up.
He said it was "gratifying", however, that rates did not go up when schools reopened, which he said was "certainly a possibility".
Scientists and government would need to keep a "close watching brief as the lockdown gets eased further", Prof Riley said. But, he explained, the faster the vaccine is rolled out, the less chance increased contact will lead to an increase in cases.
More than 5.6 million people have now been fully vaccinated with two doses in the UK, while 31.7 million have had a first dose.
Fresh guidance was issued on Wednesday recommending that under-30s in the UK should be offered a different Covid vaccine to the Oxford-AstraZeneca jab, after a review found a potential link to rare blood clots.
The UK's medicines regulator said there was no proof the jab had caused the clots, but the link was getting firmer.
Some European countries have restricted use of the AstraZeneca vaccine, and the EU's medicines regulator has said unusual blood clots should be listed as a possible very rare side-effect of the jab.
Experts and politicians have sought to reassure people that the blood clot events are very rare, and the change to the rollout plan does not affect the plan to offer all adults a first dose by the end of July.
Prime Minister Boris Johnson urged people to continue getting the AstraZeneca jab, tweeting that it had "already saved thousands of lives" and people should "continue to have full confidence in vaccines".
The UK reported a further 45 deaths from Covid-19 and another 2,763 confirmed cases on Wednesday.
Vaccinations remained low after the Easter weekend, with 186,793 second doses administered and 85,227 first doses.