Covid vaccines and rare clots - what you need to know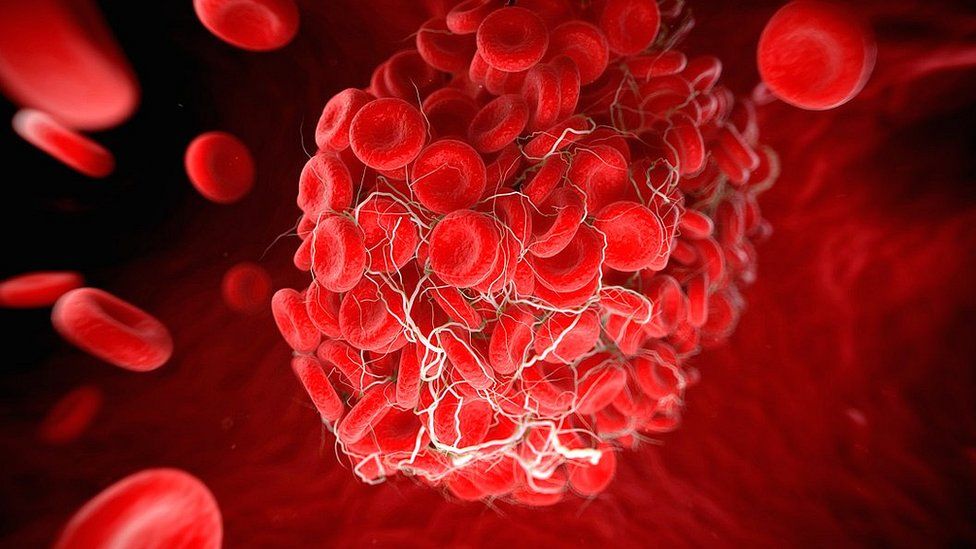 Investigations are taking place into whether cases of a rare type of blood clot are connected to both the Oxford-AstraZeneca and the Johnson and Johnson coronavirus vaccines.
The Joint Committee on Vaccination and Immunisation (JCVI), which advises how vaccines should be used, is recommending healthy people under 40 be offered a different vaccine.
The Johnson and Johnson jab is not yet available in the UK - although 30 million doses are on pre-order.
CVST stands for cerebral venous sinus thrombosis. Put simply, this is a clot found in a large vein in the brain.
Blood normally travels through veins from the brain back to the heart.
The CVST clot can block the flow of blood in the brain, reducing oxygen supply and potentially causing damage - stopping the central nervous system from working properly.
Rare clots have also been found in other areas, such as the large veins in the abdomen, in people who have had the Oxford-AstraZeneca jab, and, in a handful of cases, in some arteries (the vessels carrying blood from the heart to organs).
No-one is yet sure, but there are certain factors in common which may provide some clues.
In the CVST clot cases under investigation, the patients were all found to have low numbers of platelets -these are blood cells that normally help repair bleeding in the body.
Patients were also found to have a particular antibody (an immune protein that often helps fight against infection) in their blood that activates platelets.
The antibody appears to cause the platelets to mistakenly clump together and form clots, and in turn activate other parts of the body's clotting system.
This unusual combination of clots and low platelets is one of the features doctors are now looking out for.
But there is a lot more that needs to be understood.
How can I tell if I have one?
Anyone who has any of the following symptoms four days or more after having the vaccine should seek prompt medical help:
A severe headache that is not relieved by painkillers or is getting worse
A headache that feels worse when you lie down or bend over
A headache that is unusual for you and occurs with blurred vision, feeling sick, problems speaking or drowsiness
Seizures or weakness
Shortness of breath
Chest pain
Leg swelling
Persistent stomach/abdominal pain
A rash that looks like small bruises or bleeding under the skin
How long after the vaccine do clots appear?
Most cases have been seen between four days and a few weeks of people having the jab.
Medical experts in the UK now suggest doctors should consider this rare condition in anyone who has matching symptoms up to a month after they have had the vaccine.
According to the UK medical regulator, 309 cases of major blood clots with low platelets have occurred in the period up to mid-May 2021. The total includes clots occurring in the brain and other parts of the body.
Most were after the first AstraZeneca vaccine but 15 cases have been reported after a second dose. There were 56 deaths.
This is out of a total of more than 23 million first doses of the AstraZeneca vaccine and 9 million second doses which have been given in the UK.
From the current information in the UK the general risk of these types of clots following a first jab is estimated to be around 12.3 per million doses.
Data continues to be analysed and there is likely to be more information as time goes on.
Though still rare, this risk appears to increase in younger people.
There is also now some evidence that the reported rate is higher in females - although this is not seen across all age groups and the difference remains small.
The JCVI has decided that - given that healthy people under 40 are at lower risk of becoming seriously ill from Covid and while infection rates continue to come under control - the balance of risks and benefits means they should be offered a different jab, if one is available.
Experts are clear that for the vast majority of people the benefits of the vaccine vastly outweighs the risks.
Meanwhile a study looking at patients in the United States suggests 39 people in every million who are infected with coronavirus go on to have a CVST within two weeks of a Covid diagnosis.
The study suggests though clots are still rare in coronavirus patients, catching the infection puts people at a higher risk of getting a CVST than those who have a jab.
Can the clots be treated?
Generally, the quicker that cases are identified, the better for the patient.
Treatment can involve a number of medicines and includes immunoglobulins - immune proteins - given through a drip.
Some patients will be sent home with new generation blood thinners and have regular monitoring.
According to blood specialist, Prof Adrian Newland, current evidence suggests 75% of people survive.
An expert panel of blood specialists in the UK have put together guidance for doctors, which is being constantly updated.
What about the Johnson & Johnson jab?
The Johnson & Johnson and AstraZeneca vaccines work in very similar ways.
According to the US Food and Drug Administration (FDA) in April 2021 six cases of the rare clots in the brain were detected out of more than 6.8 million doses of the J&J vaccine administered.
After calling for a pause in the roll-out of the jab and carrying out a review, the FDA concluded the vaccine was safe and effective in preventing Covid-19.
The agency said it would continue to remain vigilant but the overall chance of these clots occurring was very low.