'Mix and match' UK Covid vaccine trial expanded
By Michelle Roberts
Health editor, BBC News online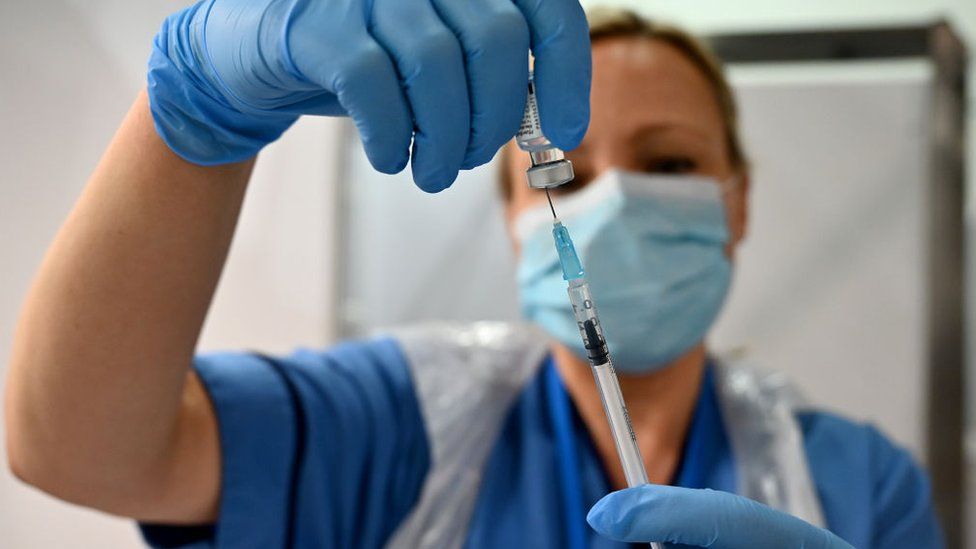 A major UK trial looking at whether Covid vaccines can be mixed with different types of jabs used for first and second doses is being expanded.
Combining vaccines might give broader, longer-lasting immunity against the virus and new variants of it, and offer more flexibility to vaccine rollout.
Adults over 50 who have had a first dose of Pfizer or AstraZeneca can apply to take part in the Com-Cov study.
Their second dose could be the same again, or a shot of Moderna or Novavax.
Chief investigator on the trial Prof Matthew Snape, from the Oxford Vaccine Group, said he hoped to recruit 1,050 volunteers who had already received one dose on the NHS in the past eight to 12 weeks.
More than 800 people are already taking part in the research and have received two doses of either Pfizer, AstraZeneca or a mix.
Results of this first stage are expected next month and the expanded trial should have some reportable findings by June or July - although the study will run for a year.
Health experts generally agree that the mixing and matching of the vaccines should be safe. The trial will check for any side-effects or unwanted reactions.
Participants will have blood taken to check how well the vaccines trigger an immune response - in the form of antibodies and T cells - to combat Covid.
Meanwhile, a scientist advising the government has said a lot of experts are "very concerned" after a cluster of cases of the South African coronavirus variant were found in London.
Surge testing is available in Lambeth and Wandsworth after 44 confirmed cases and 30 more probable cases in those areas, according to the Department of Health.
Prof Peter Openshaw, a member of the Covid-19 clinical information network, told the BBC's Newsnight: "I think we're all just hoping that the staged reduction in lockdown is going to be OK.
"If we get rapid spread of the South African or other more resistant variants, it may well be that we are going to have to put the reductions of lockdown into reverse."
Speaking on BBC Radio 4's Today programme, Prof Snape said the option to mix vaccines would "massively increase the flexibility and resilience of the immunisation programme and it will mean we can roll these vaccines out more quickly, not just in the UK but internationally".
He said the "starting point" was to see if a combination of vaccines were "as good in terms of their immune responses", but that there were also "some hints" that a combination might give a better immune response overall.
Earlier, Prof Snape said: "What I'm hoping is that we won't rule out any combinations. That's how we need to look at it: Are there any combinations we shouldn't be giving, because they don't generate a good immune response?"
So far more than 32 million people in the UK have received the first dose of a coronavirus vaccine, while 7.8 million people had both doses.
Outside of the trial, people should still receive the same type of Covid-19 vaccine for their first and second doses, although they can be given different brands if the same vaccine is not available.
The Moderna vaccine is already approved for use in the UK and works in a similar way to the Pfizer/BioNTech one, using a small amount of genetic code from coronavirus to teach the body how to fight off infection.
The Oxford-AstraZeneca vaccine is slightly different and uses a harmless, modified virus to carry instructions on how to beat Covid.
The Novavax jab has not been approved yet in the UK, but is expected to be soon, since trials show it is safe and effective.
It uses proteins from coronavirus that can train the immune system without causing infection.
The UK is not the only country considering using mixed dosing.
Russia's Sputnik V vaccine involves using two slightly different doses to give immunity.
Prof Jeremy Brown, a member of the UK's Joint Committee of Vaccination and Immunisation, which advises on vaccines, said in coming years people will eventually "have to" have a mix of Covid-19 jabs.
He told the BBC: "It's practically going to have to be that way because, once you've completed a course of, say, the Moderna or Pfizer or the AstraZeneca, with two doses - in the future, it's going to be quite difficult to guarantee you get the same type of vaccine again."
The trial of mixed vaccines is funded by the vaccine taskforce and supported by the National Institute for Health Research. It is being run from nine different sites across England:
St George's University Hospitals NHS Foundation Trust
University Hospitals Birmingham NHS Foundation Trust
The University of Nottingham Health Service
Liverpool School of Tropical Medicine
University College London Hospitals NHS Foundation Trust
Hull University Teaching Hospitals NHS Trust
The Newcastle Upon Tyne Hospitals NHS Foundation Trust
Guy's and St Thomas' NHS Foundation Trust
Sheffield Teaching Hospitals NHS Foundation Trust
Related Internet Links
The BBC is not responsible for the content of external sites.