4.7 million waiting for operations in England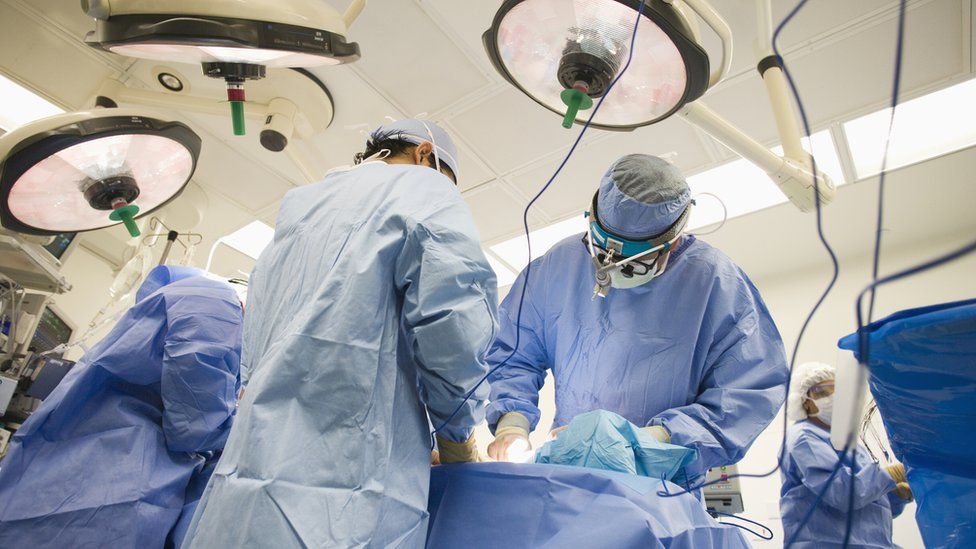 Around 4.7 million people were waiting for routine operations and procedures in England in February - the most since 2007, NHS England figures show.
Nearly 388,000 people were waiting more than a year for non-urgent surgery compared with just 1,600 before the pandemic began.
During January and February, the pressure on hospitals caused by Covid-19 was particularly acute.
NHS England said two million operations took place despite the winter peak.
However, surgeons said hospitals were still under huge pressure due to the second wave of Covid, which had led to "a year of uncertainty, pain and isolation" for patients waiting for planned treatment.
Speaking on a visit to Dartmouth, Prime Minister Boris Johnson said the government would "make sure that we give the NHS all the funding that it needs... to beat the backlog".
He said the situation had been "made worse by Covid", and added: "We do need people to take up their appointments and to get the treatment that they need."
NHS England recently announced that a £1bn fund would be used to help trusts restore operations and other services to get as many people treated as possible.
Professor Stephen Powis, national medical director for the NHS in England, said treating 400,000 patients with Covid-19 over the course of the last year had "inevitably had an impact on the NHS".
Around 40% of all patients who have received hospital treatment for Covid since the pandemic began were admitted in the first two months of the year.
But he said "the hard work and dedication of staff" helped to deliver almost two million operations and procedures "in the face of the winter wave".
Tim Mitchell, vice-president of the Royal College of Surgeons of England, said: "Although the most urgent operations, for cancer and life-threatening conditions went ahead, hundreds of thousands of patients waiting for routine surgery such as hip and knee operations, cochlear implants and vascular operations had their treatment cancelled or postponed.
"People have been patient as they've seen the battering the pandemic has given the NHS, but how much longer can they be expected to wait?"
Surgeons are calling for massive investment in the health service so that vital operations can continue no matter what comes its way in the future.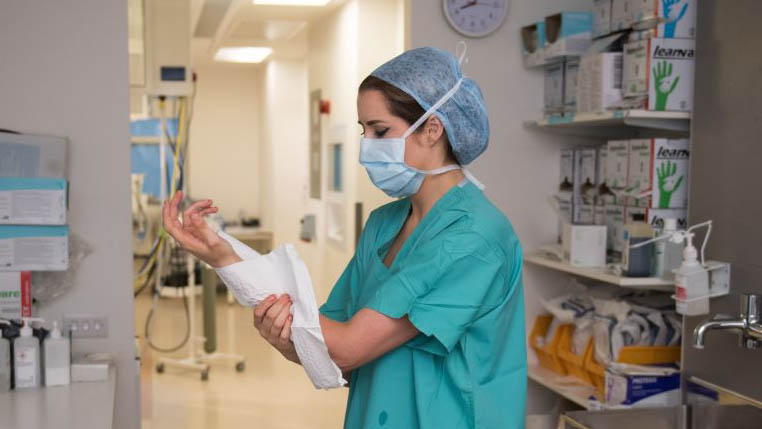 Getty Images
In numbers: England operations
4.7 millionPeople waiting for routine operations and procedures in February - highest since records began in 2007
387,885People waiting more than 52 weeks to start hospital treatment in February

304,000People waiting more than 52 weeks to start hospital treatment the previous month

1,613People waiting more than 52 weeks to start hospital treatment in February last year

400,000Patients with Covid-19 needing hospital treatment over the last year
Source: NHS England
'My brother got weaker and weaker waiting for surgery'
Zen Kahn, from London, spent much of the past year in pain waiting for a vital, but not urgent, operation to remove a mass on his pancreas.
The 23-year-old, who has severe learning difficulties and mental health issues, was originally told he would have surgery in September 2020 - but in the end he waited until March 2021.
"He was losing weight, turning yellow, and getting weaker and weaker," his older brother Waqas says of that time.
Zen continued to be in pain and was on strong painkillers for a long time.
"It definitely affected my mum a lot - she was completely devastated," his brother says.
"Just to see him deteriorate daily, it was hard on us as a family."
Dr Katie Urch, divisional director of surgery at Imperial College Healthcare NHS Trust, where Zen was treated, said surgery that was "absolutely time-critical" was prioritised.
"As our services begin to resume, our clinical teams are constantly reviewing our waiting lists to ensure we're managing care as safely and effectively as possible," she said.
The full scale of the backlog of non-Covid work which has built up because hospitals had to focus on coronavirus patients has been laid bare again.
Things are likely to get worse before they get better as the NHS tries to deal with new patients being referred for treatment as well as those already on waiting lists.
There is no obvious quick fix. The workforce is already over-stretched and training more staff takes years. The government has allocated some extra cash to the NHS in England to try to help deal with the backlog.
But there have been calls for significant extra investment to fund overtime payments and make maximum seven-days-a-week use of operating theatres.
There have been warnings that the NHS in all parts of the UK will take years to recover from the consequences of Covid care and longer-term plans to expand the workforce and build new hospital facilities will be needed soon.
Cancer figures for England show that the number of people starting treatment for the disease in February 2021 was 6% lower compared with the same time last year.
Although there has been a slight improvement in the numbers referred to a cancer specialist by their GP since January, the total number over the past year is more than 370,000 down on normal, Macmillan Cancer Support said.
Sara Bainbridge, head of policy at the charity said: "Tens of thousands of people are still missing a diagnosis due to disruption caused by the pandemic, which could affect their prognosis.
"It's vital that cancer services continue to be prioritised and that those with cancer are not forgotten."
Cancer Research UK said without the funding and resources the NHS needs, "the UK faces the prospect of cancer survival going backwards for the first time in decades".