Alcohol deaths highest for 20 years in England and Wales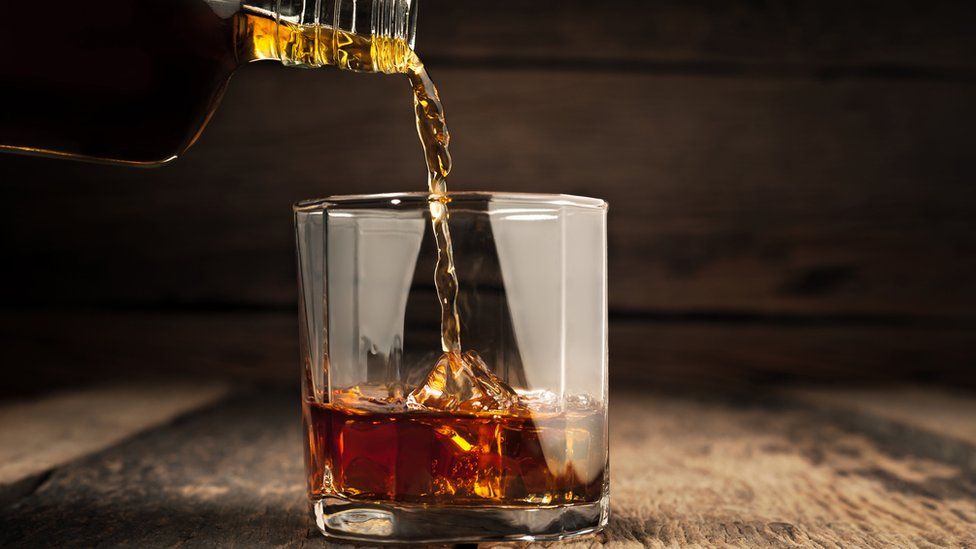 Alcohol killed more people in 2020 in England and Wales than in any of the previous 20 years, official data shows.
There were 7,423 deaths from alcohol misuse last year - a rise of 20% from 2019, the Office for National Statistics says.
Deaths increased from March 2020 onwards when the UK's coronavirus epidemic forced the first national lockdown.
Most deaths were related to long-term drinking problems and dependency.
The ONS defines alcohol deaths as those directly caused by misuse of alcohol.
Last year, around 80% of those deaths were from alcoholic liver disease, 10% from mental and behavioural disorders due to alcohol use and 6% from accidental poisoning by exposure to alcohol.
In England, men living in the most deprived areas were four times more likely to die from alcohol than men living in the wealthiest areas.
The alcohol death rate for men in 2020 was twice the rate for women - and this is no different from previous years.
In the last few months of 2020, when alcohol deaths were highest, death rates were 17.8 per 100,000 for men and 9.7 per 100,000 for women.
The Department of Health and Social Care in England said it was giving £3.2bn to local authorities to spend on services including drug and alcohol treatment. It also said the new Office for Health Promotion would lead national efforts to tackling the issue of harmful alcohol consumption.
Prof Sir Ian Gilmore, chair of the Alcohol Health Alliance - a coalition of charities and campaign groups - said the increase in deaths linked to alcohol was "devastating".
"Each of these numbers represents a life of an individual cut short by alcohol consumption and a family that has been left in mourning."
Prof Gilmore said the government must urgently introduce an alcohol strategy which addresses health inequalities, improves access to treatment "and stops the sale of cheap, strong alcohol that is so harmful to health".
Over the past year charities and health experts have warned that changing drinking habits, which saw more people drinking at home during lockdown, could lead to a sharp rise in people misusing alcohol and increased demand for services.
Even before last year's coronavirus restrictions which forced the closure of pubs and restaurants for many months, the UK had some of the highest levels of alcohol-related harms in Europe.
Prof Julia Sinclair, chair of the addictions faculty at the Royal College of Psychiatrists, said the numbers were "a wake-up call to the government".
"Since the start of the pandemic, millions more people have been drinking at levels that are putting them at risk of addiction and serious physical conditions that could be life-threatening," she said.
"Addiction services must be given the resources they need to tackle this public health crisis."
But Dr Sadie Boniface, from the Institute of Alcohol Studies at King's College London, said the reasons behind the 2020 increase needed to be better understood, with most deaths occurring in people already drinking heavily.
"Liver disease often presents as an emergency, but people may have been frightened to go to A&E because of the virus," she said.
"Last year there was a reduction in emergency presentations and admissions across the board, and addiction treatment data also showed fewer new clients starting treatment last summer."
UK guidelines advise people to drink a maximum of 14 units of alcohol (equivalent to six large glasses of wine or six pints of beer) a week, and to spread any drinking over three days or more.
Drinking too much alcohol can damage the liver and increase the risk of a number of other health conditions, such as heart disease and stroke.
A Department of Health and Social Care spokesperson said: "We are committed to supporting everyone's mental and physical wellbeing through the pandemic and we encourage anyone who is struggling to come forward for help."
Related Internet Links
The BBC is not responsible for the content of external sites.