Covid cases at record levels for 20 to 29-year-olds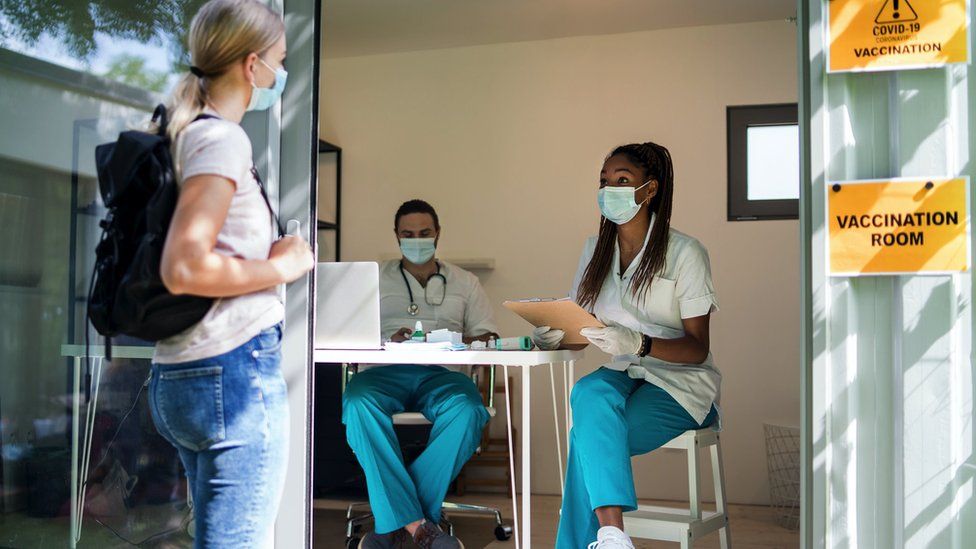 The proportion of people aged 20 to 29 testing positive for Covid in England has hit record levels, officials say.
Public Health England's figures show, in the last week, 1,155 people in their 20s tested positive for every 100,000 in the population.
Experts say this is the highest rate of cases in any age group since mass-testing began and urge everyone in this group to get both jabs.
It comes as data shows 59% of people in their 20s have had one jab.
Meanwhile people aged 85 and above continue to be most likely to need hospital care.
Dr Yvonne Doyle, medical director at Public Health England, said hospital admissions and deaths were not growing as quickly as in previous waves, but cases were on the rise and would be monitored.
The data covers 12 to 18 July, and looks at the average number of people testing positive per 100,000 people of the same age in the population.
Case numbers are rising across all age groups and regions
Weekly levels are highest in the North East (952) and lowest in the South East (423)
The lowest numbers are for those aged 80 and above, with a weekly rate of 61 per 100,000
Dr Doyle added: "It is vital we all remain cautious.
"Remember that meeting outside is safer than inside, get two doses of the vaccine as soon as you can, isolate if you are told to by NHS Test & Trace and if you show symptoms stay home and get a PCR test."
The rise in this age group will partly be because many people in their 20s will not yet have had both jabs and because of greater chances to socialise as restrictions eased.
The latest government data for England show around 59% of people in the 20-29 age group have had at least one coronavirus jab.
Across the UK 87.8% of the adult population has had one dose of the vaccine and 69.2% has had two doses.
Vaccination figures are highest for the older age groups who were offered the jab earlier.
Recent figures suggest the vaccination programme has reduced hospital admissions and deaths, with a fewer than one in 1,000 infections now estimated to result in death - compared with one in 60 during last winter.
Related Internet Links
The BBC is not responsible for the content of external sites.