Daily Covid cases down for third day in UK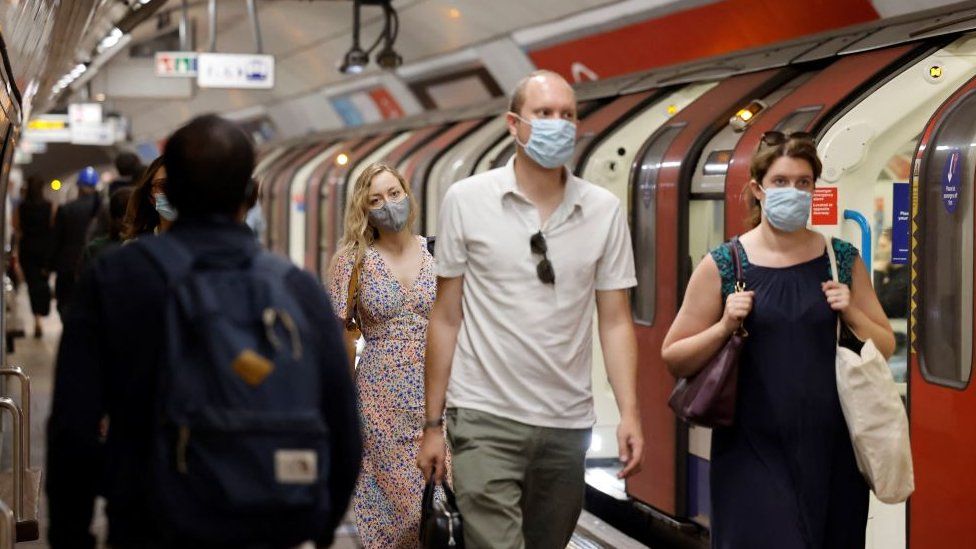 Covid cases are down for the third consecutive day in the UK, latest daily figures show.
The UK recorded 36,389 new infections - a further drop from 46,558 logged on 20 July.
It is too soon to say if cases have peaked, however, given that the statistics do not capture the impact of unlocking that happened on 19 July.
One expert said it will take a few weeks after relaxing restrictions to know for certain.
Prof Paul Hunter from the University of East Anglia said: "I would caution that this may just be a temporary slowing in reports before we start to see a return to exponential growth towards the end of next week as a result of the ending of restrictions last week."
It is possible cases will increase again, with some measures, such as the R rate, still suggesting the epidemic is growing.
The latest estimate of R - which measures how quickly the virus is spreading - is unchanged from the previous week at 1.2 to 1.4.
It means that on average, every 10 people infected with coronavirus goes on to infect between 12 and 14 others.
The estimated daily growth rate shows signs of a possible slowdown, however. This week's estimate is that infections are growing at between 4% and 6% a day, down from between 4% and 7% last week.
Meanwhile, data from the Office for National Statistics based on swab tests in the community suggests 1.3% of the population - or one in 80 people - has the virus, up from one in 100 the week before.
According to the ONS figures for the week up to 17 July:
one in 75 people have the virus in England - compared to one in 95 the week before
in Scotland it is one in 80 - compared to one in 90 the week before
in Wales it is one in 210 - compared to one in 360 previously
in Northern Ireland it is one in 170 - compared to one in 290
The more infectious Delta variant currently accounts for almost every Covid infection in the UK.
A new report from Public Health England warns of a small but increased risk of catching this variant, first identified in India, even if you have had Covid before.
It says 897 cases out of 68,688 Delta infections recorded in an 11-week period from April to June were possible reinfections.
Prof Rowland Kao, a professor of epidemiology and data science at Edinburgh University, said: "Any decline is always welcome but its too early to say whether this is sustained.
"It's important to remember that there are still many people highly vulnerable to severe Covid infection, and with infection numbers still high, some remaining caution is merited."
This story was corrected to say cases fell for three days in a row and not four days as originally stated.