Coronavirus infections continue to fall in UK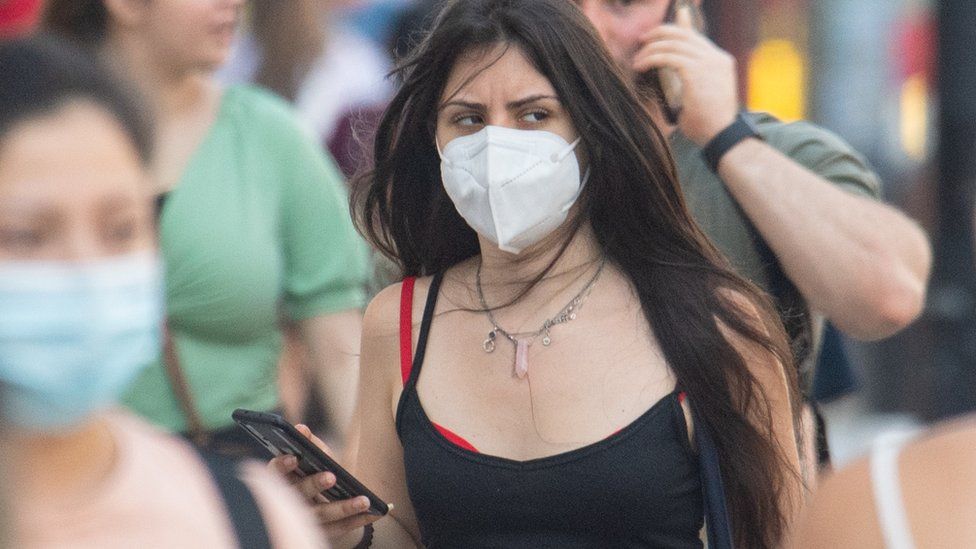 The number of people testing positive for Covid-19 has continued to fall in the UK, the latest daily figures show.
The UK recorded 29,173 new cases on Sunday - down from 48,161 logged a week earlier on 18 July.
The number of new infections by date reported has fallen for five days in a row for the first time since February.
It is also the first time since the start of the pandemic that a sustained drop in cases has not coincided with a national lockdown.
"The data at present is looking good for at least the summer," said Prof Paul Hunter from the University of East Anglia.
"Today's figures do not of course include any impact of last Monday's end of restrictions. It will not be until about next Friday before the data includes the impact of this change."
What could be causing the fall in cases?
It said 46,563,452 people had now had a first dose of a Covid vaccine, while 37,160,659 had received a second dose.
The dashboard later updated to show there have been a further 28 deaths within 28 days of a positive test.
The seven-day average of cases, which smooths out daily fluctuations, is showing a 15.4% decline compared with the week before.
In Scotland, case numbers started falling earlier than in England - with some evidence the decline may have been triggered by the football team's exit from the Euro 2020 tournament, although the downward trend has continued since then.
"There has been a lot of conversation about a football-related bounce in infections and whether we were seeing a wave-within-a-wave," said Mark Woolhouse, professor of infectious disease epidemiology at the University of Edinburgh.
"In Scotland though it's now starting to look like it's a longer-term trend. We haven't seen any sign of cases picking up [since the football finished]".
The figures show the number of people taking Covid tests has fallen over the past fortnight, which scientists say could explain some of the drop in reported case numbers but is very unlikely to be the only factor.
Better weather over the past fortnight across much of the country may also have helped as more socialising took place outside.
The latest figures from the Office for National Statistics suggest 92% of adults in the UK now have antibodies to the virus in their blood, either through a previous infection or at least one vaccination dose.
Real world data shows one dose of the AstraZeneca and Pfizer vaccines is between 30% and 36% effective at preventing a symptomatic Covid infection with the dominant Delta variant.
The vaccines can never offer 100% protection but as more of the population is jabbed so there is less opportunity for the virus to infect and spread.
What impact could the 19 July unlocking have?
Covid rules in England were relaxed on 19 July, removing social distancing restrictions in bars and restaurants and allowing nightclubs to reopen.
Any rise in infections linked to that unlocking is unlikely to show up in the daily case numbers for some days to come.
In other countries, such as the Netherlands and Spain, the reopening of nightclubs has been followed by a sharp rise in infections, and in some areas the policy was quickly reversed.
Some scientists say the impact of unlocking in England is extremely hard to predict but could be offset by a reduction in younger children mixing as schools close for the summer holidays.
"If I was a betting man, I would now say that the impact of 19 July will not be sufficient to start case numbers increasing again, but I cannot be certain," said Paul Hunter, professor of medicine at the University of East Anglia.
Others are more cautious. Prof Woolhouse from Edinburgh University said there "may well" be another rise in cases this summer.
"There are at least eight million adults who have had no vaccination at all, plus most children under 18. That is still a lot of material for the virus to work with... and if the change in behaviour is dramatic enough [after 19 July], then we could see cases increase again."
What about the impact on hospitals?
Since the start of the pandemic a rise in infections has always led, some weeks later, to a corresponding increase in hospitalisations and deaths.
The vaccine rollout has significantly weakened that relationship but has not broken it completely.
As of 22 July there were 5,001 Covid patients in hospital across the UK, up from a low of 871 on 27 May but still well below the 39,254 in hospital at the height of the winter wave in January.
The time lag between infections and hospital admissions means that number is likely to continue to rise over at least the next week, even if infections continue to fall.
Trying to predict what will happen in the longer term is a much more difficult task for data scientists and epidemiologists.
Most agree that there is unlikely to be a defined end-point to this pandemic. Instead the disease may become endemic - meaning it continues to circulate at a lower level in pockets of the population with smaller spikes driven by changes to behaviour and seasonal effects.
Scientists serving on the Joint Committee on Vaccination and Immunisation recommended 30 million of the most vulnerable should receive a third dose. They will include all adults aged 50 and over and anyone over 16 who qualifies for a flu jab.
"This is a very difficult phase of epidemic to predict and very careful surveillance and monitoring will remain important for weeks and months to come," said Prof Woolhouse.
"There is nothing yet that undermines the government's decision to unlock on 19 July but [we will] have to continue to watch."