Covid jab side-effects 'mild' for at-risk children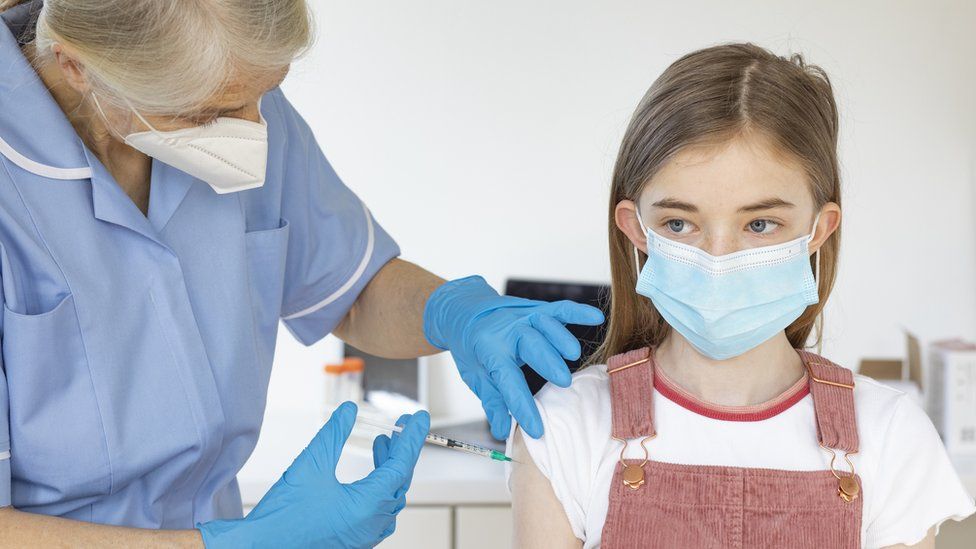 Parents should be reassured the side-effects of the Pfizer-BioNTech vaccine in 12 to 15-year-olds at high risk from Covid are mild and clear up quickly, a small study suggests.
Doctors in Bristol tracked 27 children with neurological conditions for two weeks after their jabs.
They found the children, who had been shielding, had similar side-effects to adults.
High-risk children benefited most from the vaccine, the researchers said.
But these parents were also hoping the vaccine would make a major difference to their family life after shielding from Covid for so long.
Each parent was asked to record any side-effects they noticed in their child.
All were aged between 12 and 15 and vaccinated in March or April this year, when only small numbers of extremely vulnerable children were being offered a jab.
The children had various conditions affecting the brain or nervous system, including cerebral palsy and muscular dystrophy.
They also tended to have other conditions such as epilepsy, heart defects and problems with their immune system.
The most common symptoms after the first dose included a mild rash, headache, diarrhoea, neck pain and possible sore throat, which had all gone within 72 hours.
After the second, five children experienced some of the following symptoms - vomiting, armpit swelling, diarrhoea and blisters around the mouth.
One child in the study experienced severe fatigue and discomfort and became more agitated than normal.
And the family of another child, who had epilepsy, reported a rise in the frequency of seizures.
All side-effects had cleared up within a week, the study said.
Dr Tom Hilliard, a respiratory paediatrician from Bristol Children's Hospital, who led the study, said there would now be many families with children with less severe health conditions who would be wondering whether to have the vaccine "and this should reassure them".
"Even among children with severe neurological conditions, the Pfizer vaccine does not make side-effects any more common," he said.
And although the study had tracked the children for a fortnight only, he was not aware of any other problems developing since.
Children eligible for a Covid vaccine in the UK include 12- to 15-year-olds, with:
a severe neurodisability
Down's syndrome
a severely weakened immune system, including some children with cancer
profound and multiple learning difficulties
Children aged 12 to 17 can be vaccinated if they live with somebody with a weak immune system.
And all 16- and 17-year-olds have now been offered a vaccine.