Covid: Festival-goers urged to take precautions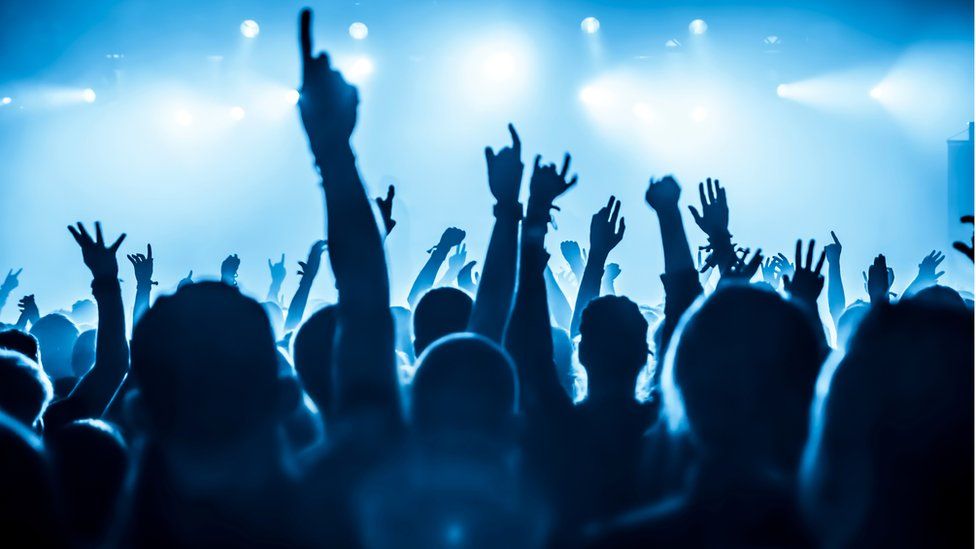 Health officials are urging festival-goers this weekend to take a free rapid Covid test before they attend, stay outside and apart from other groups as much as possible.
Experts say sharing public transport, tents and cars are key trigger points, with outdoor spaces far less risky.
There is concern the events, in places like Reading and Leeds, could lead to a rise in cases in young people.
All 16 and 17-year-olds have only recently been offered a Covid vaccine.
And tens of thousands of them and older teenagers are expect to attend festivals this bank holiday weekend.
Dr Susan Hopkins, of Public Health England (PHE), advised youngsters to wear a face covering if using public transport to travel to festivals, and also urged caution when they return home.
"You may well have caught Covid-19 while you've been away," she said. "Make sure you take an LFD [lateral flow device] test when you get home and then test twice a week after having mixed with a large group of people.
"Try and avoid seeing older or more vulnerable relatives so that you don't pass anything on."
Meradin Peachey, director of public health for west Berkshire, which covers Reading, said: "Sixteen, 17-year-olds are the main groups that are going to be there and they're not covered yet.
"We are trying to ask people to show proof of a lateral flow test before you even get anywhere near the gates."
It comes as cases in the UK are climbing again with 38,046 cases and 100 deaths with Covid-19 reported on Friday.
Cases are now at a similar to the number reported daily in mid-January around the winter peak.
But the number of people admitted to hospital and dying with Covid is far below the levels seen then because of high levels of protection from the vaccines.
The Office for National Statistics estimates that infection rates have increased across all four UK nations in the week up to 20 August, with some stark variations.
The number of people thought to be infected is:
one in 40 in Northern Ireland
one in 70 in England
one in 120 in Wales
one in 140 in Scotland
Dr Michael Head, from the University of Southampton, said the main trigger points at mass gatherings were indoor settings.
"Where festival-goers are in a field, even in large numbers, the transmission risks will remain relatively low.
"It is the indoor shared spaces that are key, such as marquees, tents, or shared cars, and use of public transport to and from the event."
He said using masks would be helpful, and everyone should have a Covid-19 vaccine when offered one.
Dr Julian Tang, clinical virologist at the University of Leicester, said people needed to make their own assessments of risk.
But he said "these are admittedly very difficult to make accurately without knowing your vaccine responses, those of others, as well as what viral loads people around you might be shedding at any point - and then your individual susceptibility to more severe or long-Covid complications".
The London Ambulance Service is also asking people to use its services wisely this weekend as it prepares for a busy bank holiday, which could be "what we normally see on New Year's Eve", it said.
The service puts the extra demand down to increased spread of Covid in the community, more people being out and about, and travelling in and out of the capital.
It said August was expected to be one of the busiest months ever for the service.
Alicia Demirjian, incident director for Covid-19 at Public Health England (PHE), said: "Cases of Covid-19 are still high, especially among young people.
"If you have Covid-19 symptoms, please do not go out - stay at home and get a PCR test as soon as possible.
"If you are heading to a festival or other event this bank holiday weekend, to protect your friends and others we encourage you to take a free rapid test before you leave to check that you do not have the virus."
PHE said it would be closely monitoring how the start of the school term, which is happening for many children next week in England, affects the number of new infections.