Covid: High virus levels 'highly likely' in schools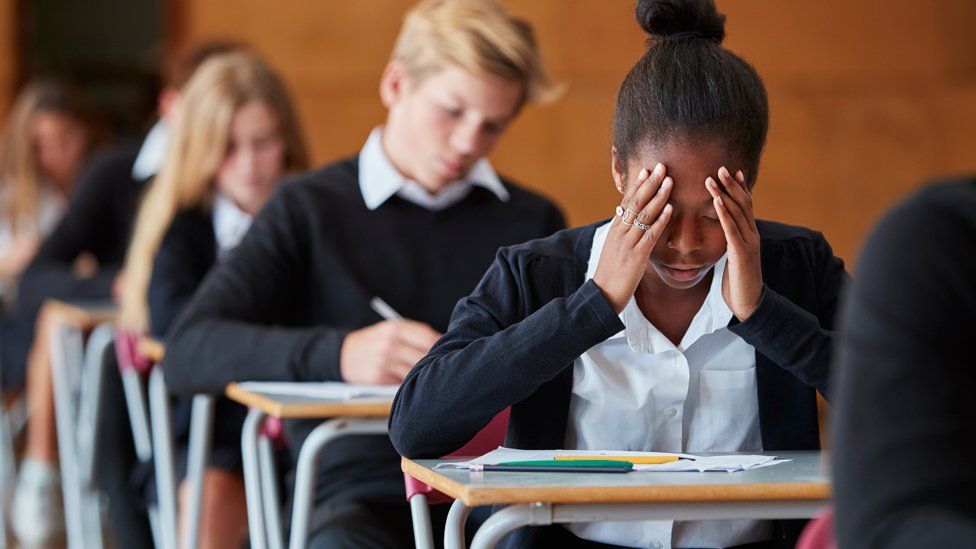 Scientists advising the government say it is "highly likely" that high levels of coronavirus will be seen in schools in England by the end of September.
They add that it would be "sensible" for the government to plan for this happening, in a Sage statement from 11 August.
A decision on whether a vaccine will be offered to all 12-15-year-olds is expected soon.
All 16 and 17-year-olds across the UK have now been offered a first dose of vaccine against Covid-19.
The Department for Education said: "As we learn to live with the virus across society, we must strike the right balance of measures so that our children can continue with their lives and education in the best possible way."
Schools will test students when they return to schools and colleges in September to help reduce transmission, it added.
Sage (Scientific Advisory Group for Emergencies) says it is still difficult to work out whether schools are drivers of transmission, or simply reflecting the spread of the virus in the communities where they are located.
But if cases continue to rise, scientific advisers say the more pupils and teachers that contract Covid-19, the more schools and education will be disrupted.
And it warns of the "subsequent consequences for parents and carers, and the wider workforce implications".
In Scotland, where pupils returned to school in mid-August, a third of new cases are in the under-19s.
The consensus statement from a sub-group of Sage continues: "Schools will represent a high proportion of remaining susceptible individuals and it is highly likely that exponential increases will be seen in school-attending age groups after schools open."
It says vaccination will also have made "almost no difference in these population groups over the summer holidays", and when schools reopen, measures in place to limit the spread of the virus will be "much reduced" compared to the spring and summer.
Pupils and staff will no longer be recommended to wear masks in secondary schools in England, although they are still advised in Scotland.
Under new rules, aimed at keeping more children in school, pupils who are close contacts of positive cases will also no longer have to isolate when term starts.
Secondary school pupils across the UK will be asked to take two rapid tests before term starts, to see if they have the virus, and twice-weekly tests at home after that.
Kevin Courtney, joint general secretary of the National Education Union, said the Sage report was a rebuke to Education Secretary Gavin Williamson.
"Next to nothing has been done to prepare for the possibility of large numbers of cases which will lead to lots of education disruption as children and staff have to isolate because they are positive - or stay off because their Covid symptoms go on longer.
"It is perfectly clear to education professionals that the current safety requirements for schools and colleges are not sufficient to prevent a rise in cases come September," he said.
Last week the government in England said it would provide around 300,000 carbon dioxide monitors to schools next term to help improve ventilation and lessen Covid outbreaks, but Mr Courtney says they will only diagnose a problem "not solve it".
Mike Tildesley, professor in infectious disease modelling at the University of Warwick, told the BBC that schools reopening in September would have an impact on mixing patterns in other walks of life.
"It remains to be seen what effect that has on cases and hospital admissions," he said.
"We will need to monitor that during September.
"And we need to be prepared for the fact that hospital admissions will start to rise - not just from Covid but from other respiratory viruses too, like flu."
But he said vaccines put the country in a much better place than before, although booster campaigns might still be needed.