Blood inquiry: Former cabinet minister says Aids advice was "regrettable"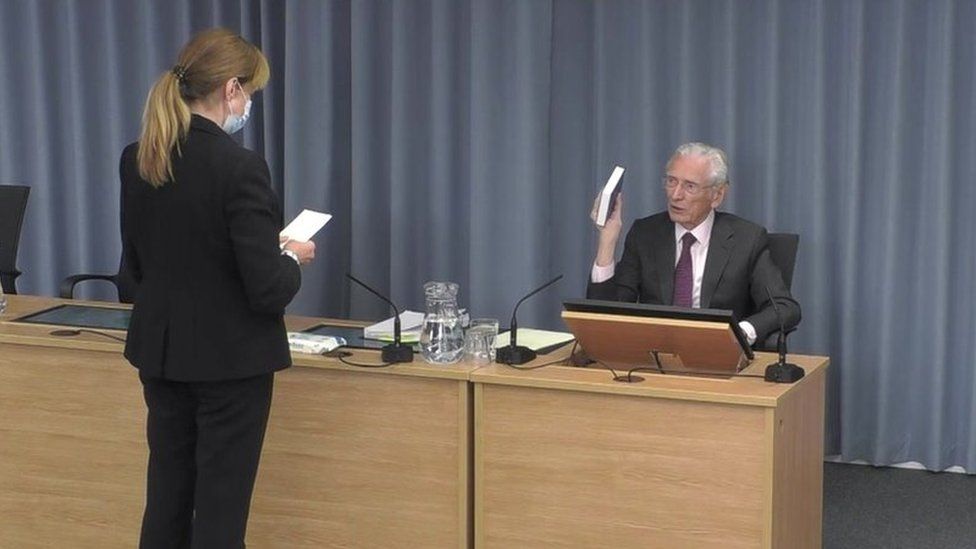 It was "regrettable" that the government said there was "no conclusive proof" Aids could be transmitted by blood products in 1983, a public inquiry has heard.
Giving evidence, former secretary of state Lord Fowler said it would have been better to add that it was likely NHS treatment could be contaminated.
But he said he didn't think the change would have made a crucial difference.
Survivors have accused ministers of playing down the risks at the time.
It's thought around 3,000 haemophiliacs died of Aids and hepatitis C after being treated with a blood-clotting product called Factor VIII in the 1970s and 1980s.
By May 1983, the first suspected cases of HIV in British haemophilia patients were reported in Bristol and Cardiff. In September that year the government published a leaflet to "discourage" those who were at high risk of contracting the disease, from donating blood.
The accompanying press release said: "It has been suggested that Aids may be transmitted in blood or blood products. There is no conclusive proof that this is so." The phrase was also included in a briefing document prepared for then Prime Minister Margaret Thatcher, and was repeated by other ministers as late as January 1984.
But former senior officials have previously told the inquiry that by early 1983 the "mainstream view" in the department of health was that a link between NHS blood products and Aids was "probable".
Lord Fowler, who served as secretary of state for health and social security from 1981 to 1987, said that the information briefed out by ministers was "certainly incomplete".
"I think probably the whole department was responsible and should have seen the gap there," he said. "We should have spotted it. There is the other question as to what difference it made, and I'm not sure it would have ultimately made as much difference as people appear to be saying it would.
"Although it's regrettable, I don't think it's been crucial in the whole story."
Groups representing families of those affected by the scandal claim the use of the phase "no conclusive proof" minimised the danger from blood products at the time.
Lord Fowler, one of the key figures behind the 'Don't die of ignorance' Aids campaign in the 1980s, made the comments at the start of a two-day appearance at the inquiry, held at Aldwych House in central London.
Earlier, he had said lives could have been saved if the UK had followed through with plans first proposed in the mid- 1970s to mass produce blood products rather than import Factor VIII from the United States.
Lord Fowler told the inquiry: "By the time I got there in September 1981, it was too late for me to influence the outcome... [If] we'd gone for self-sufficiency as a nation, then much of the ensuing tragedy, probably not all of it but much of it, could have been avoided."
The Infected Blood Inquiry is being held to investigate the scandal which emerged in the 1970s and 1980s, and saw thousands infected with HIV, hepatitis or both, after receiving blood product treatments or a transfusion.
It is expected to run until the end of 2022, when a final report and recommendations will be made.