Covid: Children's mental health has not improved since lockdown - survey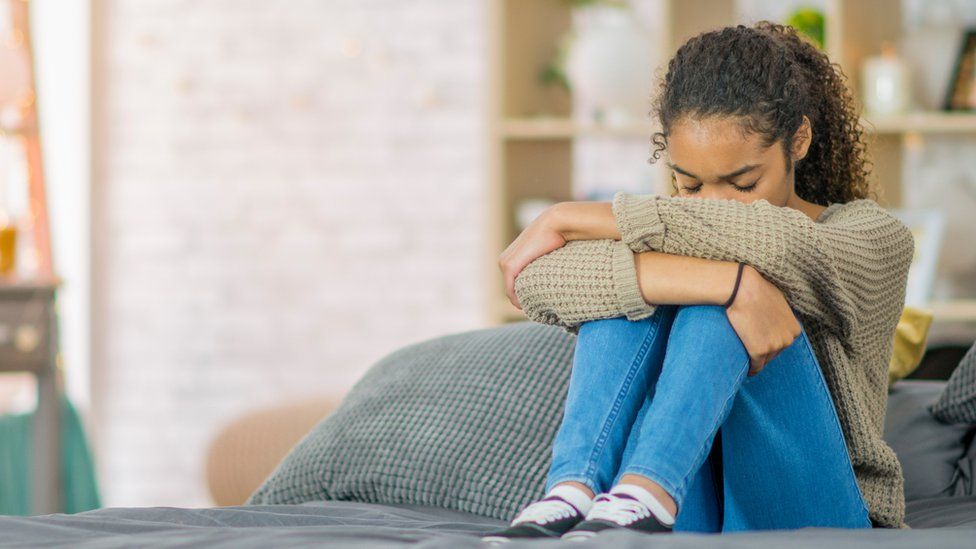 The mental health of children and young people has not improved since last year's lockdown, a survey by NHS Digital suggests.
It found one in six children in England had a probable mental disorder in 2021 - similar to 2020, and up from one in nine in 2017.
And nearly 40% of six to 16-year-olds, and half of 17 to 23-year-olds, said they felt their mental health had got worse over that time.
Girls were more affected than boys.
Charities say it's very worrying that so many young people are struggling with their mental health and may need long-term support.
The figures are based on questions asked to more than 3,600 children and young people in 2017, 2020 and March 2021 about their family life, schooling and feelings.
The NHS Digital report authors said it was difficult to work out how much of the change in children's mental health was because of the pandemic - but they found those with a probable mental health disorder were more likely to be worse off.
These children and young people were more likely to feel lonely, experience sleeping and eating problems and miss school. They were also less likely to have a stable family life.
Charity Action for Children said the figures were "shocking" and showed the true scale of the mental health crisis facing the NHS in England "after 18 months of fear, anxiety and disruption".
"We cannot sit back and watch this unfold. Children need support as soon as a problem is identified, and not be left to suffer in silence on a waiting list for months on end, risking even more damage to their mental health," said director of policy Imran Hussain.
A recent BBC investigation found that one in five children seen by mental health services in the past year waited more than 12 weeks for care in many areas of England.
Law student Bilal Hussain, 20, is a mental-health ambassador at Birmingham City university.
Last year, when Covid hit, he had a breakdown.
"I felt no-one could hear me out, no matter who I was or how old I was," he said.
He received help from his GP and NHS programme Healthy Minds, and now wants to help others.
"Even just giving a moment of our time for an individual could potentially save a life," Bilal said.
The mental health survey also found that:
58% of 17 to 19-year-olds had possible eating problems in 2021, up from 44% in 2017 - with three-quarters of girls affected
sleeping problems affected more than a quarter of six to 10-year-olds, a third of 11 to 16-year-olds, and half of 17 to 23-year-olds in 2021
one in 10 youngsters aged between six and 16 missed more than three weeks of school during the autumn of 2020
children with a probable mental health disorder were twice as likely to have missed this much school as other children
half of 11-16 year olds in 2021 said they spent more time on social media than they meant to
Charity YoungMinds said the research was "a stark warning" that the increase in children with probable mental disorders last year appeared to be "here to stay, unless swift government action is taken".
"We are urging new investment in a network of early support hubs so that all young people can get the help they need as soon as they need it," said chief executive Emma Thomas.
The Children's Society said it wanted the government "to commit to measuring children's wellbeing as it already does for adults".
This will help identify children who are struggling and how best to prevent mental health problems from emerging, it said.
An NHS England spokesman said it was investing in services, including into new school-based mental health teams and existing specialist community mental health, services to support children and young people.
Related Internet Links
The BBC is not responsible for the content of external sites.