Covid: Home working likely to be best way to curb virus - scientists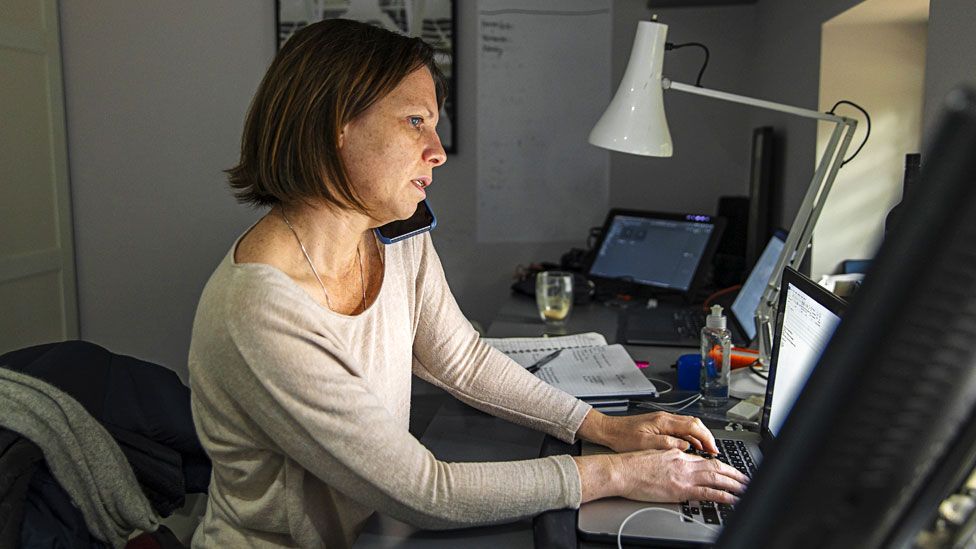 Advising people to work from home is likely to have the most impact on stopping Covid spreading this winter, scientists advising the government say.
Stricter virus restrictions should now be prepared for "rapid deployment", the Scientific Advisory Group for Emergencies (Sage) said.
It said "presenteeism" - or pressure to be in work - could become an increasing cause of infections in workplaces.
Asked about working from home, the PM said all measures were under review.
Boris Johnson added: "We do whatever we have to do to protect the public but the numbers that we're seeing at the moment are fully in line with what we expected in the autumn and winter plan."
Ministers in England are resisting calls to switch to their winter Plan B that would see measures like compulsory face coverings in certain places.
Covid hospital admissions and deaths across the UK are rising slowly, and the UK has recorded over 40,000 new daily Covid cases for the past ten days.
On Friday, a further 49,298 coronavirus cases were reported in the UK, alongside 180 new deaths within 28 days of a positive test.
Any advice to work from home would only apply to those who are able to do their job away from the workplace.
In April 2020, at the height of the first pandemic lockdown, less than half of people in employment, some 46.6%, did some work at home, according to the Office for National Statistics (ONS).
They added that any measures introduced must be clearly communicated.
The advisers, led by Sir Patrick Vallance, say models forecasting the coming winter suggest Covid hospital admissions are "increasingly unlikely" to rise above the levels of January 2021 peak.
But they say they are unsure of the impact of "waning immunity and people's behaviour".
Sage says making face coverings compulsory in some places is likely to help reduce the spread of Covid as well as other winter viruses, such as flu.
It also notes the risks of high levels of the virus circulating in the UK, compared with other countries.
"Cases and admissions are currently at much higher levels than in European comparators, which have retained additional measures and have greater vaccine coverage, especially in children," the scientists say.
"Reducing prevalence from a high level requires greater intervention than reducing from a lower level."
Another worry is the emergence of a new variant that becomes "dominant globally", which they call "a very real possibility".
The great Plan B debate for England
The great Plan B debate for England has moved up another gear.
Demands for more widespread mask wearing, more working from home and vaccine passports have been growing - with the NHS Confederation and the British Medical Association throwing their weight behind measures which the government has branded its Plan B.
Members of the expert committee Sage, according to minutes of recent meetings, seem to favour acting sooner rather than later - "earlier intervention may reduce the need for more stringent, disruptive and longer-lasting measures".
They pointedly note that cases are much lower in European countries which have tougher rules on masks and vaccine passports.
Boris Johnson said all measures were being kept under review but the focus was still on getting more people vaccinated.
The government then is resisting pressure for Plan B in England.
But the notably more cautious tone from Health Secretary Sajid Javid recently suggests that the views of official experts and advisers are having an impact.
The advisers warn that the prospect of people being infected with Covid, flu and other respiratory viruses this winter could be "a significant challenge".
They say people who show symptoms of an infection should stay at home to stop it spreading to others.
This message needs to come from government, employers, universities and schools to be most effective, they say.
One in 55 people in England was infected with coronavirus in the week ending 16 October, according to latest estimates from the ONS - more than at any time since the end of January.
Infections continue to fall in Scotland, and remain flat in Wales and Northern Ireland.
The percentage of people testing positive remained highest for those in school years seven to 11, the ONS estimates showed, ahead of half term for many pupils in England.
In the week ending 16 October, 7.8% of people in that age group were infected - compared to less than 2% of people in all older age groups.
Official government data, which tracks people testing positive, shows that nearly 1,000 people a day are being admitted to UK hospitals with Covid and more than 8,000 in total are in hospital with the illness.
These figures are way below where they were in January because of protection from the vaccines, but doctors and health leaders have voiced concerns over the lack of curbs to control any further rises.
When Mr Johnson was asked on Friday whether a full lockdown, with "stay at home" advice and shops closing, was out of the question this winter, he replied: "I've got to tell you at the moment that we see absolutely nothing to indicate that that's on the cards at all."