Seven-week gap advised for elective surgery after Omicron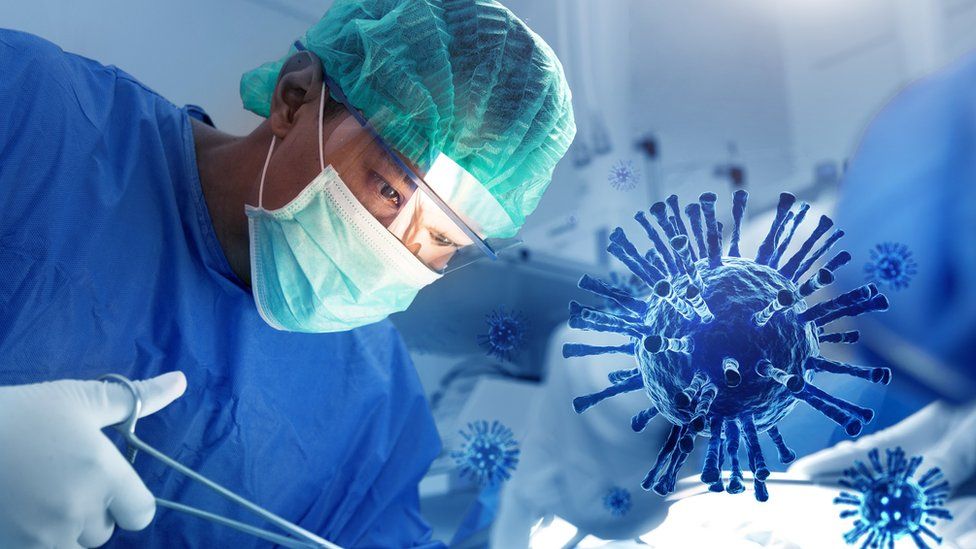 Despite a backlog of routine operations, NHS hospitals are being advised to delay elective surgical procedures by at least seven weeks if a patient has just had Omicron.
UK experts say it is a precaution since the first couple of months following infection is a riskier period, linked to poorer post-operative recovery.
In some circumstances the surgery may be urgent enough to go ahead, however.
Patients should ideally have had all of their Covid vaccines too.
The advice has been issued by surgery and anaesthesia experts, including two Royal Colleges representing those professions.
The experts who drew up the recommendations, which are published in a journal called Anaesthesia, say the desire to tackle waiting lists and backlogs must be balanced with delivering the safest care possible.
Currently, there are 6 million people on NHS waiting lists in England. That's one in nine of the population.
And about one in 20 of those has been waiting - for routine care such as knee and hip surgery - for more than a year.
Ministers have already warned that the waiting list for hospital treatment will not start falling for two years, despite unveiling a plan to tackle England's backlog in care.
The latest expert guidance on routine operations recommends:
Elective surgery should not take place within 10 days of a confirmed Covid infection, mainly because the patient may be infectious which is a risk to staff and other patients
Operations that happen in the six-week period after an infection - even an asymptomatic one - carry a higher risk of serious complications for the patient, experience suggests
The data is based on information available before the Omicron surge. Experts are still gathering more information on this variant and say they will relax the rules if possible - given that Omicron may be less severe, partly due to people having built up some immunity from vaccines and past infections.
Dr Mike Nathanson, president of the Association of Anaesthetists, said: "The frustration felt by patients is immense and we - the healthcare professionals - want to do our jobs and provide these services when it is safe to do so and with the risks clear to all involved.
"We look forward to new data being available soon which may further clarify the situation now that the Omicron variant is dominant, and most patients are vaccinated."
Prof Duncan Summerton, one of the co-authors, who is president of the Federation of Surgical Specialty Associations, said there should be "full and frank discussions" between patients and their doctors about the decision to delay or proceed with surgery.
Related Internet Links
The BBC is not responsible for the content of external sites.