Urgent polio boosters for London children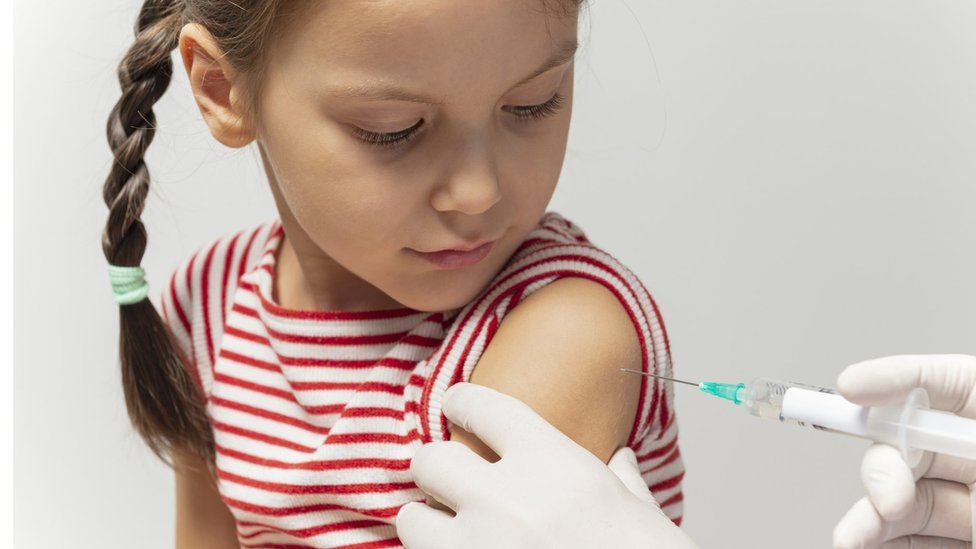 All children aged one to nine and living in Greater London will be offered a polio vaccine after the virus was detected in sewage.
The virus, which can cause paralysis, has been found 116 times in London's waste water since February.
The urgent immunisation campaign will see nearly a million children offered the vaccine - including those already up to date with their jabs.
Parents and carers will be contacted by their GP within the next month.
Polio is seen as a disease of the past in the UK after the whole of Europe was declared polio-free in 2003.
However, what is happening now is slightly complicated as the samples detected are linked to a polio vaccine used in other countries.
Parts of the world still dealing with polio outbreaks use the oral polio vaccine - which is safe, but uses a live virus. This gives a huge amount of immunity, but has the potential to spread from person to person in areas where not a lot of people are protected.
This becomes a problem if it continues to spread, as the safe form of the virus used in the vaccine can mutate and evolve until it can once again lead to paralysis.
The UK Health Security Agency (UKHSA) says most of the samples detected are the safe vaccine form of polio, but "a few" have mutated enough to be dangerous.
The alarm was first raised in June after a series of tests at Beckton Sewage Works, which serves north and east London. More detailed analysis of the sewage system has since found the virus in:
Barnet
Brent
Camden
Enfield
Hackney
Haringey
Islington
Waltham Forest
The UKHSA says genetic analysis of the samples suggests that spread of the virus "has gone beyond a close network of a few individuals".
A meeting of the government's vaccine experts - the Joint Committee on Vaccination and Immunisation - recommended a rapid booster campaign for children aged one to nine.
The aim is two-fold. First to reduce the risk of any child catching the virus and being paralysed and also to raise immunity levels so the virus finds it harder to spread.
Dr Vanessa Saliba, a consultant epidemiologist at UKHSA, said: "All children aged one to nine years in London need to have a dose of polio vaccine now - whether it's an extra booster dose or just to catch up with their routine vaccinations."
She said the risk for the majority of the population who are vaccinated remains "low" but said it was "vital" parents ensure their children are fully vaccinated.
Between one-in-100 and one-in-1,000 people develop paralysis after catching polio, with most cases in young children.
Children will be offered the inactivated vaccine - which contains a "dead" virus and has no risk of spreading. This is the form of polio vaccine the UK has used since 2004.
Polio starts as a tummy infection, which is why it can be detected in waste water.
The UKHSA is increasing surveillance to another 15 sites in London and at least 10 outside the capital to see whether the virus is spreading in other regions.
The samples detected in London's waste water are connected to those being found in Jerusalem, Israel, and New York State in the US, where a young adult developed paralysis.
Health and Social Care Secretary Steve Barclay said: "I recognise parents and guardians will be concerned about the detection of polio in London, however I want to reassure people that nobody has been diagnosed with the virus and the risk to the wider population is low."
The majority of people with the infection have no symptoms but some feel as if they have the flu, with:
a high temperature
sore throat
headache
stomach pain
aching muscles
feeling sick