Rise in teenage vaping, as drug use falls - survey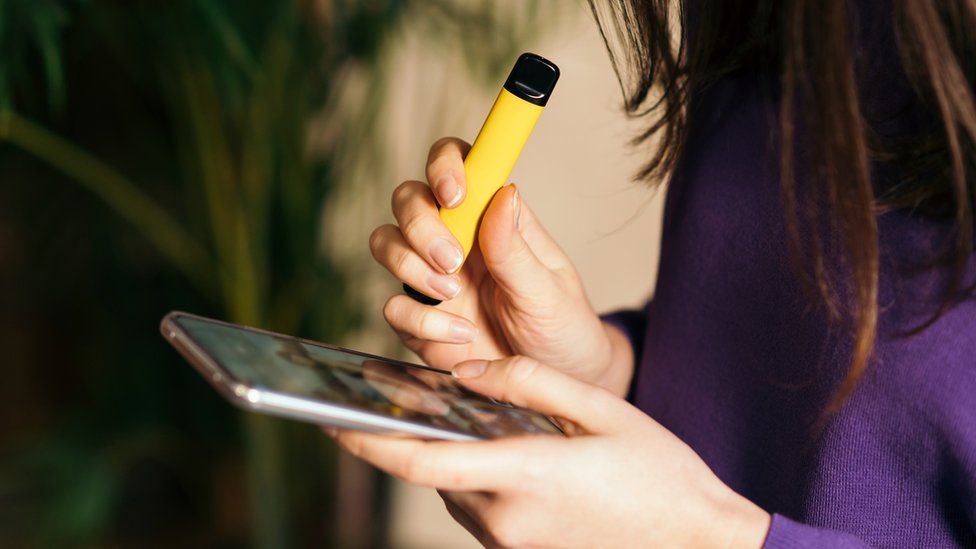 Vaping among secondary-school children is rising, with nearly one in five 15-year-olds using e-cigarettes in 2021, a survey by NHS Digital suggests.
Among 11-15-year-olds, 9% say they are vapers - up from 6% in 2018.
Doctors say children are being targeted by e-cigarette companies, with bright packaging, exotic flavours and enticing names.
The long-term effects of vaping remain unknown - but it is much less harmful than smoking cigarettes.
The UK has strict rules on safety, labelling and advertising to prevent children from vaping, a government spokesperson said.
The survey asked more than 9,000 pupils in 119 secondary schools in England about their habits between September 2021 and February 2022.
It found that the percentage of teenagers taking drugs and smoking cigarettes fell between 2018 and 2021 - and alcohol use was unchanged.
Overall, 18% of 11-15-year-old pupils said they had tried drugs - down from 24% in 2018.
Cannabis is the most popular drug among this age group, with 6% saying they had taken it last year.
Only 3% of pupils said they were current smokers, a fall from 5% in 2018.
The charity, Action on Smoking and Health (ASH), said it was "encouraging" to see the decline in smoking which is "far more harmful than vaping".
Vapes or e-cigarettes do not contain the harmful tobacco present in normal cigarettes but they do contain nicotine - the substance that makes people addicted to smoking.
Disposable vapes, which are colourful and available in a host of sweet flavours, are growing in popularity among teenagers.
vaping among 15-year-old girls rose from 10% in 2018 to 21%
girls are more likely to vape than boys at all ages - 10% of girls aged 11-15, compared with 7% of boys
61% of pupils who use vapes obtain them from other people, mostly friends.
57% buy them from a shop, mostly a newsagent - up from 29% three years ago
Selling e-cigarettes or vapes to children is illegal in the UK and every vaping product sold containing nicotine must be registered by the Medicines and Healthcare products Regulatory Agency (MHRA).
But recently, trading standards told BBC News the market was being flooded by thousands of unregulated vaping products containing potentially harmful substances.
And a BBC Radio 5 Live investigation found vapes being sold illegally to children in Newcastle.
Child-health experts want rules tightened so vapes can be advertised only as an aid to stopping smoking, rather than as a fun and colourful lifestyle product.
Dr Mike McKean, from the Royal College of Paediatrics and Child Health, said he was "deeply disturbed" by the rise of vaping in children and young people.
"E-cigarettes remain a relatively new product and their long-term effects are still unknown," he said.
"It is clear that children and young people are being targeted by e-cigarette companies with bright packaging, exotic flavours and enticing names."
It was time for the UK government to introduce plain packaging - of e-cigarettes, as well as nicotine and non-nicotine e-liquids packs, Dr McKean said.
"If action is not taken soon, we run the risk of having generations of children addicted to nicotine," he added.
A Department of Health and Social Care spokesperson said the UK had some of the strongest regulations in place to prevent children from vaping.
For example. there are rules for all vape products on safety, labelling and advertising - and they cannot resemble a food or cosmetic product. Nicotine strength is limited to 20mg/ml.
"We are clear that vaping should only be used to help people quit smoking - vapes should not be used by people under 18 or non-smokers," she said.
The results suggest pupils who frequently met up with friends outside their school or home were more likely to have recently smoked, drunk alcohol or taken drugs.
Of pupils who met up with friends every day:
9% were current smokers
12% usually drank alcohol once a week
19% had taken drugs in the past month
They were less satisfied with life than children who hadn't met up with friends for several weeks.
Related Internet Links
The BBC is not responsible for the content of external sites.