Deception exhibition reimagines English churches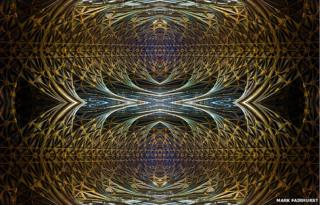 Photographer Mark Fairhurst's pictures are usually found in the pages of country magazines and feature celebrities and even the odd royal.
Yet having just turned 50 he decided to embark on a new project, one that looked at churches near to his base in the Cotswolds.
Yet these are not straight photographs, but his attempt to create something that re-shapes the well known architecture into something new.
"At first, it's hard to tell what you're looking at: other-worldly images that play with perspective and toy with the mind," he explained.
"Some resemble Middle Eastern mosques, others the inside of futuristic spaceships. Still more are like infinite ripples caused by dropping a pebble into a pool of architectural details."
The work's title, Deception, plays with this idea and evokes the re-working of his pictures of architectural details which he aims should, "both dazzle and bemuse", a kaleidoscopic view if you like.
His inspiration came from a BBC programme called Churches: How to Read Them which explored the effect of religion and churches on people in the past.
"A lot of pilgrims would have been living in one-roomed houses, probably shared with others; so these churches - especially the huge cathedrals - must have seemed like something from another world to them," he told me.
Mark said he was "aiming to challenge intellects as well as senses" with the work.
"The exhibition is called 'Deception' for a reason. It is designed to make people think about churches, about architecture, and about religion itself; but the photographs are also there to excite their senses."
He said that all of the images were shot on a Leica M9 and composed in Photoshop.
"The length of time for each image in Photoshop is minimal as I pretty much know what I want to achieve in camera, old school teaching, I learnt on 10x8 plate cameras. I always try to work with the minimal amount of fuss, with these and with my portraits."
Some images use the same shot repeated within the frame.
Mark hopes to extend the project across the country and indeed further afield, but for now you can see Deception at the Corinium Museum, Cirencester, from 10 September until 1 October.
You can see more work by Mark on his website and in a gallery on the BBC.