Alejandro Chaskielberg's pictures by moonlight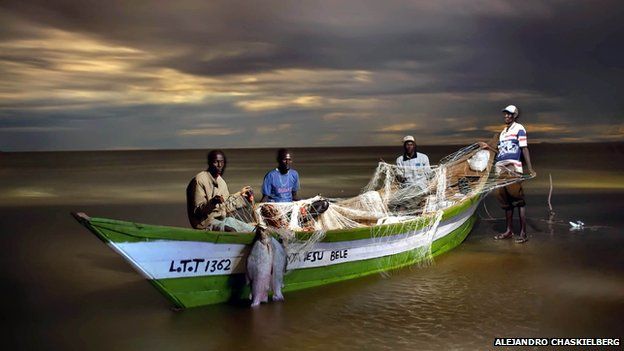 Alejandro Chaskielberg's pictures taken in the moonlight are distinctive and have bought him widespread acclaim. The Argentinian's series of photographs taken over a two-year period of the islanders in the Parana river delta blew fresh air through the photographic world, claiming the L'Iris D'Or at the Sony World Photography Awards in 2011.
He has recently travelled to North Kenya with Oxfam where he used his trademark style to depict some of those affected by the drought in the region. There is a danger that the ethereal beauty of his pictures could of course eclipse the subject, yet for me he manages to ensure that at heart his pictures are about those within the frame.
"That is the main challenge for me," Alejandro said. "I would like to break with the idea that a beautiful picture of a hurtful situation detracts from its message or documentary value.
"All realities have light and shade and nothing determines that photographing in a tough way would offer a clearer message; it is just a decision of the artist who is trying to communicate an idea.
"Famine in East Africa is a painful reality of a preventable catastrophe, but even in this situation people love, desire and dream of a better future.
"I find myself as a classic photographer using film cameras interested in photographic techniques and portraiture. My intention is to highlight a hopeful vision of the present, showing people's strength and to inspire the viewer that a change is possible."
Alejandro's technique means his subjects have to remain still for a long time, reminiscent of exposure times from the 19th Century. I asked him whether he was able to envisage the final image or whether there was an element of chance once the lens cap is off?
"At the beginning the sitters found it strange to be photographed in the night, but after explaining the photographic process, they reacted so naturally that I was very surprised," Alejandro said.
He added: "I am always trying to pre-visualize the image before the shoot; it is an exciting exercise that rarely becomes effective. The key to the outcome of the image is the reaction of people to immobility and the place where the moon is on the sky during the shoot. During the work in northern Kenya I have had no more than 15 minutes of clear sky in a whole week, so I had to adapt to this new situation."
You've made a big impression over the past year or so, winning the Sony award and being selected by Martin Parr for the Brighton Biennial, how does it feel to have your work recognised around the world and what's next for you?
"This is all very exciting. I feel that somehow to have worked for this project in Kenya is a special moment in my path, where my interest in social photography and creation come together.
"I am currently in Tokyo preparing my first exhibition in Asia and I will become a Dad for the first time, plus I am also planning a road trip throughout Latin America where I plan to use photography in a more experimental way."