Photographs with a voice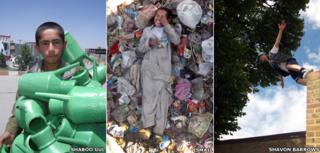 Photography can be an ideal tool to give a voice to those who need it most, people on the margins of society, or who have little access to mass modes of communication. Yet often the pictures are taken by outsiders. What if the subjects took their own photographs and used the camera as a means of self-expression. Sounds familiar, doesn't it?
Today this is nothing new and accepted wisdom. Yet about 10 years ago, when the charity PhotoVoice was formed by Anna Blackman and Tiffany Fairey, this was not the case. Photography was primarily still film-based and thus costly, and their move was seen as a bold one to harness the power of storytellers in this way.
I first encountered the charity in 2003 when Tiffany introduced me to a young refugee from Angola, Tatiana Correia, who worked with PhotoVoice to document her time in the capital. Since then we have published a number of reports on projects run by PhotoVoice, including a memorable series with children in Cambodia.
The agency is now well known and highly respected within the industry for its approach and values, and continues to deliver photographic training and workshops to members of communities affected by an issue.
"PhotoVoice works with project participants and organisational partners to use the resulting captioned photographs locally and internationally to raise awareness, challenge perspectives, inform decision-making and advocate for change," said Matt Daw, the project manager at PhotoVoice. "Participants gain skills in photography, storytelling and journalism, and retain the equipment provided by PhotoVoice to ensure that they can continue to use their new skills for personal expression or to explore professional opportunities after the project."
At present PhotoVoice has a number of projects underway including The Lookout project, which started in 2011 with Lookout London, and will include workshops in Manchester, Liverpool, Glasgow and possibly other cities around the UK. The project offers young people under 25 with the opportunity, skills and support to feed their perspectives into the debate on gangs and knife crime issues through photography.
"By encouraging young people to speak openly about issues that affect them, the Lookout project aims to combat the isolation and anxiety that many young people face when they feel at risk of gang violence or under pressure to participate in youth crime," says Daw. "The debate around these issues is too often held over the heads of those most affected, and those who hold the key to improving the situation - young people themselves."
Another recent project was with young indigenous people in Paraguay. This was run in partnership with Amnesty International and local NGO, Tierra Viva, and helped them create a series of photographs to use in campaigning for the return of their land. The young people documented their living conditions and lifestyle and interviewed elders in the community.
In February 2012, as a result of ongoing campaigning by Tierra Viva, a land deal was finally reached between Paraguayan authorities and a landowner in the country's central region that will allow the long-displaced indigenous community to rebuild. PhotoVoice hope the young people will use their digital cameras to document and share this historic development for the community.
An exhibition of photographs by young people across the UK exploring the role of the UNCRC in their lives has just opened in central London and runs until 10 May and Sophie Howarth has curated a sale of images by street photographers to support the ongoing work by PhotoVoice.
Do take some time to explore their website where you'll find details and pictures from many of PhotoVoice's projects, both international and those based within the UK.