Sunrise festival declares 'free state' in Somerset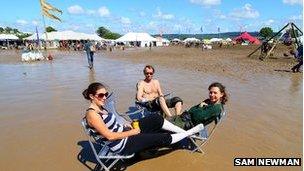 One of the earliest of the UK's outdoor summer festivals is abandoning the organic farm on which it has been held since 2009, after heavy rain turned the site into a sea of mud last year.
And it is the second time the Sunrise festival, which starts on 30 May, has relocated following a washout.
In 2008, flash flooding caused the third annual event to be abandoned just after the gates had opened, leaving hundreds of festivalgoers stranded.
This year's location remains a secret.
Even the festival's management offices have relocated this year - from Glastonbury to Frome, in Somerset.
And the new production team is promising "a complete shake-up and shift in musical direction".
The responsibility for booking the bands for the revamped main stage, which this year will be contained within a 2,000-capacity undercover "bespoke tented structure" designed to beat the British weather, is being given to the headline acts themselves.
On Friday, 31 May, the "main host act" and curator for the day will be UK DJ Krafty Kuts, also known as Martin Reeves, who has already booked fellow dance giants Utah Saints and The Freestylers.
On Saturday, curatorial duties fall to festival favourites The Dub Pistols, who are promising "a top secret special guest".
And on Sunday, re-formed 1980s Two-Tone heavyweights The Beat will be introducing their choice of acts along with the winner of the Sunrise 2013 Battle of the Bands competition - to be determined at an event at Moles Nightclub in Bath on 5 April.
The festival has been renamed Sunrise: Another World. And new director Alex Leppingwell has already declared the secret site, somewhere between Frome and Bath, as "the first ever festival micro-nation".
"Like all nations, the Sunrise micro-nation has the right to issue passports, currency, honours and operate an embassy," he said.
"Like other nations, we can and will produce our own bill of rights, the guiding principles of our free state.
"The Sunrise free nation will honour the ethos and principles of the festival, being committed to best environmental practice, to the free expression of creativity, to self-responsibility and non-violent communication, and to honouring our interdependence with each other and with all of life."
But even the ambitious Mr Leppingwell has to concede there is one thing that will remain outside state control - the weather.
Related Internet Links
The BBC is not responsible for the content of external sites.