England's Dreaming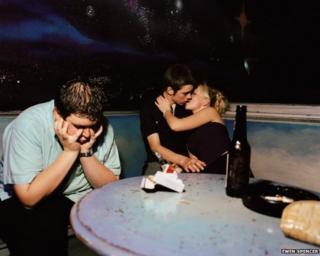 A new exhibition at the White Cloth Gallery in Leeds presents 15 years of youth culture as caught by the lens of Ewen Spencer.
Spencer's long-running project has been shot alongside his commercial work for a wide range of clients, from The Face and Sleazenation in the 90s through to the corporate giants of today, including Nike, Sony and Vodafone.
The pictures offer a blurring of reality as views of the real world echo those Spencer shot on the set of E4's series, Skins.
"When I was a youth I didn't possess a camera," says Spencer. "I'm sure one could have been made available, but I simply didn't have the inclination to pick one up and make pictures. I wish I had. I looked great. My mates - of course - looked better, lounging around the back of C&A in Newcastle.
"I never wanted to make pictures through broken windows. The pictures I began making were a celebration of Britain's young. I intended to visually paraphrase the famous dictum of The Who's manager Pete Meaden on mod culture, 'Clean living under difficult circumstances'."
In 2005 he published Open Mic, a look at London's grime scene and one that received widespread acclaim.
Spencer feels that British youth culture is born out of frustration: "an otherwise dismissed youth creating their own entertainment", he says.
"Maybe this is why we may not see another subculture as powerfully defining as grime, punk or rave for a while.
"At the moment, the youth have been given a lot of power and to take it back from this generation is nigh on impossible. It is in the absence of power that the youth galvanises and is empowered by its self-defining moments, its solidarity. These pictures are a record of that."
England's Dreaming is on show at the White Cloth Gallery from 4 October to 13 November 2012.