Picture power: Running for gold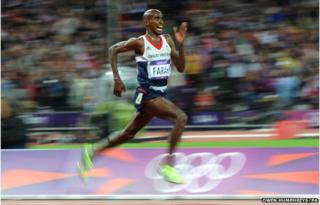 In the final of a series of five articles where photographers are invited to talk about the back story to one of their pictures taken this year Owen Humphreys of the Press Association offers the story behind his award winning photograph of Mo Farah on his way to one of his two gold medals at this year's Olympics.
The London games was captured by a vast number of photographers, who for much of the time would be tied to their allocated position, with only a few allowed to roam. Despite the volume of pictures taken there are some that stand out and convey something of the determination required not just to compete, but to win.
This is one such frame.
Owen Humphreys
I have been privileged to have been a Press photographer for nearly 24 years, but by far 2012 will always stand out as the highlight of my life behind a lens.
It won't come as a surprise when I say that the London Olympics were absolutely unforgettable. To have the Games in one's home country really is a once-in-a-lifetime opportunity that every snapper dreams about.
The Press Association, for whom I have worked for 16 years, threw everything at it with a huge team of 18 photographers, two editors and a host of reporters. We had a number of photographers assigned to certain sports and a smaller team floating between different events every day, making sure that wherever the medal story was, we had double cover.
The one night which really stands out for me was "Super Saturday" in the Olympic Stadium during the athletics, on the night Jessica Ennis, Greg Rutherford and, of course, mighty Mo Farah all won golds. After Jess won gold I was sent around to cover her being presented with the medal from a position down on the back straight, near the finishing line. By this stage we had several photographers positioned around the track covering Mo Farah in the 10,000 metres from all angles.
As I wasn't at the finishing line for this event I decided we could do with a different image. I wanted to create and show the amazing speed at which the runners were travelling, and the way to do this is known as panning. This is always a gamble because technically you are moving your camera on a very slow shutter speed shooting at 1/50th of a sec at f/16 on a 300mm Nikon lens on a Nikon D3s camera. The aim is to freeze the runners, but at the same time blur the background with a streaky effect to show speed.
As the race went on I knew as a team we were covered on all angles, so when Mo Farah came down the home straight I panned with him and got a great effect, with him showing incredible determination, gritting his teeth and really pushing for the gold medal dream.
As he ran past me in the earlier laps I had spotted the Olympic rings on a board so I framed my picture with these. After he had gone past me on the last lap that was my job done in this race. I had just two frames, but it was well worth it to see the image afterwards as it had worked out perfectly - the effect of speed, a look of utter determination in his face and the Olympic rings at his feet.
As soon as I saw the image on the back of the camera I fired-up my laptop and quickly wired it to our editors with minutes to spare before I was needed to photograph Jessica receiving her gold medal.
This image of Mo was my personal favourite from the Games, but there were many more memorable images taken by the whole Press Association Olympics team. I entered this image of Mo into the British Picture Editors' Guild awards as my single image from the Games and I was lucky enough to pick up the winning trophy despite very strong competition from top photographers at Reuters and AFP.
It was an incredible experience to cover the London Olympics. The whole country got behind the British team in all sports, giving all the venues an amazing atmosphere and one that will forever live in my memory.
And since the Olympics I have managed to pick up the Barclays Premiership 2011/12 Photographer of the Season award - making it a fantastic end to a great sporting year.
And here's that shot of Jessica Ennis collecting her gold medal.