Man Ray's portraits go on show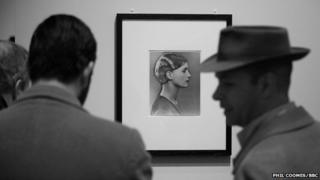 Man Ray is a name that all students of photography will know. His experimentation and invention of solarisation pushed the medium to new levels.
A newly opened exhibition at the National Portrait Gallery (NPG) in London includes more than 150 vintage prints of his portrait work, taken between 1916 and 1968 - the majority of which have not previously been exhibited in the UK.
Man Ray was born Emmanual Radnitsky in Philadelphia in 1890, though spent his early years in New York where he devoted his time to painting as well as being a self-taught photographer, something he used to fund his artwork. In 1915 he met French artist Marcel Duchamp and it was this that led him to Paris and in turn to his work with the Dada and Surrealist movements of that time.
His experimentation led to the production of camera-less Rayographs and together with a helping hand from the photographer Lee Miller, invented solarisation. The portrait of Miller at the top of this page is solarised - it's when an image recorded on a negative or on a photographic print is wholly or partially reversed in tone so that dark areas appear light or light areas appear dark.
Duchamp wrote: "It was Man Ray's achievement to treat the camera as he treated the paintbrush, a mere instrument at the service of the mind." Man Ray opened himself up to the possibilities the medium offered, stating he photographed that which he did not wish to paint.
By the outbreak of World War II he had moved to Hollywood and devoted most of his time to painting, though he made a number of significant photographic portraits of film stars. He returned to Paris in 1951 and remained there until his death in 1976, again making a number of celebrated portraits as well as experimenting with colour.
The exhibition follows this chronology and the range of prints on show, drawn from private collections and major museums with special loans from the Man Ray Trust Archive, is truly staggering. Celebrities of the time sit alongside artists and sometimes intimate portraits of friends and lovers.
His influence went far and wide, with photographers such as Bernice Abbott and Bill Brandt just two of those whose vision was shaped by Man Ray. But his work was also widely seen in the picture magazines that were popular, such as Vu Vogue and Vanity Fair.
Writing in the introduction to a book that accompanies the exhibition, Terence Pepper, curator of photographs at the NPG, writes: "A natural Dadaist, Man Ray delighted in astounding and bewildering his audience, shaking up familiar habits of thought and pushing the boundaries of the medium."
One of his colour pictures shows Naomi Savage, his one-time assistant who developed her own career as a photographer, and no doubt inspired by Man Ray, also invented a process called photographic engraving. Man Ray told her: "You don't need a huge audience. You only need five or six people who care, and are there to encourage you...
"Don't worry about idealism and practicality... Try to get paid for what you do, and don't worry if you don't. Just keep on working. You'll make up for it in time."
Probably good advice, and if it worked for her, perhaps it will help others today. But one thing is for sure, this exhibition of Man Ray's work will have more than five or six people who care if the number of journalists and photographers who turned out for the press view is anything to go by.
Man Ray Portraits is at the National Portrait Gallery in London until 27 May 2013.