From hard copy to e-book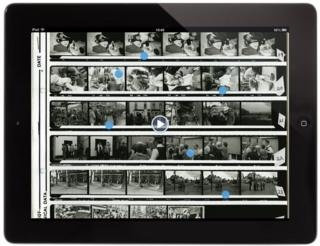 For the publishers of photographic books, the rise of digital publishing presents its own unique challenges.
For many photographers the book format is an ideal way to present a body of work. It offers a controlled environment, guiding the reader through their pictures in a pre-decided sequence.
There is of course also the sheer tactile joy of a well-produced book, and the knowledge that the work will sit on the shelves of readers the world over for years to come.
Yet e-books and book-based apps offer new opportunities and a chance to expand or add different layers and elements to the pictures themselves. They can also form a perfect accompaniment to an exhibition, perhaps offering a virtual tour of a gallery for those who are unable to attend, or adding another dimension to the work - for instance an audio soundtrack.
In January of this year Amazon founder Jeff Bezos reported that e-books had become a "multi-billion dollar category" for the retailer. And while most of that market is - at this stage - for text-based work, a new world is also opening up for photographic publishers.
Michael Mack of the London-based publisher MAPP has been steadily working towards offering a library of digital work, a mixture of new and re-versioned manuscripts and texts.
"Bookshops are struggling to compete with online sales outlets that discount as soon as the books hit the shelves," he says. "Those outlets deliver to your home or office. So why is anyone going to carry a heavy photographic book from the store when they can let the delivery system take the strain, for free?"
Price is another important factor, according to Mack. Photographic books are costly to publish and are often only sold to a select few. Indeed Mack states that the expensive box sets are sold to collectors - "We are becoming antiquarian book dealers before our time," he says.
Mack says that apps offer incredible possibilities in terms of design and interaction. The downside is that app distribution is controlled by gatekeepers such as iTunes. MAPP is now concentrating on e-books, which don't have this limitation.
"We are trying to retain a haptic experience that you have with the work, where it takes over your body but is led by your mind requiring you to make intellectual leaps.
"We are working with people and institutions who have big collections of content, such as the James Bond producer Michael Wilson and other museums and libraries, who are seeking solutions. We are building relationships with people who know we are not just software developers, but publishers who understand the issues."
Many of these institutions are struggling to make the work available and Mack says that just putting it on the web is not enough. By taking the material, and working with the academics who understand them, it is possible to open up material that at present can only be seen by a select few.
"I do feel that is a strong thread of what we are doing is taking out-of-print inaccessible content and making it available in a digestible form. Knowledge has always been about access, and one problem is that knowledge is contained within institutions, many of whom are willing to make it accessible but have serious limitations on what they can do.
"As people become more willing to experience through screens then the possibility of allowing people access to physical books in this form, ones they would not otherwise see in any shape or form, really does make a big difference."