FreshFaced + WildEyed 2013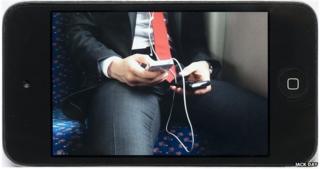 A selection of recent graduates' work from photographic courses across the UK has been selected for this year's FreshFaced + WildEyed show at The Photographers' Gallery in London.
The 22 photographers were drawn from more than 300 applicants who graduated in the past year from BA and MA visual arts courses across the UK, with photography and digital media forming the main component of their practice.
There is a broad mix of work on show including politically driven pieces like Harry Mitchell's series taken during the protests in Egypt's Tahrir Square during 2012, each frame seeming to echo the colours of the Egyptian flag seen in the shot below.
Joanne Mullin explores domestic conflict through pictures of shelters for women and children in Northern Ireland. The pictures document the empty spaces which offer a temporary refuge to those in need, and show a space that is clear and uncluttered, one assumes contrasting with the lives of those who pass through them.
Mullin says: "The series represents the psychology of the shelter space both as a place that contains a trace of the inhabitants' stories, and one, that despite every attempt to make it feel like home, still has a resonance of the building's true purpose."
Suburban Scenes by Daniel Mayrit at first glance seems to be yet another series of pictures grabbed from the online world of Google Streeview, but thankfully it is not.
Mayrit has staged the scenes and presented them in such a way as to suggest they are random moments captured by a passing all-seeing camera. Each one is carefully crafted to include within the frame a suggestion of something hidden, a story within itself.
The viewer can layer on meaning, and no doubt the same image will incite a different response in each person who sees it, thereby addressing both issues of privacy and questioning photography's ability to represent reality.
The pictures are presented on lightboxes so are seen backlit as they would be if they were from Streetview on a screen, and even the faces have been blurred and motion added to continue the deception.
Others in the series tackle a variety of subjects, from cultural issues to nostalgia, through a variety of media including video installations.
Now in its sixth year the process also offers six of the finalists further development as part of the Gallery's mentorship scheme.
The work is on show at The Photographers' Gallery until 21 July 2013.