Capturing the Tour de France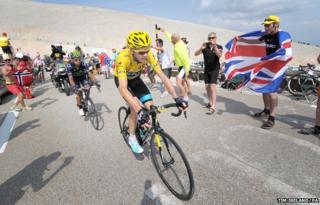 For the second time in two years a British rider has won the Tour de France and here Press Association photographer Tim Ireland reveals how he captured a picture of this year's winner, Chris Froome, nearing the summit of Mont Ventoux.
I was assigned to cover stage 15 of the 100th Tour de France, which finishes with the climb of Mont Ventoux, rising to 1,912m (6,200ft).
Careful planning and organisation from PA goes into major sporting events such as this, and we knew that Britain's Team Sky was targeting this stage for a historic win. It seemed a perfect spot to capture some great images of the British yellow jersey holder, Chris Froome.
It was decided that instead of being at the finish line, I should go one or two kilometres down the road and get a picture of Froome on the climb itself.
I knew that at the moment he passed I would only get one chance to snap the picture, so I had to balance the odds as far as possible in my favour and be on top of my game.
Mont Ventoux was extremely busy ahead of the riders' arrival, so I had to drive to the summit the morning of the day before to avoid any crowd issues. This meant sleeping in my car and spending two full days at the mountain's peak.
I knew Froome was soon to arrive and at this point on the climb it was overwhelmingly likely that he would be leading.
The last kilometre of the course is fenced off, so I looked for a position just beyond where the barriers ended. I was aware of this great spot ahead of time, but I didn't know if this would work until the crowd had fully developed on the mountain.
As the race leaders approached, I couldn't see what was coming until the last minute. The Team Sky car passed, and then a photographer's motorbike emerged, shortly followed by Froome.
I was using a 14mm lens, the widest one I have, which meant I had to get close without any chance of endangering the riders. This means that you can't stand in the middle of the road and use the viewfinder; you have to hold the camera out sideways, shoot it blind, and then pull the camera back out of the way.
I shot three frames as he passed through the right spot and was overjoyed to find that one worked out. It was a privilege to be part of cycling history in the making.
Chris Froome went on to win the tour and you can see the BBC News report here.
Here are a few other frames Tim Ireland captured on the mountain.