Mass Observation on show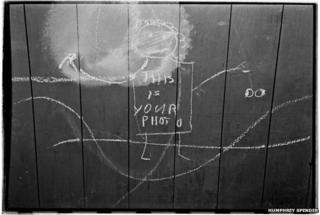 Against the backdrop of political and economic upheaval of the 1930s, a social experiment entitled Mass Observation undertook to explore the lives of people across Great Britain.
Today we are used to being watched. From closed-circuit television cameras to life bloggers, society is captured and stored as it has never been before. Future generations will be able to look back on minute details of how we live, that is if they find a way to wade through the vast quantities of data.
But rewind just over 75 years back to 1937 when the Mass Observation project was born. It was set up to study the everyday lives of "ordinary" people in Britain and did this, as the title suggests, by observing people's habits and daily routines.
It was formed by anthropologist Tom Harrisson, journalist and poet Charles Madge and Surrealist painter and film maker Humphrey Jennings. with the aim to counter what they saw as an inaccurate representation of the nation in the press and by politicians of that time.
Trained fieldworkers were dispatched to gather information on a diverse range of subjects, from pub culture to shopping habits. Alongside this, an army of amateurs were issued with instructions to note the subjects of conversations in pubs, how ornaments were arranged on mantelpieces and sometimes to tail people, recording their movements.
One amateur even made a note of the order in which two women washed their front steps.
Photographers such as Humphrey Spender and Michael Wickham recorded life in towns and rural areas, images that are important social documents today.
Spender's work exploring the lives of the working class in the north of England is well known.
With the onset of war the movement worked closely with government departments, analysing people's responses to politicians, fears of spying, art, happiness, shopping and even sexual habits.
Following World War II the observation turned to more commercial work and market research before the project eventually closed in the mid-1950s.
But in 1981 it was reborn, this time with a focus on gathering personal testimonies and histories, sometimes visually and at other times through essays and text submissions. Amateur snapshots, drawings and extensive personal accounts on daily life offer a chance to look back at how life and our surroundings have altered in the last three decades.
Today the Mass Observation Archive is held by the University of Sussex and a selection of work from the project can be seen at The Photographers' Gallery in London until 29 September 2013.
Photographs courtesy:
Humphrey Spender: Bolton Council, from the Collection of Bolton Library and Museum services
Michael Wickham: Wickham Estate, Mass Observation Archive
John Hinde: National Media Museum
You and Gardens, 2007 and Housework and Maintenance, 1983: Reproduced with permission of Curtis Brown Group Ltd, London on behalf of The Trustees of the Mass Observation Archive