Staying safe on the front line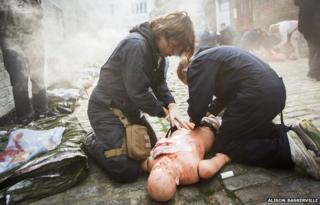 Journalists and photographers working in hostile environments and war zones have always been at risk of death or injury, but for those covering recent conflicts the blurred, or sometimes non-existent, front lines mean it can be hard to calculate the risks involved. In many instances things can go wrong very quickly and adequate training is essential, both in terms of how to stay safe and how to treat those who have been wounded. Photographer Alison Baskerville looks at one way freelancers are trying to improve the situation.
Marielle van Uitert, a Dutch photojournalist, was one of many freelance contributors who nearly lost her life while covering the Syrian conflict in 2012.
"I don't remember the exact moment when the mortar landed. I just ran, there was blood everywhere," Van Uitert said. "It wasn't until I managed to get to safety that I noticed the shrapnel wounds in my leg. I had no idea how badly injured I was and no idea what to do. I was just lucky that the newspaper hiring me got me out of there."
Van Uitert was indeed lucky. Freelance journalists and photographers often lack such support when they work in conflict zones. News editors, faced with dwindling budgets and a 24-hour news culture, rely on freelancers' contributions more than ever before. Yet, despite the risks, some are poorly trained and ill-equipped to deal with the rigours of a war zone.
The Frontline Freelance Register (FFR), launched in summer 2013, aims to improve support for freelancers. Its mission is clear: "The FFR is run by freelancers, for freelancers. It aims to provide foreign and conflict journalists with representation and a sense of community, vital in such a fragmented profession."
Founded by Vaughan Smith of the Frontline Club and a group of freelancers, the Register represents and supports freelance foreign and conflict journalists. It provides them with a sense of community and clear guidelines. The FFR aims to ensure its members observe responsible newsgathering and safety standards. Despite its youth, the FFR has more than 70 members based in the UK, United States and elsewhere.
Smith says: "FFR is a big deal for conflict freelancers. It's the first time they have got together in this way and they are doing so in response to the extraordinary risks they face covering Syria, where freelancers have taken by far the leading role in newsgathering there and are consequently facing the most dangers."
Why do journalists and photographers overlook risks and poor pay in order to work freelance? Louisa Loveluck (24), a regular contributor to the Daily Telegraph, offers one explanation: "Freelancing has been great for many different reasons, not least the fact that I've been able to spend long periods of time on individual investigations, and I've also been able to follow stories that I care about. I don't regret the decision to start freelancing, but I would love the security of a steady job with a single publication."
Marielle van Uitert, who left a safe job to become a photojournalist, offers an explanation which is shared by many: "I want to tell the story of the victims. They don't have the means to talk about what happens to them, especially the women. I feel this was my calling in life."
The FFR also supports training to help journalists and photographers deal with the inevitable psychological impact of covering conflict. Trauma Risk Management (Trim) is a peer support system endorsed by the National Institute for Health and Care Excellence (NICE) which is used by the NHS and the UK Armed Forces. The Trim model enables trained practitioners to identify psychological risk factors that might otherwise go unnoticed. "Seeing this stuff can affect you more deeply than you think at the time - whether you're in the field or editing some horrific YouTube footage," states Paul Wood, a BBC correspondent.
The FFR recognises the shared values of the freelance community. It aims to maintain a code of conduct and support training.
Towards the end of last year the Frontline Club and FFR recently hosted a medical training course at its London based office, led by Reporters Instructed to Save Colleagues Organisation (RISC). Based in New York, RISC is a non-profit organisation founded by Sebastian Junger, a former war correspondent. Junger set up the organisation following the death of British journalist Tim Hetherington, who was a close friend and colleague: "When I heard he had died due to an injury that could have been prevented with the right medical training I knew something had to be done."
RISC has trained 120 journalists since its foundation in 2012. Sawyer Alberi, of Wilderness Mountain Associates, has teamed up with Junger to deliver medical training designed for those working on the frontline. Alberi's experience is based on her tours of duty in Iraq and Afghanistan as a medic with the Vermont National Guard. She says: "Do I want to sit next to someone and know they can't save my life in a war zone? No, of course not."
Here are a few frames by Alison Baskerville from a safety course for journalists in London attended by Marielle van Uitert.