Tackling the hidden weapons left behind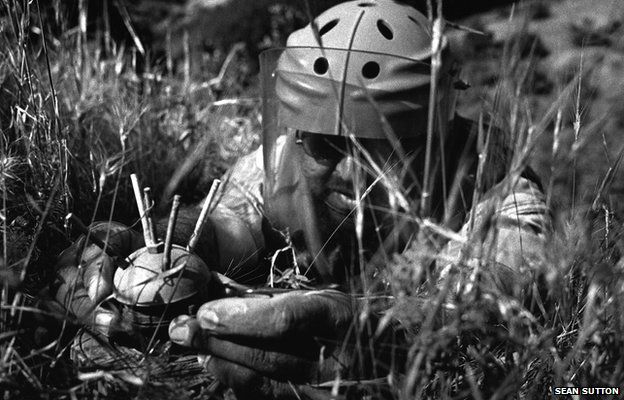 Photojournalist Sean Sutton has worked for Mines Advisory Group (MAG), a not-for-profit humanitarian organisation, since 1997, after almost a decade covering conflicts as a freelance photographer. To mark International Landmine Awareness Day, he has written about his work and selected some of his pictures from his archive from the past 25 years.
I started my career as a photographer back in 1988 and found myself drawn to conflict and the impact it had on people's lives.
My initial work in Burma over a two-year period led to assignments in many countries affected by war.
Landmines were part of the story wherever I went, and in the early 90s I decided to focus on this issue while working on other stories in these countries.
I got to know the actors involved, especially MAG, who were one of only two charitable organisations clearing landmines at the time.
To my complete surprise, in early 1997 MAG offered me a staff job to act as the interface between the situation on the ground with decision makers and the public - to use my photography, design and page-layout skills to communicate on the issues. The problems and the solutions.
It has been an extraordinary journey and a pretty unique one for a photographer.
When I was freelance I worked for many non-governmental organisations (NGOs) and United Nations (UN) agencies as well as the international press.
This was amazing work, but it certainly had its frustrations.
It was also getting increasingly hard to publish stories, so I jumped at the chance to focus on the issue I cared so deeply about.
I had experienced the horrific impact of landmines first hand for a number of years and the issue stood out to me due to the indiscriminate nature of the hidden weapons. Primed like coiled explosive springs under the ground for decades - waiting patiently for their unsuspecting victims.
Mine clearance is a prerequisite to any normal activity in so many areas after conflict. People can't safely farm, they can't safely build a house and their children can't safely play. Aid agencies can't drill water wells, can't build schools and in many cases can't deliver medical assistance or food aid.
People don't want to survive on aid handouts. Many are subsistence farmers and they need land to survive.
In my experience the vast majority of people who stood on a landmines knew they were in a minefield. They had no choice. They had to get to the stream for water, they had to collect the firewood and they had to use the land to grow food. This is the tragic situation still affecting thousands today.
In many places, such as Cambodia, villages became military positions. This is due to a water source, shade from trees, solid structures and so on.
The occupying military would surround the village with defensive minefields. The other side would take it, clear some of the mines and also lay more around the village for defence.
This would go on for many years - villages would be taken by different sides time and time again - and you end up with a patchwork quilt of contamination.
After the war when people returned they had no choice but to go to their ancestral lands. They would have to pay someone to use other land - and they had no money. Also there was a risk that people would take their land. The pressures were massive. As a result Cambodia has one amputee for every 290 people.
After World War Two there was extensive contamination across Europe, but the countries involved had the resources as well as the resolve to deal with it.
More recent conflicts mean that the poorest countries are now affected and they don't have the resources themselves to pay for clearance.
As a result MAG, prioritises those areas where the humanitarian need is greatest, land for farming, rebuilding homes, safe access to water and other resources.
Children are a specific cause for concern - every day a child is killed or injured by a landmine.
Children often look after animals and herd cattle and goats across land in other countries, so that also makes them particularly vulnerable.
But the biggest thing really is that children are naturally inquisitive, kids are likely to pick up shiny metal objects they might find in the bush or in the rice field. The results are horrific.
One day, the husband of a family I met was walking to the rice field and a few hundred metres from their house he stood on a mine, he went to hospital and had an amputation.
Six weeks later, he returned to the village and asked his wife if she could go and get him some medicine for his pain. So she went to a neighbour's house, got some medicine and on the way back - just a few metres from their house she stood on a mine.
She laughed as she said to me: "So I took the medicine instead of him because I needed it more."
The couple told me they were the poorest family in their village of Chisang because neither parents could work as hard as others, due to their injuries. But they said the most important thing of all for them was their children and their future and that if MAG hadn't come and cleared the village and surrounding area it would be a very different scenario.
So it was a message of happiness in a way, despite the sort of tragic scenario they found themselves in, at least their kids were not going to stand on a mine going to school. I have seen the village change dramatically over the years. Now it is lush and full of life with a school, a clinic and a busy market.